Administrator
Staff member
Some theories about controlled demolition of the World Trade Center rely upon the use of a speculative material called "Nanothermite". Nanothermite is basically regular
thermite
with the constituents (iron oxide and aluminum) mixed together more completely, using very small particles - even down to mixing together individual molecules. The close proximity of the particles means they combine more efficiently, and so the reaction is much quicker and more powerful.
Livermore labs have been researching these materials - in particular their creation using a gel support matrix to achieve the fine mixing.
https://www.llnl.gov/str/RSimpson.html
Energy Density vs Power, the Traditional Tradeoffs

Energetic materials are substances that store energy chemically. For instance, oxygen, by itself, is not an energetic material, and neither is fuel such as gasoline. But a combination of oxygen and fuel is.

Energetic materials are made in two ways. The first is by physically mixing solid oxidizers and fuels, a process that, in its basics, has remained virtually unchanged for centuries. Such a process results in a composite energetic material such as black powder. The second process involves creating a monomolecular energetic material, such as TNT, in which each molecule contains an oxidizing component and a fuel component. For the composites, the total energy can be much greater than that of monomolecular materials. However, the rate at which this energy is released is relatively slow when compared to the release rate of monomolecular materials. Monomolecular materials such as TNT work fast and thus have greater power than composites, but they have only moderate energy densities-commonly half those of composites. "Greater energy densities versus greater power—that's been the traditional trade-off," says Simpson. "With our new process, however, we're mixing at molecular scales, using grains the size of tens to hundreds of molecules. That can give us the best of both worlds-higher energy densities and high power as well."
There are theoretical devices that use regular thermite for cutting steel:
http://techportal.eere.energy.gov/technology.do/techID=764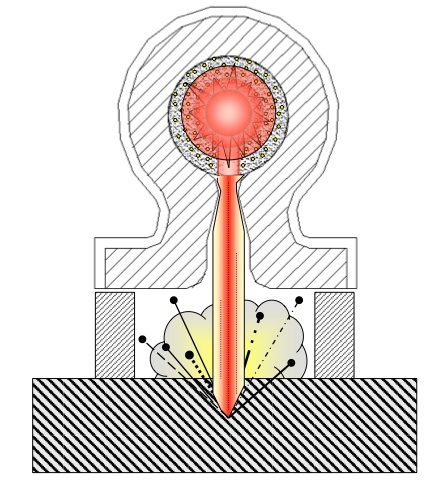 There are also simple practical devices that have been show to cut half inch thick steel with
thermate
(a version of thermite).
So the questions I'd like to resolve in this thread is if nano-thermite would be any better at cutting steel than regular thermite - or would it be more like TNT?
Thermite is a pyrotechnic, it burns and releases a lot of energy, but it releases it slowly as localized heat. Monomolecular explosives (TNT, C4, etc) release their energy very rapidly, as heat, but more as kinetic energy, but the total energy released is less. As nanothermite gets more power, will it stop being a pyrotechnic, and start being an explosive?
The question here is what happens to the cutting efficiency of thermite if you make the reaction quicker. Can the more rapid release of energy be used to melt thick steel?
Last edited: