Administrator
Staff member
From Infowars:
http://www.infowars.com/govt-wants-volunteers-to-wear-white-guilt-bracelets/
Gov't Wants Volunteers to Wear 'White Guilt' Bracelets
Aaron Dykes Infowars.com March 13, 2013
Has political-correctness gone too far?
In Wisconsin, volunteers in AmeriCorps are encouraged to cope with their "white privilege" by wearing a white bracelet, while reminding themselves to examine their status in society and talking with 'friends of color' to encourage their transformation.
(based on
a somewhat less intense story from cnsnews
)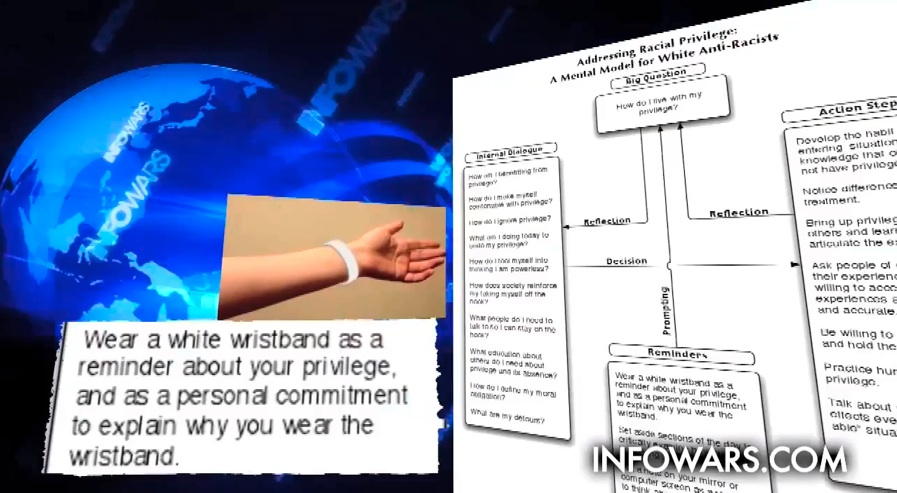 No according to the Wisconsin DPI and VISTA:
https://sites.google.com/a/dpi.wi.gov/dpi-vista-project/resources-1/power-and-privilege-resources
It is unfortunate that this agency has to respond to misconceptions and misinformation being spread by an out-of-state entity that has no connection with the work being done by the public schools in Wisconsin.

First and foremost, and to be absolutely clear, no DPI official has asked, requested, or encouraged any school district, educator, or student to wear any wristband, and none of our VISTA volunteers have had any children put on any wristbands. To be clear, no Wisconsin students were given white wristbands.


The Wisconsin Department of Public Instruction participates in the federal Corporation for National and Community Service/AmeriCorps VISTA program, and can place up to seventeen VISTA volunteers in local community projects across the state that have specifically requested hosting a VISTA volunteer.

As part of the requirement allowing the DPI to participate in the AmeriCorps VISTA program, the DPI must:

Arrange and be responsible for providing in-depth on-site orientation and training for all incoming AmeriCorps VISTA members at the beginning of their service.
Assist in the provision of pre-service, and in-service training (online or face-to-face), as specified in the Project Application.
The AmeriCorps VISTA volunteers are serving in schools and communities that are culturally and racially diverse. Wisconsin schools are becoming increasingly diverse, and therefore multiple opportunities for training are provided to the VISTA volunteers to help them better serve the schools, and communities in which they placed. This year's volunteers have been offered training many topics, including: grant writing, community engagement, conflict resolution, volunteer management, family-school-community partnerships, and race/ethnicity, among others.

The material about the white wristbands was not covered/discussed in a training VISTA volunteers received—training which was conducted by an outside (non-DPI) group. At the end of a training session, a packet of 'additional resources' was offered by the trainers as the volunteers left. Subsequently, that entire resource packet was posted to the VISTA web site.

Again, no DPI official, or any VISTA volunteer has used, requested, or encouraged anyone in any school to use the wristbands as 'reported' and shared by external groups that thrive on spreading rumors and misinformation. The bottom-line is that there is no wristband program in Wisconsin.
So it was just one document, from a third party, in a packet of "additional resources" that was handed out and that was not even used in the session. Somehow this get bumped up to the level of a government mandate by Infowars. Unfortunately it's probably going to be doing the rounds on Facebook now for the next ten years.
Last edited: