First of all, there is really no denying that ballast testing takes place. I am a ship's engineer, and have participated in ballast testing of a new-built ship. It is a big deal. When a ship is built, the weight of all equipment, including wiring, piping, major loads such as engines, etc, including such things as normal galley stoves, even bedding, is all calculated.
However. There are always unknowns. What if the wall panels were slightly heavier, what if the cabinetry was slightly lighter? For that reason, an ACTUAL test has to be made, because during the testing, the ACTUAL response is recorded to produce a complete system of load charts which the Captain will use to calculate stability of the vessel under any particular loading. Before every voyage, the current loads as well as their positions on the ship, are input into these charts or modern software, and the expected stability is found to be acceptable or not. The key terms here are center of gravity and "righting moment", which is the tendency for the ship to "right" itself after the sea causes it to lean over. The center of gravity must be low enough to develop sufficient "righting moment", a counteracting force which brings the ship back upright and prevents a capsize.
I am absolutely certain that, despite differences in an airplane's situation as a bouyany object on the sea compared to a ship's, ballast testing does take place.
Examples
:
During testing, this plane crashed, (crash during takeoff, plane stalled due to too much weight aft of the aft center of gravity)text describes electric pumps and gravity flow being used to transfer water between tanks:
http://www.ntsb.gov/investigations/fulltext/AAB0401.html
Here is yet another example. The original build number 1 for the 747 sits decaying in Seattle. It was never sold. Folks there want to turn it into a museum. Some of the original ballast barrels are still installed in the plane. The caption reads:
Ballast barrels used to shift weight inside the plane during 5,000 hours of flight testing are all that's left inside of 747 RA001. The Museum of Flight will seek more of them when it restores the plane to its original 1969 flight-test configuration.
Source(picture #6 of 11):
http://seattletimes.com/html/pacificnw/2019017163_pacificp747plane09.html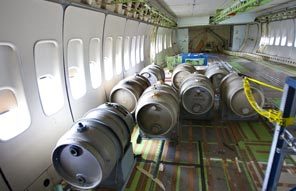 These ballast barrels are not something mysterious. They are not something new. They are not something out of the ordinary. To portray them without explanation, without attribution, and without sourcing the origin of the photos is, at least on the "originator" level, a public disservice, if not an outright intentional deception.