Administrator
Staff member
On Facebook today, Dane Wigington explained what he thought you should show to people when asked for proof of geoengineering spraying:
https://www.facebook.com/dane.wigington.geoengineeringwatch.org/posts/737363629659091
The linked article is:
http://www.geoengineeringwatch.org/aerosol-geoengineering-film-footage-reality/
This six minute video captures excellent film footage of jets spraying aerosols at altitude. The images are recorded from within the actual aircraft that is doing the spraying. Our gratitude to those that have put this film footage out for the world to see. Soon enough the population at large will have no choice but to face the insanity that has taken place in our skies for so many decades, the decimation being caused is becoming too horrific to hide. Bringing the lethal spraying programs to light and to a halt is a responsibility that rests on us all. We all have much more power to affect this equation than we likely realize, we only need to exercise it.
Dane Wigington
And the video "proof" is:
The video is a compilation of planes dumping fuel. Planes dump fuel when they have to make an emergency landing, so they are at a safe weight.
https://en.wikipedia.org/wiki/Fuel_dumping
Fuel dumping

(or a

fuel jettison

) is a procedure used by

aircraft

in certain emergency situations before a return to the airport shortly after takeoff, or before landing short of its intended destination (

emergency landing

) to either lighten the

aircraft's weight

or to reduce risk of fire.

Aircraft have two major types of weight limits: the

maximum takeoff weight

and the

maximum structural landing weight

, with the maximum structural landing weight almost always being the lower of the two. This allows an aircraft on a normal, routine

flight

to take off at the higher weight, consume fuel en route, and arrive at a lower weight.

As jets began flying with US airlines in the late 1950s and early 1960s, the

FAA

rule in effect at the time mandated that if the ratio between an aircraft's maximum structural takeoff weight and its maximum structural landing weight was greater than 105%, the aircraft had to have a fuel dump system installed. Aircraft such as the

Boeing 707

and

727

and the

Douglas DC-8

had fuel dump systems. Any of those aircraft needing to return to a takeoff airport above the maximum landing weight would jettison an amount of fuel sufficient to reduce the aircraft's weight below that maximum landing weight limit, and then land.
Not only should this be fairly obvious from looking at the video, you can even find the original videos (in much better quality) on YouTube, with explanations of the context. For example, this one: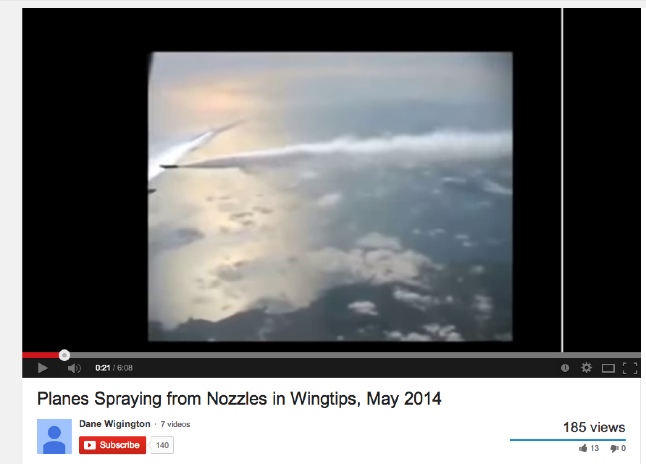 comes from this 2011 video:
And there are many other videos showing exactly the same thing, with detailed descriptions of the flight, and the reason why the plane had to make an early landing, for example:
KLM flight KL888 Hongkong to Amsterdam on 25th Febr 2007 had to return to Hongkong because of Krueger flap's problems.After a 80.000kg fueldump Captain Chris and his crew made a perfect max weight landing.
In February 2002, an unidentified piece of luggage was discovered in a cargo container on this Northwest Airlines 747-400 from Tokyo-Narita to Detroit. The pilots in discussions with Northwest headquarters in Minneapolis assessed the risk and determined it would be necessary to dump 150,000 lbs of fuel over the eastern coast of Japan and return to Narita for an emergency landing. This video documents five of the 45 minutes it took to dump the fuel necessary to achieve a safe landing weight.
From the ground, a fuel dump is fairly distinctive. It (usually) starts from the wingtips, and fades away into a kind of haze. Very different to contrails.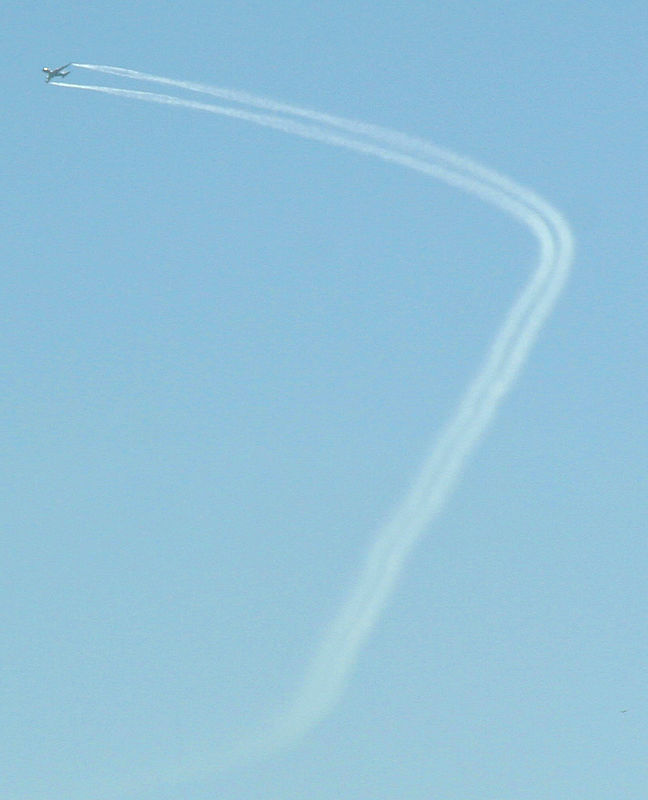 And here's what it looks like up close on an A340-642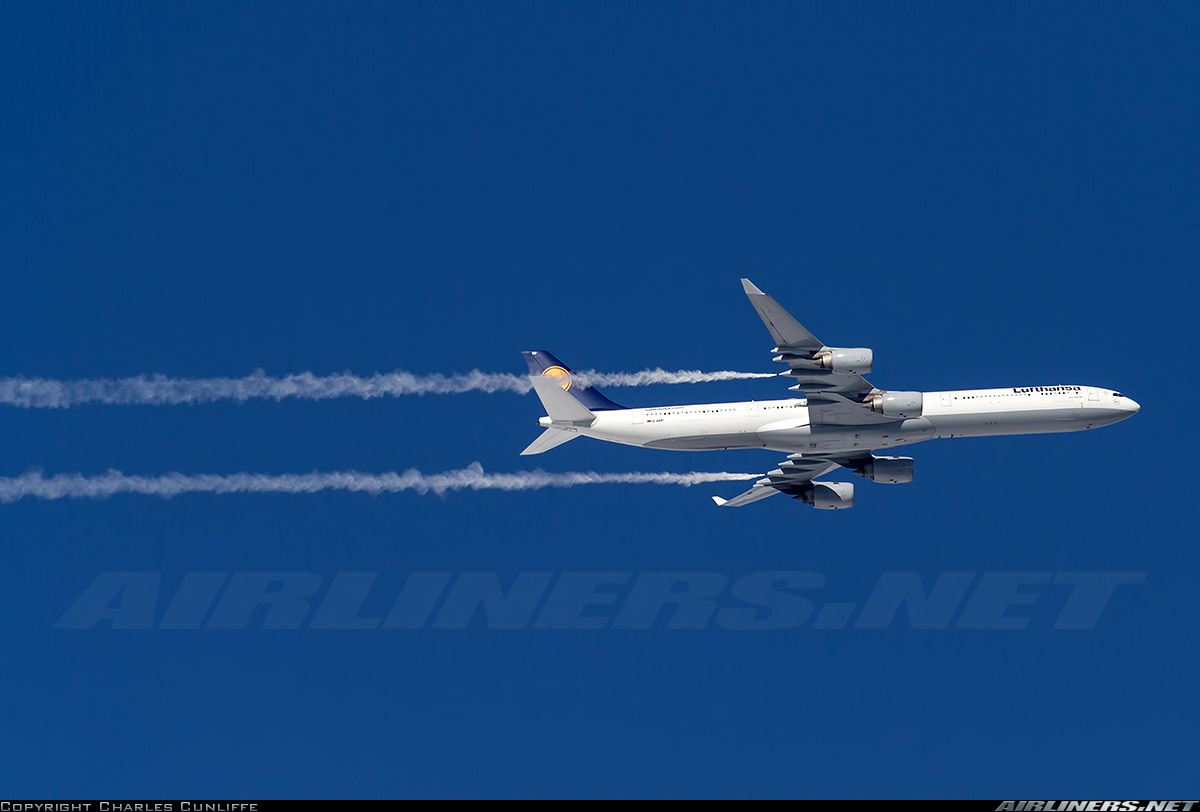 Source:
http://www.airliners.net/photo/Lufthansa/Airbus-A340-642/2489715/L/
So what are we to make of this mischaracterization by GeoengineeringWatch? It's hard to describe it as an honest mistake, as the same mistake has been made for many years, and this mistake has been pointed out repeatedly, and yet they still keep saying the same thing. It's more a kind of ignoring of inconvenient facts - quite likely exacerbated by it being "debunkers" who tell them these facts.