Administrator
Staff member
This supposed photo of "chemtrails" over London in 2013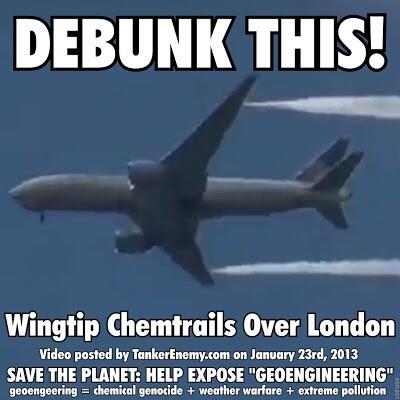 Is actually a jet dumping fuel over New Jersey, USA, in 2010. And hence is a hoax.

Uploaded on May 9, 2010

Continental Airlines 777 Jet with 275 passengers and 16 crew dumping fuel over New Jersey on Sunday May 9 2010

...

A Continental Airlines flight bound for Tokyo made an emergency landing at Newark Liberty International Airport today about an hour after takeoff, following what officials have called a hydraulic problem.Continental Flight 9, which departed Newark at 11:25 a.m., landed back at the airport at 12:15 p.m., said Julie King, a Continental spokeswoman. None of the 275 passengers or 16 crew members was hurt. The plane had been bound for Narita International Airport in Tokyo.

Planes dump fuel when their trips are cut short, as they can't land when too heavy (they can take off though, obviously). See:
Fuel dumping

(or a

fuel jettison

) is a procedure used by

aircraft

in certain emergency situations before a return to the airport shortly after takeoff, or before landing short of its intended destination (

emergency landing

) to either lighten the

aircraft's weight

or to reduce risk of fire.

Aircraft have two major types of weight limits: the

maximum takeoff weight

and the

maximum structural landing weight

, with the maximum structural landing weight almost always being the lower of the two. This allows an aircraft on a normal, routine

flight

to take off at the higher weight, consume fuel en route, and arrive at a lower weight.

It is the abnormal, non-routine flight where landing weight can be an problem. If a flight takes off at the maximum takeoff weight and then faces a situation where it must return to the departure airport (due to certain mechanical problems, or a passenger medical problems), there will not be time to consume the fuel meant for getting to the original destination, and the aircraft may exceed the maximum landing weight to land at the departure point. If an aircraft lands at more than its maximum allowable weight it might suffer structural damage, or even break apart on landing.
Last edited: