Administrator
Staff member
Numerous conspiracy sites are promoting the idea that Hillary Clinton is dangerously ill, and are grasping at every last bit of evidence to try to convince people that it is so. The above photo shows Hillary Clinton after her DNC acceptance speech. The large man to the right is a member of her security detail. He is holding a flashlight in his left hand. The conspiracy sites have suggested for some reason that it's actually an emergency Diazepan injector, used for seizures. They point at some random pixels, and then draw a line to part of an injector.
However it is actually just a flashlight. This can be seen from earlier footage of the agent using the flashlight to light up Clinton's path as she exits the stage.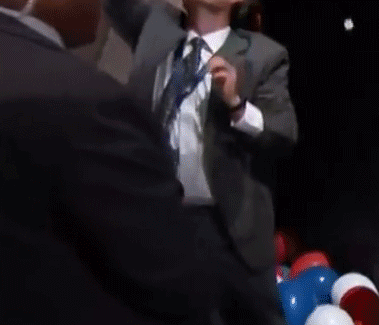 Source: https://www.youtube.com/watch?v=P4ey6XE775A
Note at the end of the clip you can see the light on the grey jacket of the man behind the agent.
Probably something like a Maratac AA Tactical with the glow in the dark tailcap switch.
Suggestions have been made that this man is not a secret service agent, with the evidence given that he has a security pass, of which they show close-ups. the suggestion being he must be some kind of super-doctor there to instantly inject Clinton at the first sign of a seizure.
Some sites suggest that secret service agents will not wear badges:
http://theralphretort.com/breaking-...r-syringe-anti-seizure-drug-diazepam-8007016/
My husband is retired Secret Service. He can't figure out what the "handler" guy really is or does. He's viewed tapes several times and shakes his head. Secret Service agents on a detail do NOT have to wear ID around their necks because they are known to each other. Secret Service DOES hand out special IDs to other personnel who will be cleared to be close to the candidate. Some have different ones, such as press, etc. Also, all personnel that are cleared to be close to a protectee are given those lapel pins. The pins change shape and color every day at random and like the IDs are different for those who have different functions.
The lapel pin part of this holds up, and you can see lapel pins of various types on the different guests in this backstage video:
Source: https://www.youtube.com/watch?v=OgNP3g1Lwss
However this the same badge the other agents wore at the event. For example:
People who are simply allowed to be close have very different ID:
And the ID does seem to have the gold star of the Secret Service.
Another
suggestion
is that the agent's lapel pin identifies him as a medic:
However his badge appears to be the red version of the secret service ID pin used by Secret Service members protecting Presidential Candidates.
These are Secret Service identification pins that vary in color weekly. Here's the same agent with a different color badge on a different day:
Here's another Secret Service agent that day with the red shield lapel pin.
Last edited: