I've already begun to see claims online, mainly Twitter and YouTube, that the live feed that we received from Elon Musk's roadster in orbit are faked. The claims are baseless, and revolve, quite literally, around "this looks super fake. It just doesn't look real." To that, I say nonsense. Elon described it perfectly in his post-launch press conference: "You can tell it's real because it looks so fake." He then went on to explain that we have CGI that is better than the stream we got, and that in space, objects appear too crisp. This is a result of the lack of atmosphere.
But, there are ways to prove that this footage is real. The footage of Earth was mainly showing the area over Australia. Using the Australian Bureau of Meteorology's
High Definition satellite images
page, we can compare the cloud cover data to the video taken of the roadster. Note: The BOM unfortunately does not show data further back than 24 hours, but I snapped a screenshot which I'll link. I also requested information of the data for the time period from them, but I am yet to hear back.
Let's compare. First, a screenshot of the live feed. This was taken 3 hours and 40 minutes into the live feed.

]
The live feed began about 15 minutes after launch, so this snapshot is from 4 hours after launch. Launch was at 15:45 ET on Tuesday, so this photo is at 19:45 ET on Tuesday, or 11:45 Australian Eastern Time (AET) on Wednesday. Now, the furthest back image I could get from the BOM's website was 13:30 AET on Wednesday, but this still works. This image, of the cloud cover, was taken 2 hours AFTER the the image I linked above was taken.
Now compare the similarities.
I outlined them
!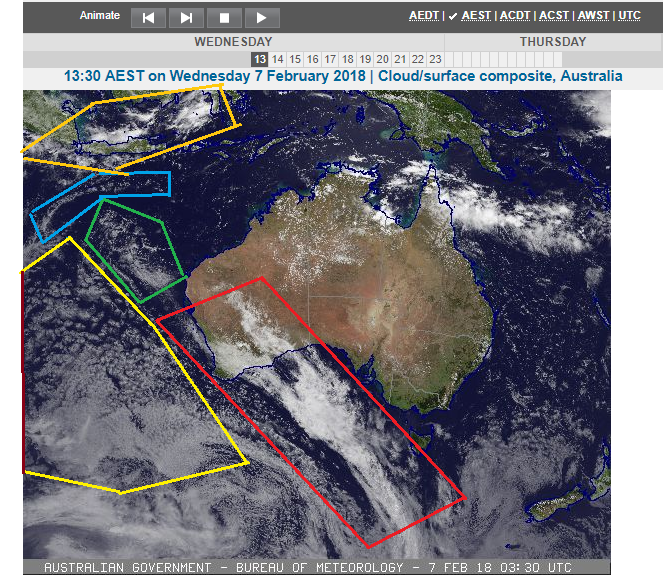 The clouds match with almost entirely 100% accuracy (some changes since they're 2 hours apart).
So yes, this footage really is real.