Perhaps the reason why there has been so much obfuscation surrounding the collapses of WTCs 1,2 and 7 are because it is known that slender column long span beam structures are inherently unsafe.
If this is the case, it would explain the collapses. It would also raise serious questions as to the safety of trillions of dollars worth of other similarly constructed offices and buildings.
I suggest that slender column long span beam structure is inherently unsafe and this is being covered up.
To underpin, this speculative argument I cite the previously mentioned buildings which have suffered far more severe and longer lasting fires, without collapsing, (apart from some minor collapses which
always
accompany a severe fire).
It has been suggested that these 'other' buildings had concrete rather than steel cores and this is why they did not collapse.
If this is true, why then has there not been a ban on slender column long span beam structures and a return to concrete cores which are apparently much safer.
http://911research.wtc7.net/wtc/anal...are/fires.html
"One Meridian Plaza is a 38-floor skyscraper in Philadelphia that suffered a severe fire on February 23, 1991. The fire started on the 22nd floor and raged for 18 hours, gutting eight floors and causing an estimated $100 million in direct property loss. It was later described by Philadelphia officials as "the most significant fire in this century".

"The tallest skyscraper in Caracas, Venezuela experienced a severe fire on October 17, 2004. The blaze began before midnight on the 34th floor, spread to more than 26 floors, and burned for more than 17 hours. Heat from the fires prevented firefighters from reaching the upper floors, and smoke injured 40 firefighters."

"The most recent example of a spectacular skyscraper fire was the burning of the Hotel Mandarin Oriental starting on February 9, 2009. The nearly completed 520-foot-tall skyscraper in Beijing caught fire around 8:00 pm, was engulfed within 20 minutes, and burned for at least 3 hours until midnight. Despite the fact that the fire extended across all of the floors for a period of time and burned out of control for hours, no large portion of the structure collapsed."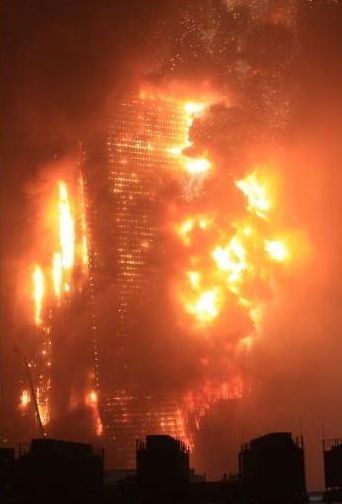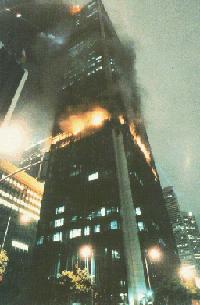 Last edited by a moderator: