Debunked here:
https://www.metabunk.org/threads/de...ore-the-crash-and-other-timeline-issues.3988/
-----------------------------------------------------------------------------------------
The basis for this metabunk is the video featured in this Zero Hedge article:
http://www.zerohedge.com/news/2014-...oving-rebels-shot-down-malaysian-flight-mh-17

In the clip, Ukraine presents what it alleges are several recorded conversations, first of all between a pro-Russian separatist and his coordinator Vasyl Geranin, who is said to be a colonel of the Main Intelligence Directorate of the General Staff of the Russian Armed Forces. In summary, this conversation talks about the downing of a jet. There is no distinction whether this is a civilian or a military jet, and may well refer to the shot down Ukrainian Su-25 which we reported earlier today was shot down overnight, and which Ukraine at first claimed had been shot down by a Russian warplane, something which Russia promptly denied hours later (and before the Malaysian Airline tragedy happened).

The purported smoking gun is "revealed" in the second section which begins 43 seconds and lasting one minute in between a "Major" and "Grek" who are also allegedly Russian rebels. It is here that the conversation goes into explicit detail describing the contents of the downed airplane, and makes it clear that it is a civilian airplane, describing the civilian carnage, and stopping just why of naming this a Malaysian Airlines flight.
There are several issues highlighted in the article, listed for metabunking as follows:
First, the Russian version of the clip which was released in parallel, and shown below, there is a major discrepancy in the time stamp, with the English-dubbed version showing the conversation between Major and Grek taking place at 5:11 pm and 5:32 pm, while the original one has it at 4:33 pm, 5:14 pm and 5:32 pm.
English version:
Russian version:
Then there is what gmorder has revealed is either a clearly erroneous creation timestamp, or the video was actually uploaded yesterday.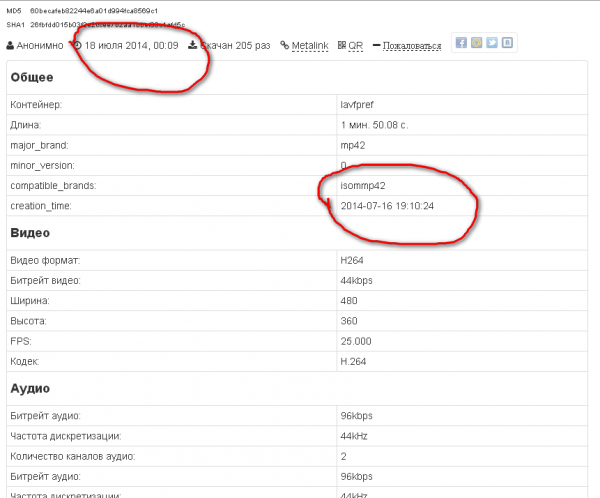 The article goes on to compare this video to a prior June 5 video produced also by the Ukrainian government and highlights the near identical production quality and placement of captions, layout of dubbing. Zero Hedge implies that the second two videos, like the June 5 one, were produced and uploaded by the new Ukraine government.
Apart from speculation that the server may have had an incorrect date set, has there been any further exploration of this video? Because a plausible alternative to the notion that the computer that created the video had an incorrect date is the notion that the computer had a correct date. And if it did that would be troublesome.
Last edited by a moderator: