Leicester couple pelted by raining yellow plastic balls Dylis Scott said the balls started "shooting" at her
BBC New Leicester
21 August 2012
A husband and wife have been left puzzled after hundreds of tiny yellow plastic balls rained in their garden.
Dylis Scott and her husband Tony were in their garage on Monica Road, Leicester, on Sunday when the balls fell from the sky during a storm.
Mrs Scott said they started hitting the car and garage door and "shooting at me".
The Met Office said it was possible for weather systems to lift things such as dust and deposit them many miles away.
In January it was reported that 3cm diameter blue balls came raining down during a hailstorm in Bournemouth, Dorset.
Theories on what the balls could have been included crystals used in floral displays or ammunition for a toy gun.
'Heck, what's happening?'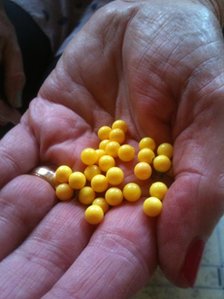 On Sunday Mrs Scott said she had gone inside after she heard thunder while she was painting outside.
"Suddenly all these little tiny, bright yellow balls came down with the rain, and they were hitting the car, hitting the garage door, and shooting at me," the 70-year-old said. "I looked outside and all over the lawn were all these yellow balls. And it was absolutely pelting down.
"I thought 'Heck, what's happening?' I'm only doing painting and they are sending all these yellow balls down."
Mrs Scott also saw some of the balls deposited down the road.
Most of the balls have now disappeared and Mr Scott thinks they were washed away by the rain.
'What are they?'
Dr Lisa Jardine-Wright, a physicist at the Cavendish Laboratory, based at the University of Cambridge, said particles of matter can be picked up by the wind and transported in the rain.
"Because these [yellow balls] are very light it wouldn't need to be very strong and it could potentially transport them a reasonable distance," she said.
"The bigger question is what are they, and where has it grabbed it from?"
A Met Office spokesperson said: "Although we can't say whether this occurrence was weather related, it is possible for weather systems to lift things such as dust and deposit them many miles away. "We saw a good example of this back in May when dust from the Sahara was deposited on cars in the UK.
"Obviously the heavier the item is the harder it is to lift it, but air movements (updrafts) around thunderstorms can be strong enough to raise small items and move them."
=======================================
Explanation:
Most likely these are pellets from an air powered gun, possibly a pistol, rifle or shotgun. Some air powered shotguns shoot out 5 or more pellets per shot and are semi-automatic, with repeatable shots everytime the trigger is pulled.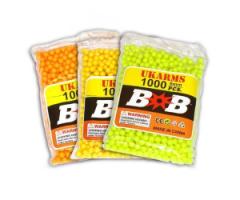 The balls are 6mm in diameter, can be white, black, yellow, or other colors. Some may contain paint and be designed to rupture on impact.
X-treme air guns include this fully automatic mini-gun, which appears to pack quite a punch.
Blimey! "Johnny, careful wiv what air gun, yer liable ter put someone's eye out.". Nuff said, yeah?​
​