Administrator
Staff member
The Queen of England actually only has an estimated personal net worth of around $500 million, nothing like the "£17 Trillion" being suggested by conspiracy theorists.
http://www.forbes.com/sites/luisakroll/2011/04/22/just-how-rich-is-queen-elizabeth-and-her-family/
The $10 billion of the
Crown Estate
does not belong to the queen
in the sense of private property. By law she cannot sell it, and any profit from the use of the land goes to the UK Treasury. So essentially it's owned by the UK state.
Some conspiracy sites on the internet make the rather outrageous claim that the Queen has £17 Trillion worth of land. They then go on to explain how this is terrible, because the Queen could sell this land, and pay off the National Debt, and end all the hunger and suffering in the world.
£17 Trillion is $26 Trillion, which is $26,000 billion. Or about 52,000 times the Queens personal net worth (which she could theoretically sell, but in practice not really). It's also 2,600 times the value of the state owned Crown Estate,
which she can't sell
.
Some examples:
http://www.whoownstheworld.com/about-the-book/largest-landowner/
[bunk]Queen Elizabeth II, head of state of the United Kingdom and of 31 other states and territories, is the legal owner of about 6,600 million acres of land, one sixth of the earth's non ocean surface.She is the only person on earth who owns whole countries, and who owns countries that are not her own domestic territory. This land ownership is separate from her role as head of state and is different from other monarchies where no such claim is made – Norway, Belgium, Denmark etc.The value of her land holding. £17,600,000,000,000 (approx).[/bunk]
Which leads to things like:
[bunk]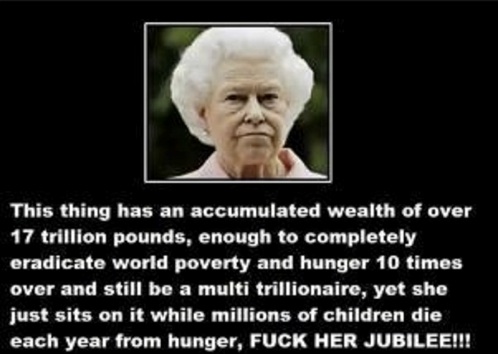 [/bunk]
So this £17 trillion figure is total nonsense. It suggests the Queen could raise cash by selling Canada, Australia and the entirety of the UK! The Queen does not own those countries, she's simply the titular (powerless) head of state. And while she is quite rich, she's nowhere near as rich as most of the elite, she's not even an billionaire. There's over a thousand people in the world with more money than the Queen.
Last edited: