Administrator
Staff member
There's a theory out there that suggests that the long white trails left by aircraft are deliberately sprayed "chemtrails", and that this spray contains aluminum, and that this will make a lot of money for Monsanto, as they are patenting aluminum resistent genetically modified crops, and so will be able to control the food market.
This is incorrect, for a number of reasons. "Chemtrails" themselves have been extensively debunked
elsewhere
, but let's look at this particular claim about aluminum resistent crops. Why is it wrong?
It's not the aluminum that's the problem, it's the acid, which creates aluminum ions from naturally occurring aluminum compounds.
Aluminum toxicity in acid soil has been a known problem for over 100 years
Spraying aluminum or aluminum oxide will not increase the amount of aluminum ions. You'd need to spray acid.
Spraying aluminum would not significantly increase the amount of aluminum in soil, as soil is about 7% aluminum naturally.
References:
http://www.news.cornell.edu/stories/Aug07/SoilsKochian.kr.html
When soils are too acidic, aluminum that is locked up in clay minerals dissolves into the soil as toxic, electrically charged particles called ions, making it hard for most plants to grow. In fact, aluminum toxicity in acidic soils limits crop production in as much as half the world's arable land, mostly in developing countries in Africa, Asia and South America.
http://www.plantstress.com/Articles/toxicity_m/acidsoil_chapter.pdf
Acid soils limit crop production on 0-40% of the world's arable land and up to 70% of the world's potentially arable land (Haug, 1983). Although the poor fertility of acid soils is due to a combination of mineral toxicities (aluminum and manganese) and deficiencies (phosphorus, calcium, magnesium, and molybdenum), Aluminum toxicity is the single most important factor, being a major constraint for crop production on 67% of the total acid soil area.

There are several estimates of the extent of acid soils in the world. According to van Wambeke (1976), acid soils occupy 1,455 million ha (11%) of the world's land, while Haug (1983) estimated that 30-40% of the world's arable soils and up to 70% of potentially arable land are acidic.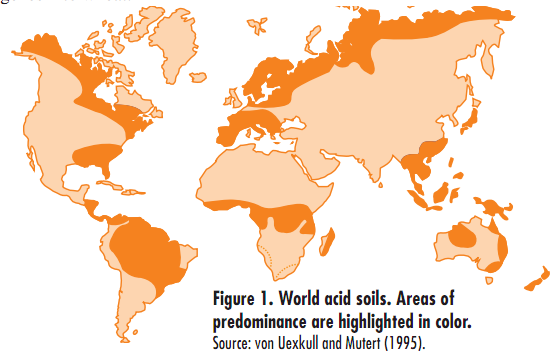 Even though spraying aluminum would not make much difference, consider just how much aluminum you'd need to spray to raise the amount of aluminum in the soil by 1%.
There's about 470 million acres of arable land in the US. The topsoil is about the top six inches. So that's 290 billion cubic meters of topsoil. 1% of that is 2.9 billion cubic meters. Soil is about 1500 kg/cu.m, so that's, 4.35 billion tonnes of aluminum needed to raise the aluminum content of soil by 1% (i.e. from 8% to 9%)
Most of the world's production of Aluminum comes from bauxite. The total world production of bauxite is around
200 million tonnes per year
. Bauxite is only about 50% aluminum by weight.
Hence, to increase the aluminum content of US arable land by 1%, you would need to spray the equivalent of
40 years of the entire world's production of bauxite
.
And that's assuming you can somehow target just the arable land. That certainly does not seem to be the case with the reported "spray" patterns. Arable land is only about 20% of the total land area of the US. So you'd need around five times that much, or 200 years worth.
Hopefully you can see what a none starter this idea is. You have to mine all the bauxite in the world for 200 years, then ship it all to the US, then spray it over the land, and you'd still only get a 1% increase in aluminum.
Which would make no difference to aluminum toxicity, as that is caused by the acidity.
Last edited: