Statistics time!
Part 1: AE911Truth
The anniversary month of September has ended, and so I am ready to present my number and graphs on the dynamics of the Truth Movement. First, my Numbers on AE911Truth.
A) Facebook-"Likes"
Here is their Facebook page:
https://www.facebook.com/ae911truth/?fref=ts
I have been systematically monitoring it (frequently jotting down the number of "Likes" in an electronic spreadsheet) since December 2014. Before that, I only have occasional snapshots. I don't remember how I determined this, but my spreadsheet says the page was created on 2009/02/28 and presumably got its first "Like" the same day. I then have these data points (European date format):
23.08.2012: 88725
03.02.2013: 117900
16.02.2013: 121100
28.06.2013: 155811
12.06.2014: 215000
07.12.2014: 244125
05.01.2015: 250000
Since then, I have numbers for every month. Here's the graph for total Likes:
The gradients are reflect in the number of Likes/day - averaged over whole months (after December 2014; before that, averages for longer periods):
You see a wild up and down that ended in November 2016; since then, a downward trend. The last month, September, is up from the five preceding month. This is completely, and more, due to a peak in interest because of the 9/11 anniversary: From August 20 until Sept 10, and after Sept. 18, the number of Likes has been shrinking!
What about the huge peaks of January 2016 and around July 2016? September 2016 was only one data point in a series of declining values. I am not aware of any campaign, media interest, or other factor that would explain such changes. My only explanation is that AE911Truth actively pimped these numbers by buying fake Likes, or something to similar effect. If any of you know Facebook, and how it can be manipulated, better than I do, I'd love to hear your opinion!
Here are the "Likes/day" averaged over entire calendar years (obviously: only first 9 months of 2017):
It almost looks like a downward trend, puctuated by an unreal 2016. If, let's guess roughly, 2016 had been quare on the middle of the trend in 2016 and had scored 90 Likes/day instead of 300, and if we assume that this is realistically the most that could come from real people, then 210/day were fake Likes - more than 75,000 total in 2016! That's 18% of today's total. My private estimate is that 40% or more of their likes are not real.
B) Homepage traffic
Their homepage (
http://www.ae911truth.org/
) currently has no counter of visitors (page hits...), it only shows a message similar to "We have 174 guests and no members online". Their old webdesign had a counter; this is still available at:
http://www1.ae911truth.org/
At the bottom of that page, there is a counter for "Content View Hits": it currently stands at "16622418", and that number constantly increases, which is best interpreted the web server being actively queried to provide this statistic.
Now, I am neither exactly sure nor interested in what a "Content View Hit" is, such that I wouldn't know if, say, 10,000 CVHs in a day is a lot or little. I have no other site to compare this to. But no matter - this counts visitor activity, and has been counting in an apparently consistend fashion fro many year: You can find the counter archived on the WayBackMachine as long ago as
2007/06/07
! The only time the counter did not advance was from April to August 2010. That caused the hole in my graph of Hits/day, averaged over whole months:
(for some reason, the counter lost 78,000 hits between March 11 and March 16 - that's the unusual downward peak there; I could have excluded that from the graph)
This graph is rather straightforward to interprete: Traffic increased from inception to 2011, and since then, it's been up and down a bit with no overall trend.
That's stagnation.
Every year before 2017, September saw a local maximum, with September 2011 (10th anniversary) still the busiest month by far. There has been a general upward trend since spring 2015, but for the first time, no peak in September. I am speculating this may be due to an increase in bot visits rather than human interest.
I am of course aware of some the pitfalls of reading page hits: They depend not only on the number of actual human visitors and their level of interest, but may also depend on the structure of the web design, and it may include any level of non-human traffic.
C) The Petition
The AE911Truth Petition has been online since May 2007. Again, you can use the WayBackMachine to check past values. When they first went online, they had more "Architects & Engineers" than "Other Supporters" (or "General Public") - I suppose they manually had entered a few dozend A&E they already knew, such as Tony Szamboti. Their strongest years were 2009 and 2010, and they have
stagnated
since - having particularly bad years (2012, 2015) mixed with surprisingly good years (2013, 2016).
I'll just drop a number of thumbnailed graphics for you to peruse. The ups and downs of "new signatures per day" often do not reflect the level of signatures actually coming in, but the level of attention Gage has his team focussing on processing the signatures. You see, there is a verification process involved that needs to be executed before a signature shows up online. When they did not add any signatures from May to September 2015, despite having announced that they got "hundreds" of on-paper signature at various eventy, it was clear that the bext few months would see much more activity - working down the backlog.
For the "Architects & Engineers" category: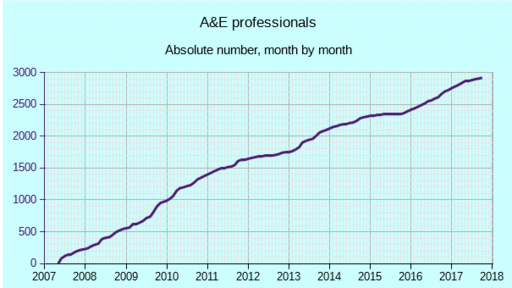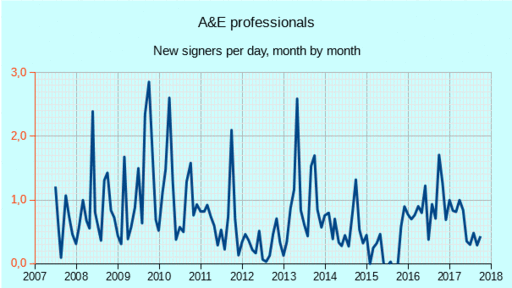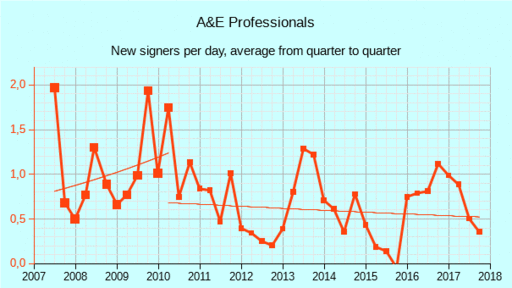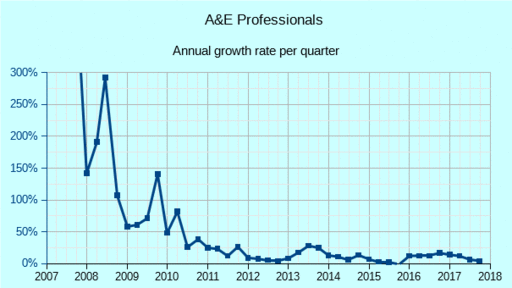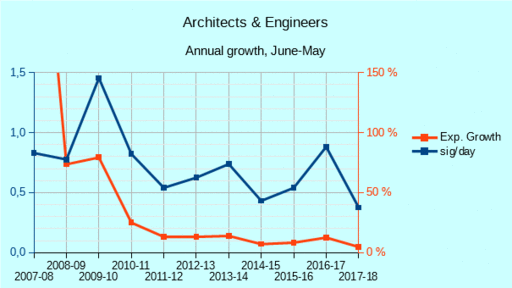 For the "General Public" category: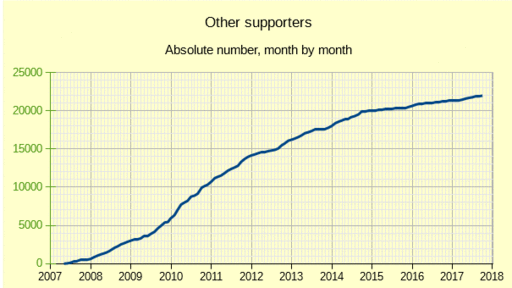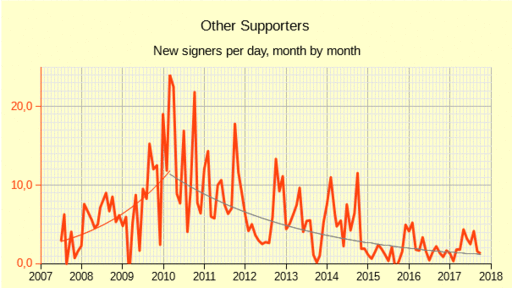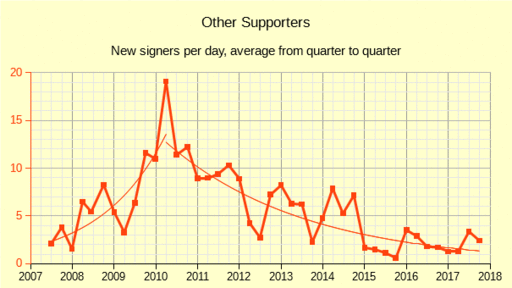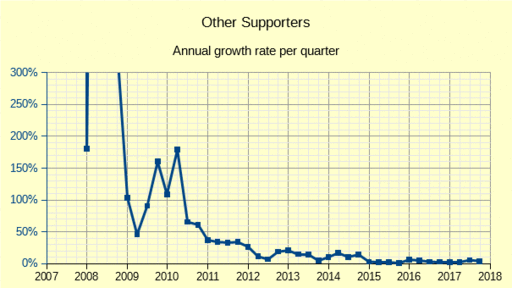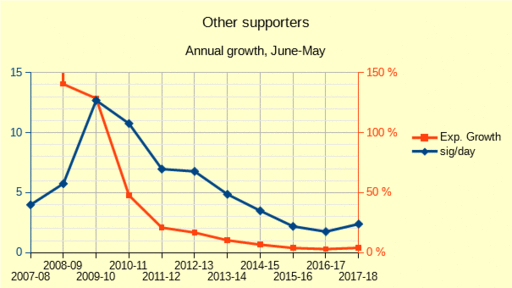 I think the steady decline of new signatures to the "Other supporters" (general public) count demonstrates more than anything else the decline of AE911Truth and the TM: not even 22,000 from the entire US and the World in more than 10 years is a document of being a fringe issue. Since a year ago, this category has added 762 signatures. That's 0.0002% of the US population. In the largest city of the USA, NYC with 8.5 million inhabitants, that percentage is 20 people. Not even half a busload.
Both the A&E and the Others counts are growing at under 5% annually. The best explanation for this is that they are not far away from their total potential. I wouldn't hazard too specific a guess about what that potential is, but we are talking about an order of magnitude of 100,000 Americans. There is no possibility whatsoever that an order of 1 million Americans (0.3% of the population) will ever come close to supporting their woo.
Here is why:
D) The "ReThink911" petition.
Im 2013, Gage and AE911Truth ran a major campaign they called "Rethink911":
http://rethink911.org/
This involved setting up big billboards in many cities (US and abroad), including the Times Square in NYC, pestering the NYT, and it had on its frontpage a new, fresh Petition:
This
Petition, believe it or not, has a goal of surpassing 1 million signatures (they are at 23,287 as I write - 4 years after it started). From the homeage:
The following graphics show that
- The petition decays naturally since a somewhat furious start
- It flatlines when plotted against its 1-million target (at 1000 signatures per day, it would take 3 years to get there - they actually do get a bit over 2/day)
- The annual September peaks are also shrinking dramtically (~500 - ~20 - 12.4 - 7.0 - 3.3)
This latest September peak of 3.3/day, against previous months and most recent days clocking in 2.1/day, means that the anniversary brought them 36 additional signatures. 36. Thirty-six.