Administrator
Staff member
On September 25, 2015 , John Podesta
tweeted
a series of tweets in support of the
Global Goals organization
. Global Goals promotes 17 Sustainable Global Goals adopted by the UN, with
Sept 25 being the day they were formally adopted
.
In the tweet above, he's promoting #14 Life Below Water - "Conserve and sustainably use the oceans, seas and marine resources for sustainable development."
Podesta's email were posted on Wikileaks, and included an exchange with the person who actually posted the tweet, his assistant Milia Fisher. There was a minor exchange about the wording:
https://wikileaks.org/podesta-emails/emailid/44007
The email exchange also included the image for her to post, so
that image is also in Wikileaks
.
Of course such simple explanations does not stop the Pizzagate (and later QAnon) folk from reading something more sinister into it, for example:
https://www.reddit.com/r/The_Donald/comments/5bi0hi/podestas_14_fish_hands_explained/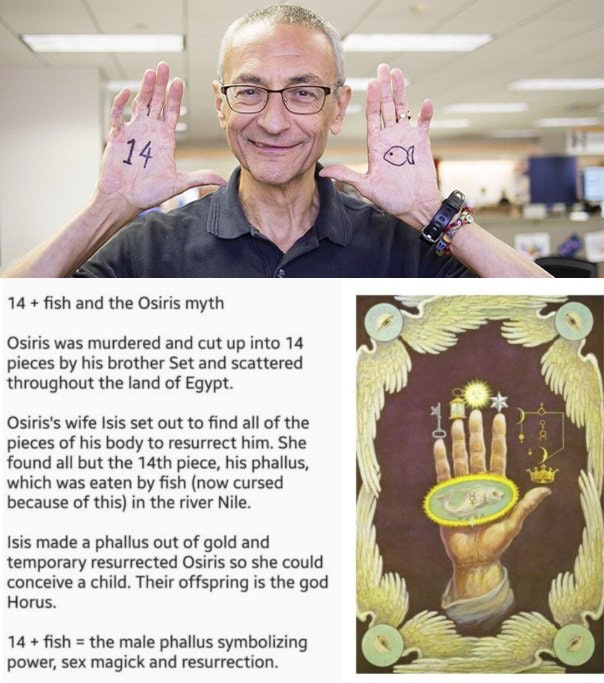 Or more:
https://voat.co/v/pizzagate/1517841
Many conspiracy theorists are aware of the actual explanation, but they fold it into the conspiracy:
https://voat.co/v/pizzagate/1517841
Little claims like this are obviously ridiculous when you know the context. But it thought it was still a good idea to put up a post with a more detailed explanation. Things are often re-cycled and can become part of a mythology where the origins are forgotten. I've seen people present the image as if it came from Wikileaks, not realizing it was a public tweet. So having an explanatory post with all the references might save people some time and effort later.
Last edited: