Administrator
Staff member
On September 25, 2015 , John Podesta
tweeted
a series of tweets in support of the
Global Goals organization
. Global Goals promotes 17 Sustainable Global Goals adopted by the UN, with
Sept 25 being the day they were formally adopted
.
In the tweet above, he's promoting #14 Life Below Water - "Conserve and sustainably use the oceans, seas and marine resources for sustainable development."
Podesta's email were posted on Wikileaks, and included an exchange with the person who actually posted the tweet, his assistant Milia Fisher. There was a minor exchange about the wording:
https://wikileaks.org/podesta-emails/emailid/44007
On Friday, September 25, 2015, Milia Fisher <mfisher@hillaryclinton.com> > wrote:

My favorite of the #GlobalGoals? No. 14— we must protect our oceans and life below water #SDGs

On Sep 25, 2015, at 2:30 PM, John Podesta <john.podesta@gmail.com> wrote:

If these haven't gone, I'd change the third to

Important but overlooked #GlobalGoals: No. 14-we must protect our oceans and the life they sustain.

From:mfisher@hillaryclinton.com To:

john.podesta@gmail.com

Date: 2015-09-25 16:31

Great thanks will make that edit and send them out!
The email exchange also included the image for her to post, so
that image is also in Wikileaks
.
Of course such simple explanations does not stop the Pizzagate (and later QAnon) folk from reading something more sinister into it, for example:
https://www.reddit.com/r/The_Donald/comments/5bi0hi/podestas_14_fish_hands_explained/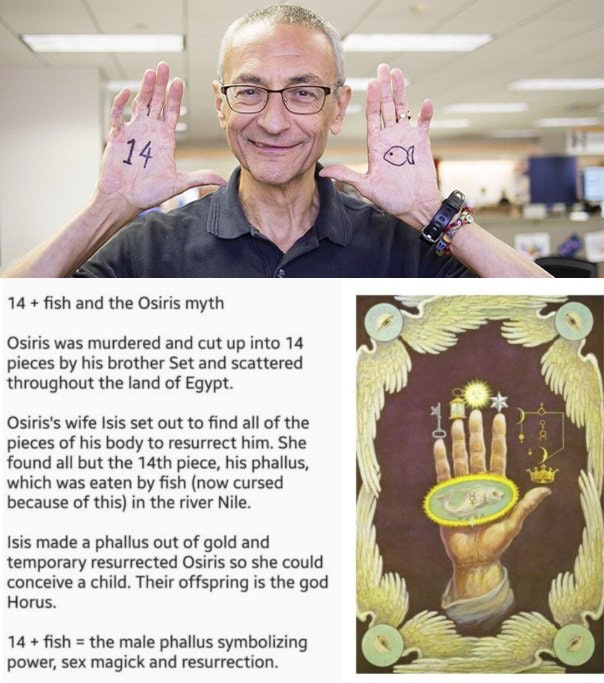 Or more:
https://voat.co/v/pizzagate/1517841
I've seen this picture

http://i.imgur.com/pT5D46U.jpgJPG

of John Podesta with 14 and a fish drawn on his hands explained in a bunch of different ways. All seemed quite complicated. Now I've found an explanation that is simple, makes sense and is evidenced.

It comes after I recently read the Podesta wikileaks email

https://wikileaks.org/podesta-emails/emailid/39459

that has 'Thelema Favor' in the subject line. It is a request from a friend of John to help someone meet Obama. In the body of the email the sender also terms the request as a 'Thelema favor'. This is not new to Pizzagate. As most know, Thelema is the cult religion founded by Alistair Crowley. Mr. 666 himself. Using the word Thelema in an email can't really be mistaken to mean anything else.

Anyway, while reading up on Thelema, I came across their numerology guide. It corresponds to the Hebrew letters of the alphabet.

http://www.thelemapedia.org/index.php/Gematria

.

As you can see in the link below, there are 22 letters. Each Hebrew letter has a corresponding numeral ((Don't be confused by the numerals on the left of the list in the link - they are Kabbalistic key scales (?)). Each letter, as far as i can tell, represents a path for Thelema initiates thru/on the "tree of life."

http://www.thelemapedia.org/index.php/Key_Scale#The_22_Hebrew_Letters_.28The_Paths.29

The important note is that the number 14 is represented by the Hebrew letter Nun.

The symbol of Nun is the fish.

In Thelemia, the 14th Path on the tree of life is the Path of Nun (the fish).

http://www.thelemapedia.org/index.php/Path_of_Nun

If you follow the above link all the way to the bottom, under the section "Magick & Mysticism", the magical power attained/associated with the Path of Nun is necromancy (communicating with the dead). This may well offer more evidence that Hillary is also an old Thelema convert, as it is a matter of public record - from Bill Clinton's own mouth - that Hillary talks with the dead.

https://www.youtube.com/watch?v=MRav-34ufcEYouTube

It's also worth noting that Thelema embraces many other occult and religious traditions such as gnosticism and tarot. The particular tarot card associated with the Path of Nun is the death card.

http://ann.skea.com/Death.htm http://www.thealchemyofholism.com/wp-content/uploads/2014/03/Path-of-NUN.pdf http://www.eli-lsmerchantile.com/blog/2013/09/26/Thoth-Deck-Tarot-Key-13-DEATH-Path-of-Nun.aspx

Funnily enough, the death card in Tarot is known as the 13th 'Trump'. True :)

There's so much in the Thelema research I cannot begin to get my head around it all. It may not necessarily mean its adherents are practicing blood sacrifice etc so I'm careful not to make conclusions. There's also a catholic gnostic alignment with Thelema.

http://www.thelema101.com/egc.html
Many conspiracy theorists are aware of the actual explanation, but they fold it into the conspiracy:
https://voat.co/v/pizzagate/1517841

The problem with the "obvious" explanation, which frankly pisses me off every time someone mentions it, is that EVEN IF he was talking about a bullet point on a memo, it is BIZARRE and CREEPY to write symbols on your palms, raise them up with a creepy grin on your face, take a picture, and then tweet/email it to the world. I'm a lawyer, I work with memos all the time, and I've never done anything like.

Then factor in the band aid on his left middle finger. Then factor in the cannibal painting hanging in his office. Then factor in Thelema, Moloch, and Minerve in the Wikileaks emails. Then factor in Spirit Cooking. Then factor in that these are KNOWN to use code words and doublespeak in the public (like pedo images in store brand logos).

After you factor all of that in, the Thelema/Spirit Cooking explanation makes a lot more sense, even if Podesta is using the memo for plausible deniability.

Little claims like this are obviously ridiculous when you know the context. But it thought it was still a good idea to put up a post with a more detailed explanation. Things are often re-cycled and can become part of a mythology where the origins are forgotten. I've seen people present the image as if it came from Wikileaks, not realizing it was a public tweet. So having an explanatory post with all the references might save people some time and effort later.
Last edited: