I received this recent post from
Dutchsinse
.
LARGE PULSE OF RADIO FREQUENCY DETECTED COMING FROM ALASKA — HAARP CAUGHT IN ACTION?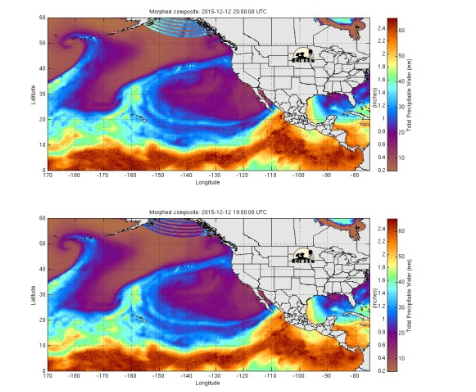 A large pulse of RF (radio frequency) has been unintentionally detected coming out of Alaska by the MIMIC microwave background imagery satellite composite feed.

In the past, even though this feed is designed to show "total precipitation" amounts, it sometimes reveals RF which crosses the same bandwidth masquerading as actual "water".

In reality, no actual cloud formations, or total precipitable water is being detected.

In past years

we have seen large incoming pulses of energy following solar flares

, and Earth facing CME's (coronal mass ejections) show up on this feed due to the incoming pulses crossing over the same bandwidth , or better put …. it is a false moisture return caused by matching energy on the same wavelength.
The post seems to be trying to create a link between "large pulse" in the images and HAARP
http://dutchsinse.com/12122015-larg...ed-coming-from-alaska-haarp-caught-in-action/
Previous threads have addressed claims made by
Dutchsinse
:
https://www.metabunk.org/debunked-h...in-paper-from-stanford.t491/page-6#post-48097
This subject is way outside my expertise. A little help would be greatly appreciated.