Here's a dutchsinse vid from 6/16/2013 where he claims that tornadoes were spawned by a radar spike afflicting the Central Illinois radar KILX in Lincoln, IL. He thinks that strong stationary returns seen on a composite map were severe storm cells.
http://www.youtube.com/watch?v=7iPbCapfyxQ
At the 0:27 mark he goes to the nearby WSR-88D radar out of Chicago, IL where those storm cells DO NOT APPEAR, although if those cells were real they should have also been detected by the radar in Chicago. So he quickly moves from the Chicago radar to the Lincoln radar. That little sequence from 0:27 to 0:35 proves that the radar signature is unique to the Lincoln radar only and not detected by adjacent radar stations. This means they were not actual storm cells. Looking at the radar from Lincoln, IL this morning, the spike is still there and the purple color code indicates "range folding" which means the source of the spike is likely outside interference such as a cell tower or it could even be internal noise. The strong isolated returns could be the result of switching Volume Coverage Patterns and their stationary nature indicates that the next few volume scans did not happen for some reason. In that situation the last volume scan from that particular radar will be momentarily "frozen" on the composite maps.
And there was no severe weather reported in those locations.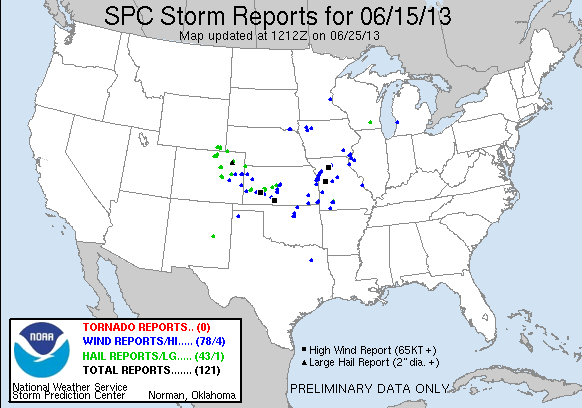 In another thread I detailed the fact that Intellicast is owned by The Weather Channel Companies. Intellicast and TWC seem to be using the same or similar rendering software. Michael "dutchsinse" Janitch claims multiple systems in the above vid:
(storm returns detected by multiple storm tracking systems on Intellicast and the Weather Channel).
The RADAR pulses showing as , AND DESIGNATED AS possible tornadoes, damaging winds, as well as strong cell thunderstorms with hail.

This pulse producing a storm return, is another example of Radio Frequency heating having a PHYSICAL EFFECT on the weather, not just RADAR for observation, but manipulation of incoming systems, and in this case real life storm creation.
No, Michael, this is yet another example of you making stuff up about technology you don't understand at all.
Edit:
Oh, and "strong cell thunderstorm" is NOT a proper meteorological term. The term "strong cell" is just a label used on Intellicast maps to indicate an area of stronger precipitation and/or convection.
Last edited by a moderator: