Administrator
Staff member
People who suggest there is some kind of covert geoengineering program going on (the term "geoengineering" is often used to refer to a variant of the "chemtrails" theory), often point to
global dimming
(a reduction of the amount of sunlight hitting the earth's surface) as evidence of this. Here's an example:
http://www.geoengineeringwatch.org/welcome2page/10-bullet-points-regarding-geoengineering/
The problem with the above assertion is that
it's wrong
, it's basically an interpretation of data that is 20 years out of date. "Global Dimming"
was
a real thing, from around 1950 to the late 1980s. But it has since been replaced in most places (including North America) by "Global Brightening", generally because of the reduction in pollution brought about by the clean air acts around the world.
The most comprehensive overview of the Subject is by Wild, 2012, and his findings are confirmed by other studies. I've highlighted the important parts below.
Martin Wild, 2012, Institute for Atmospheric and Climate Science, Zurich, Switzerland. Published in the American Meteorological Society:
Enlightening Global Dimming and Brightening
http://journals.ametsoc.org/doi/pdf/10.1175/BAMS-D-11-00074.1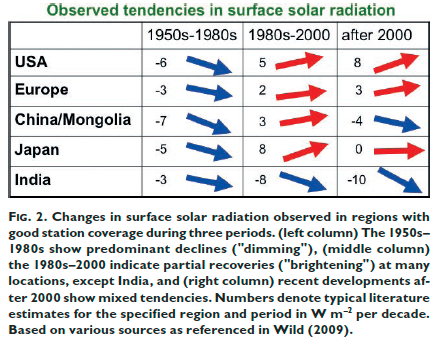 One interesting thing there is "
Note that "global" thereby originally referred to "global radiation," a synonym for SSR, rather than to a globalscale dimension of the phenomenon
" - meaning "global dimming" did not actually mean the entire globe is dimming, even back in the 1980s. It was just the "
global radiation
" (i.e. the full spectrum) at particular locations.
Other recent studies have similar results.
http://adsabs.harvard.edu/abs/2013EGUGA..15.2579W
2013: Wang
http://adsabs.harvard.edu/abs/2012EGUGA..1413344H
2012, Hatzianastassiou, et al., Features and causes of recent surface solar radiation dimming and brightening patterns:
http://proceedings.aip.org/resource/2/apcpcs/1527/1/579_1?isAuthorized=no
2013, O'Dowd, et al.
Cleaner air: Brightening the pollution perspective?
Update: Martin Wild gave a presentation on the topic at the American Geophysical Union (AGU) Fall Meeting in San Francisco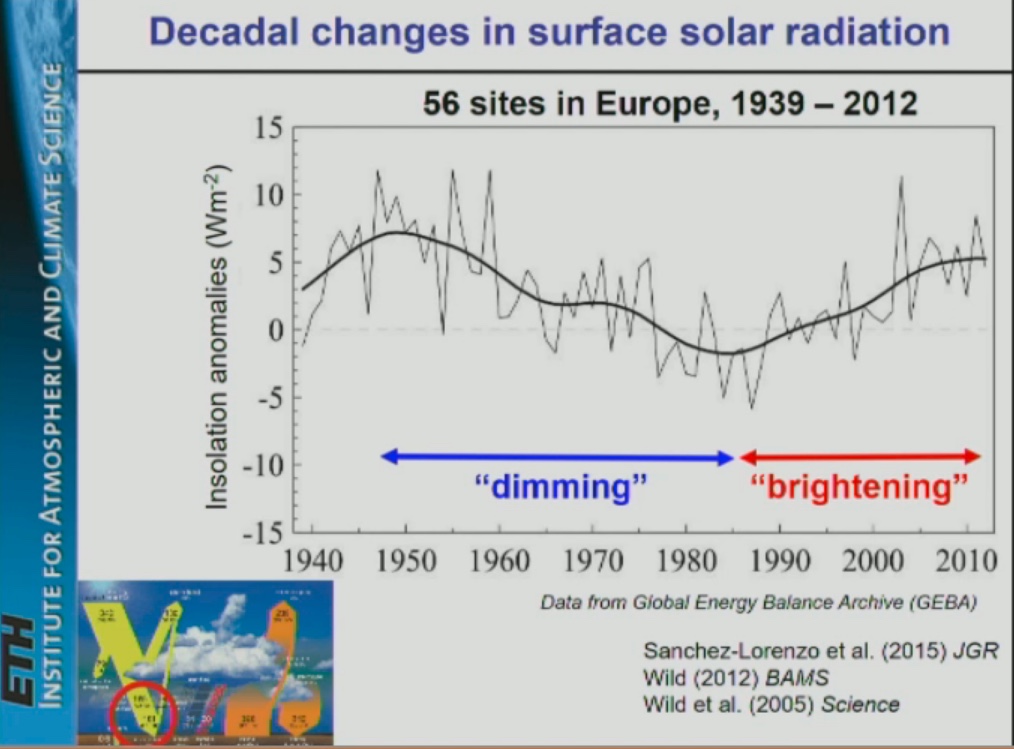 Last edited: