Administrator
Staff member
[Update Oct 13 2014 -
See here for the "Ebola Coffins" variation
of this story]
The "FEMA Coffins" story is basically a misunderstanding of what these things were, stored in their thousands (although far less than suggested) in a field in Georgia: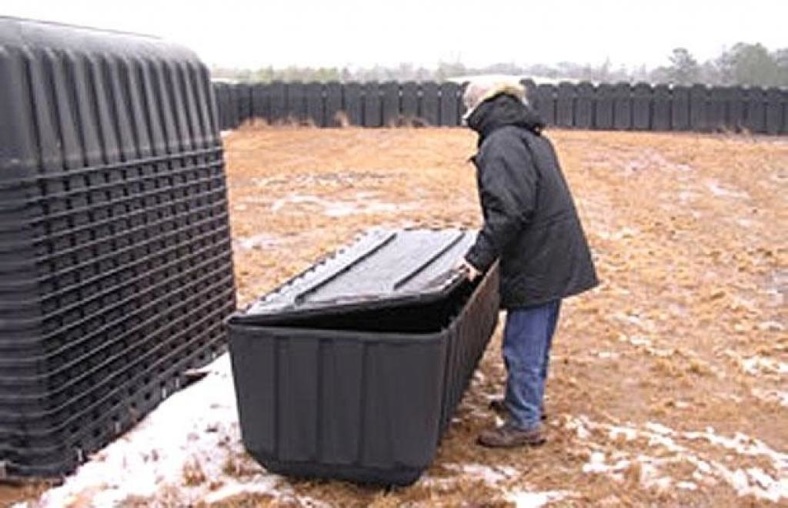 They are actually not coffins or caskets, they are
burial vaults
(also known as grave liners, depending on how well they seal water out). A burial vault is something that a coffin goes in, and is not used for interring people by itself. It's used in several states in the US where ground subsidence is an issue in graveyards.
http://www.gormleyfuneralhome.com/products/burial-vaults.aspx
(
http://archive.is/568SX
)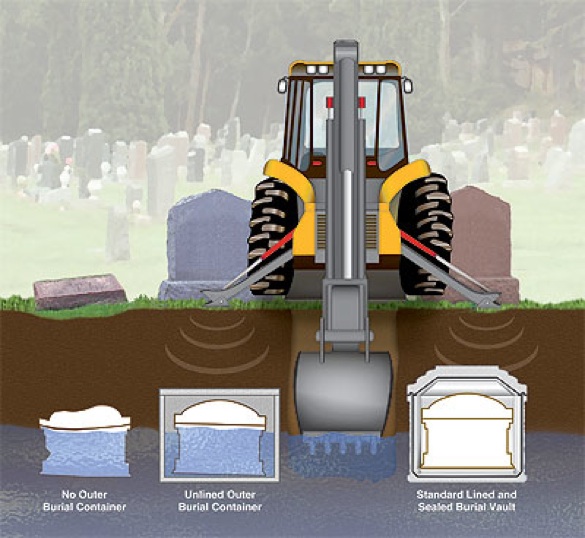 Some burial vaults are made of concrete: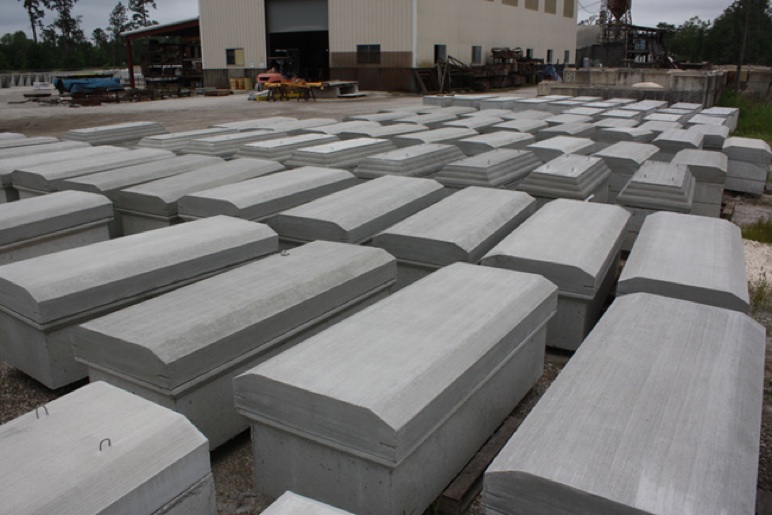 But many are simply strong plastic, like those in the field, made by Vantage Products
http://vantageproducts.com/standard.html
(
http://archive.is/8csUl
)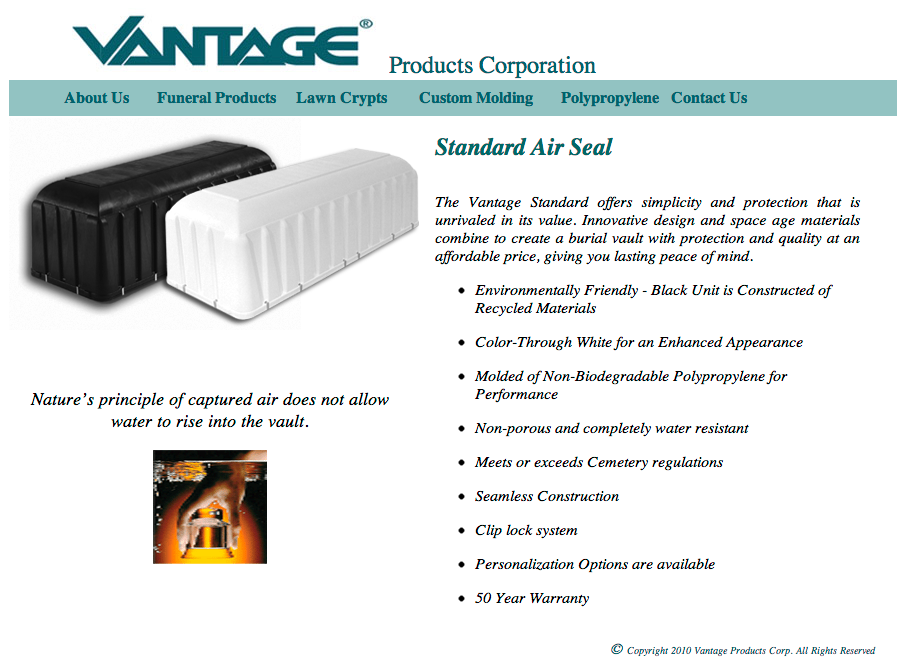 They fit over a regular coffin like this: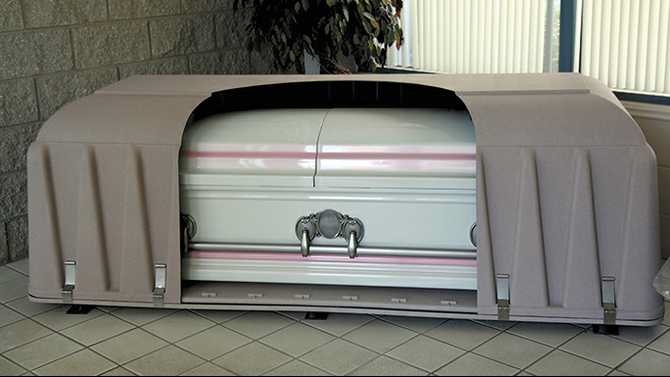 Since they are designed to withstand the elements for hundreds of years, the cheapest place to store them is a field. It's just a big outdoor warehouse. Vantage leased the field specifically to store this batch for centralized distribution. Here's the lease: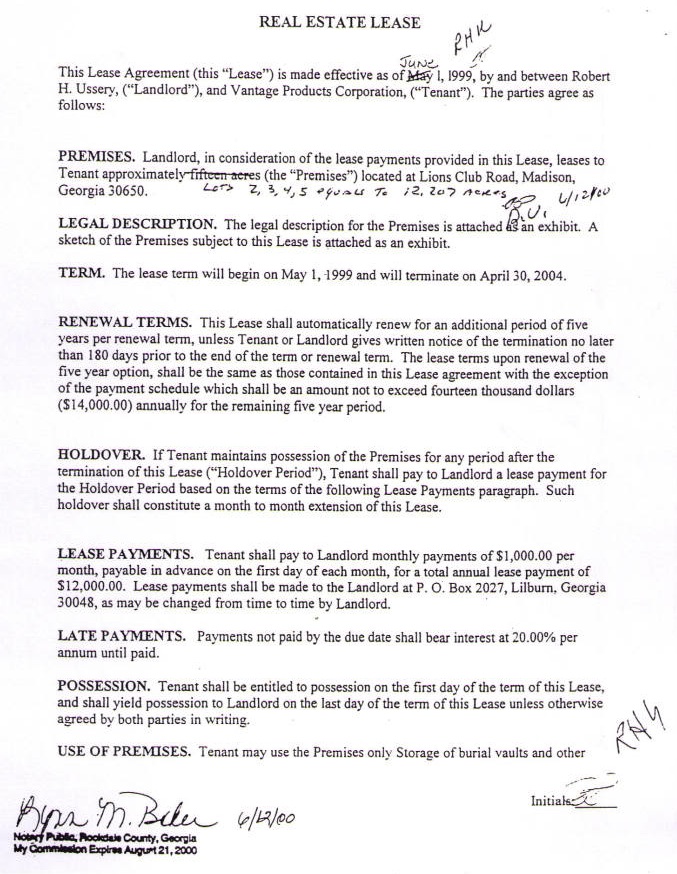 They just load a few pallets onto trucks and take them to wherever they are needed. This truck has 126 (9 piles of 14 liners)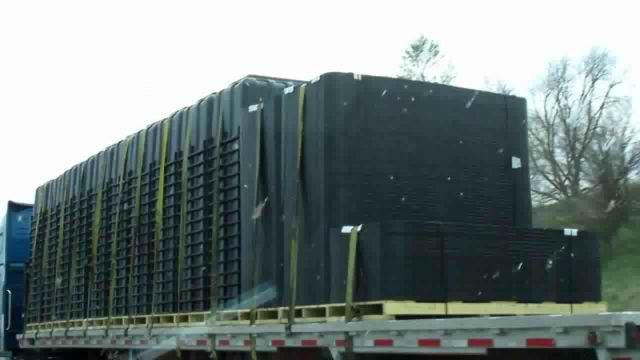 There are lots of them because the funeral industry uses lots. 65,000 people die every year in Georgia alone. 2.5 Million people die every year in the US. Not all of them are buried, and not all burials use grave liners, and not all of them use this type, but that's still a lot of grave liners sold every year.
But how many could there actually be in that field? The conspiracy theorist claim 500,000. Well, a single vault is 3' by 8', so takes up 24 square feet. The field is about 500 feet long, 250 to 450 feet wide, and not totally filled, so let's say 500x250, that's 125,000 square feet, with a stack taking a minimum of 24 square feet, the most you could pack in would be 125000/24 = about 5200 stacks. At 14 per stack (as per the truck image) that's about 73,000. That's just basic science, you could not pack more than 100,000 into that field. (Vantage says around 80,000 at the peak, see below.).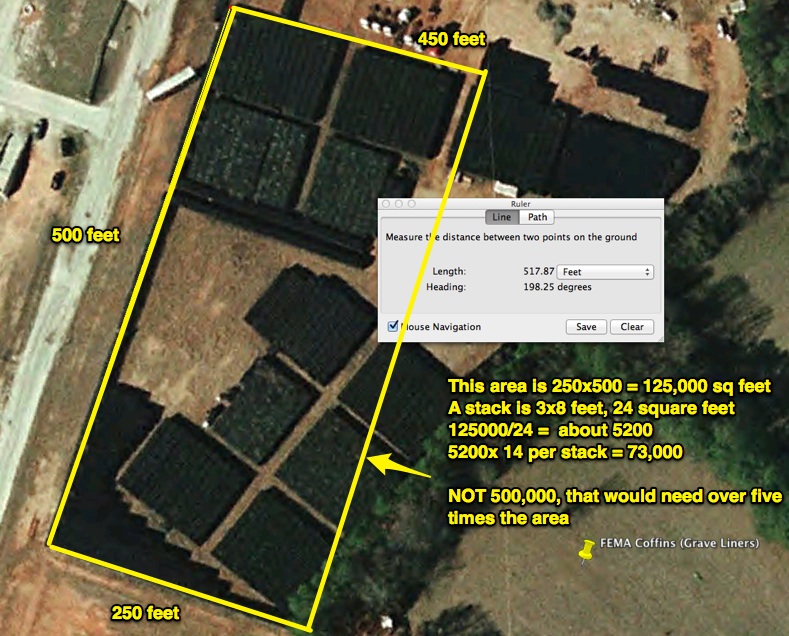 The vaults are not there anymore, you can see the site
in Google at 33.5657680, -83.4848390.
The last of the grave liners were removed in around 2010. Vantage are probably using another location. Any old field will do. This particular field is about 150 yards. But here's an even bigger storage area of suspicious looking black objects: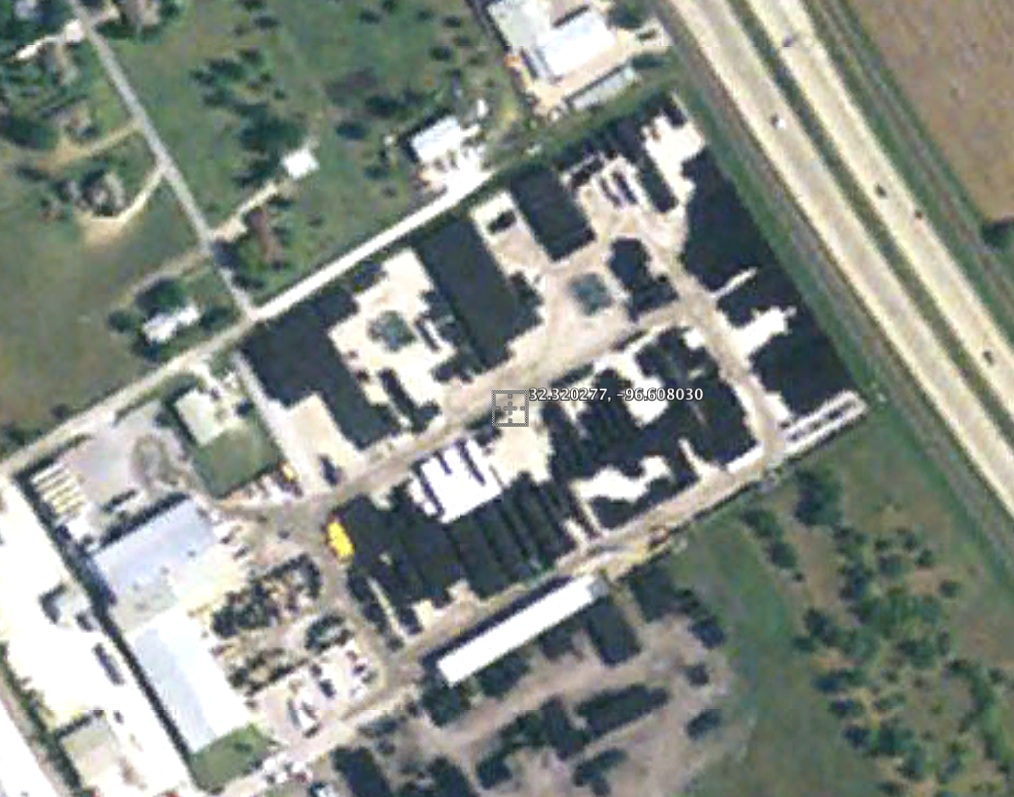 But if you zoom in, you'll see it's just a bunch of sewer pipes: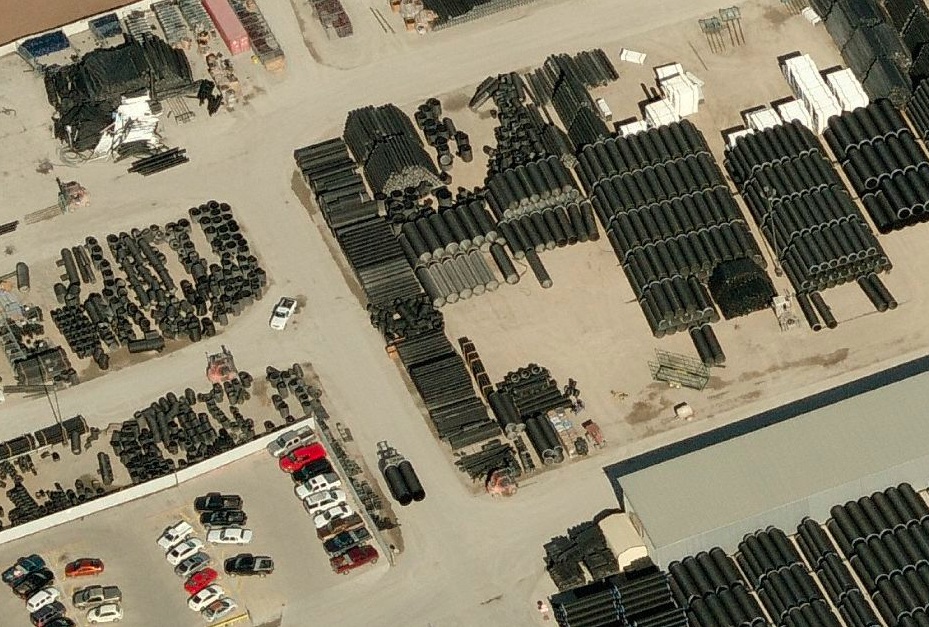 Just like the burial vaults, it's a lot cheaper to store them outdoors than in a warehouse.
Vantage is aware of the conspiracy theory, and back in 2008, a local paper interviewed them about it:
http://web.archive.org/web/20120521010322/http://www.morgancountycitizen.com/?q=node/7524
Vantage now mostly stores them at the main facility at
960 Almon Rd Covington, GA 30014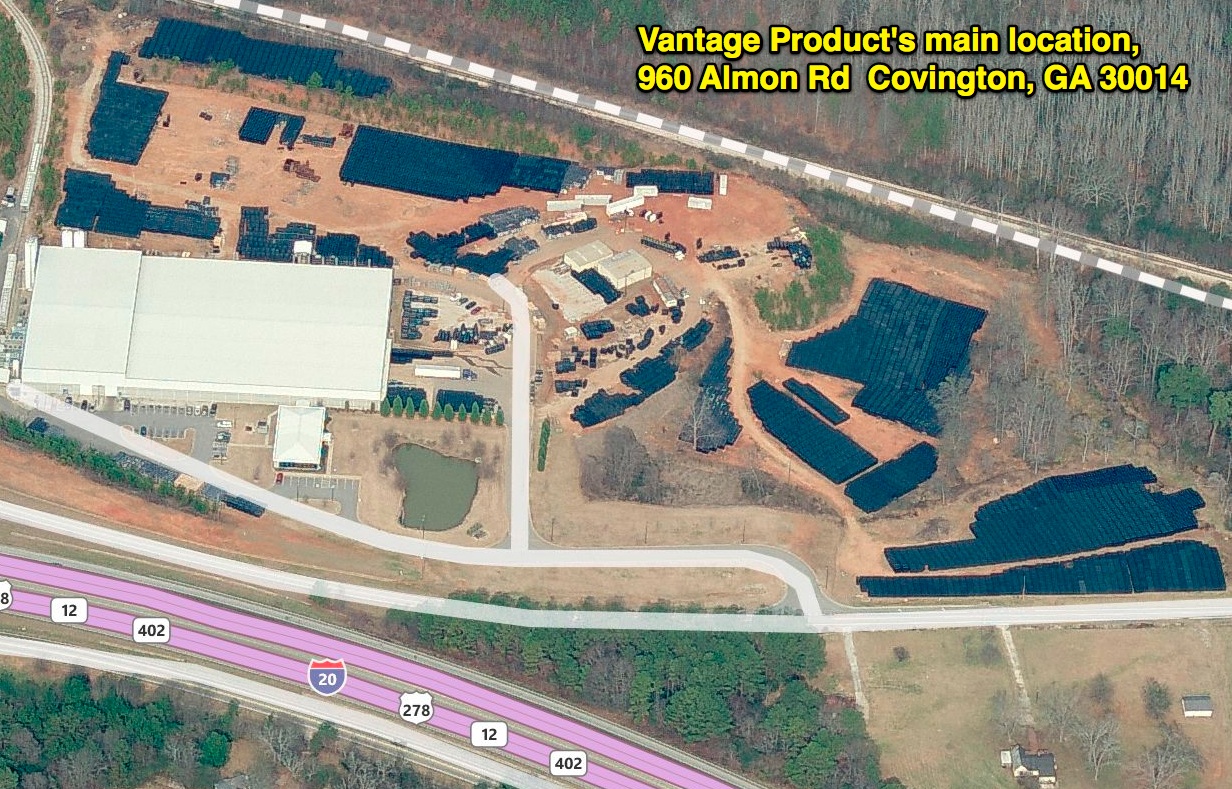 [Update Oct 13 2014 -
See here for the "Ebola Coffins" variation
of this story]
Last edited: