Administrator
Staff member
Some recent reports make it seem like the CIA is funding some kind of secret weather weapon. The somewhat mainstream Mother Jones posted a story with this ridiculous graphic:
http://www.motherjones.com/politics/2013/07/cia-geoengineering-control-climate-change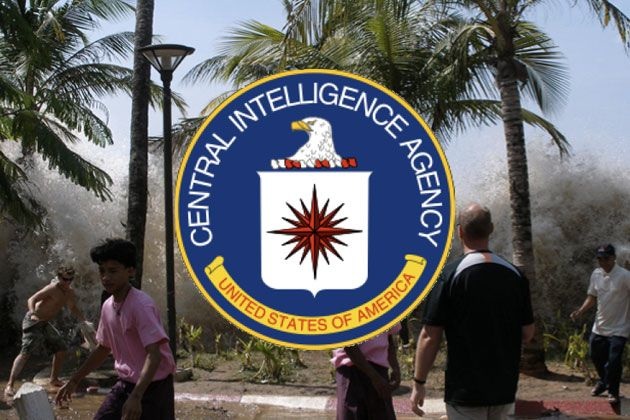 It's ridiculous because it's a picture of a Tsunami, which was caused by an earthquake, and is absolutely nothing to do with either climate or the weather. The actual article is not too bad, but ends with a nod to conspiracy theorists.
The CIA's decision to fund scientific work on geoengineering will no doubt excite conspiracy theorists. The last time the government tried to do cutting-edge research related to the atmosphere—with the

High Frequency Active Auroral Research Program

(HAARP), which aimed to protect satellites from nuclear blasts—people speculated that it might be a death ray, a mind control weapon, or,

worst of all

…a way to control the weather.
HAARP, by the way, was recently shut down to lack of funding.
So what is the CIA's actual involvement. Here's what one of the panel members, Ken Caldeira says:
There is no "CIA study".

There is a National Academy study that is funded by NOAA, NASA, the CIA, and the National Academy itself.

All of these parties had a hand in developing the charge to the committee which is publicly available here:

http://www8.nationalacademies.org/cp/projectview.aspx?key=49540 Neither NOAA, NASA, nor the CIA have anything more to do with this study other than receiving the final committee report. You too will receive this same report.

The panel members are listed here:

http://www8.nationalacademies.org/cp/CommitteeView.aspx?key=49540

We are a diverse groups of academics who share a commitment to openness, free-exchange of ideas, and transparency.

I am on record decrying many abuses by the US intelligence community including what I consider to be criminal drone attacks, secret wars, surveillance, etc. If I thought that somehow our report was going to help the CIA do something nefarious, you can be sure that I would not be a participant.

I want the US gov't to think through the situation that lies before us with respect to climate change. If a careful "thinking through" could occur, I think it would result in greatly increased emphasis on transforming our energy system into one that does not rely on using the atmosphere as a waste dump.
And the actual project:
Project Scope

An ad hoc committee will conduct a technical evaluation of a limited number of proposed geoengineering techniques, including examples of both solar radiation management (SRM) and carbon dioxide removal (CDR) techniques, and comment generally on the potential impacts of deploying these technologies, including possible environmental, economic, and national security concerns. The study will:

Evaluate what is currently known about the science of several (3-4) selected example techniques, including potential risks and consequences (both intended and unintended), such as impacts, or lack thereof, on ocean acidification,
Describe what is known about the viability for implementation of the proposed techniques including technological and cost considerations,
Briefly explain other geoengineering technologies that have been proposed (beyond the selected examples), and
Identify future research needed to provide a credible scientific underpinning for future discussions.

The study will also discuss historical examples of related technologies (e.g., cloud seeding and other weather modification) for lessons that might be learned about societal reactions, examine what international agreements exist which may be relevant to the experimental testing or deployment of geoengineering technologies, and briefly explore potential societal and ethical considerations related to geoengineering. This study is intended to provide a careful, clear scientific foundation that informs ethical, legal, and political discussions surrounding geoengineering.

The project has support from the National Academy of Sciences, the U.S. intelligence community, the National Oceanic and Atmospheric Administration, and the National Aeronautics and Space Administration. The approximate start date for the project is March 2013; a report is expected be issued in fall 2014.
So that's it. The CIA is not studying anything, they are just contributing the the funding a study on a topic that has potentially great geopolitical implications, and hence is of national security concern. It's no more nefarious than the studies they do on education demographics in Africa, or farming methods in Bangladesh, or anything else that goes into the
World Factbook
. They do it because global stability is an important part of American national security, and they need to know about anything that might effect it.
Last edited: