Administrator
Staff member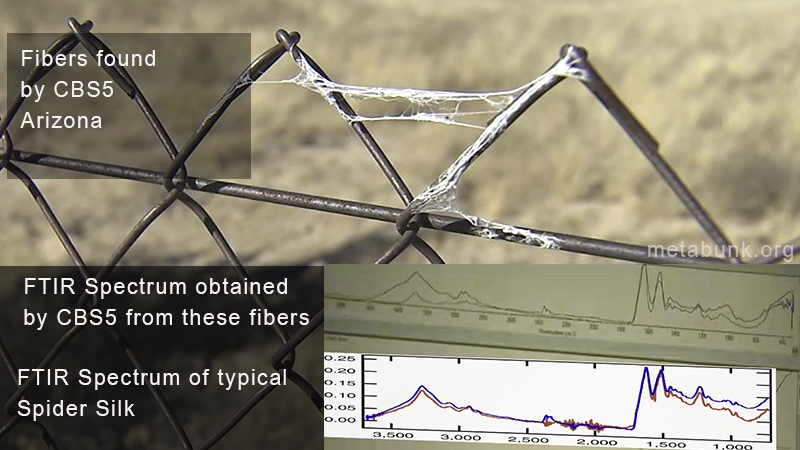 Earlier this month, Arizona's CBS 5
reported on the story
of a local woman who had observed some planes fly overhead, and then noticed some fibers (as in the image above). First she saw them floating in the air, then later saw some clumped together on a fence. Reporter Greg Argos took some samples of these to a lab, where scientist Melissa Beddow suggested they might be biodegradable gauze used on cattle.
However the fibers
are almost certainly spider silk
. There are three reason why this is so.
1. They were floating in the air exactly like spider silk
2. They look exactly like clumps of spider silk
3. The chemical analysis matches spider silk
The local woman, Marie Snow, first described the fibers in the air as "what looked like 50 foot long spider webs [...] continuous and glistening in the sun". Long thin gossamer cobwebs in the air, glistening in the sunlight, is something most people are familiar with. The origin of the web might be unfamiliar to people though, it's actually from newborn spiders that spin a long strand of web into the wind, and use it fly away from their hatching place.
Since there can be millions of spiders in a field, the long strands of silk sometimes combine into something that looks rather unlike a spider web, but it's actually made of the silk from perhaps thousands of baby spiders, wrapped together by the wind, and caught on fences. Here's an image of the resultant bundle of silk, compared with the samples found by CBS5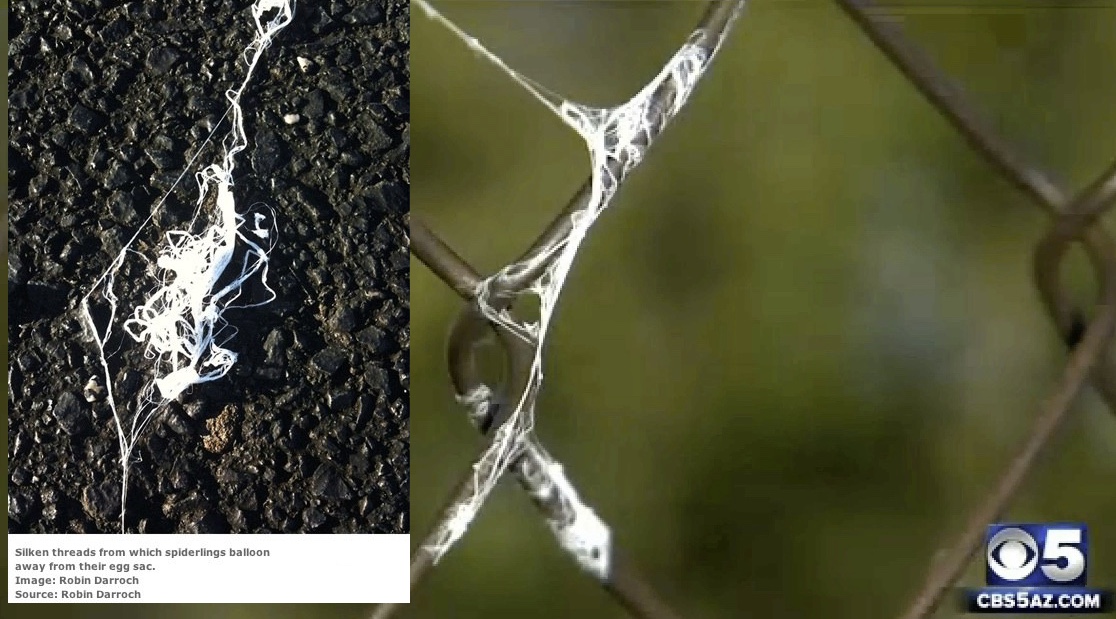 source:
http://museumvictoria.com.au/discoverycentre/discovery-centre-news/2011-archive/spider-ballooning/
So later when she says of the fibers she found on the fences "it's thicker than a spider web", she is quite correct, because it's actually thousands of spider webs.
These ballooning spiders are not uncommon in Arizona, and this is exactly the right time of year to be seeing them. Here's another local news story about the spiders, from Nov 12, about the same time as the CBS5 story.
http://azdailysun.com/news/local/ba...cle_c8128ac5-b59f-51fa-98b6-0f437f4a04d7.html

With Arizona's southwesterly winds, the spiders who lift off here may end up in the Rockies or somewhere along the Great Plains, said Larry Stevens, ecology and conservation curator at the Museum of Northern Arizona.

"Spiders are so abundant that literally billions of tiny spiders balloon off our landscape," he said. "They're at the mercy of the wind."

It's most common for spiders to balloon in the fall because the babies have hatched from eggs that female spiders tend to lay in the summer. After dispersing, the insects overwinter in the juvenile state then grow to their full size in spring and reproduce in the summer, Stevens said.

But what of the lab tests? Why wheat gluten flour and Bacitracin (or the similar gramicidin)?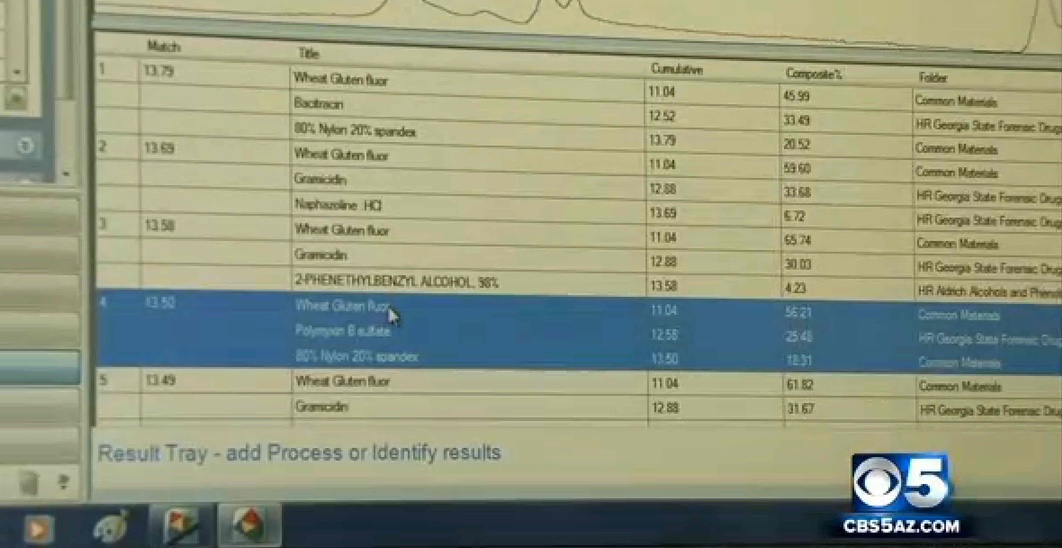 Here's the FTIR scan for spider silk (the red line)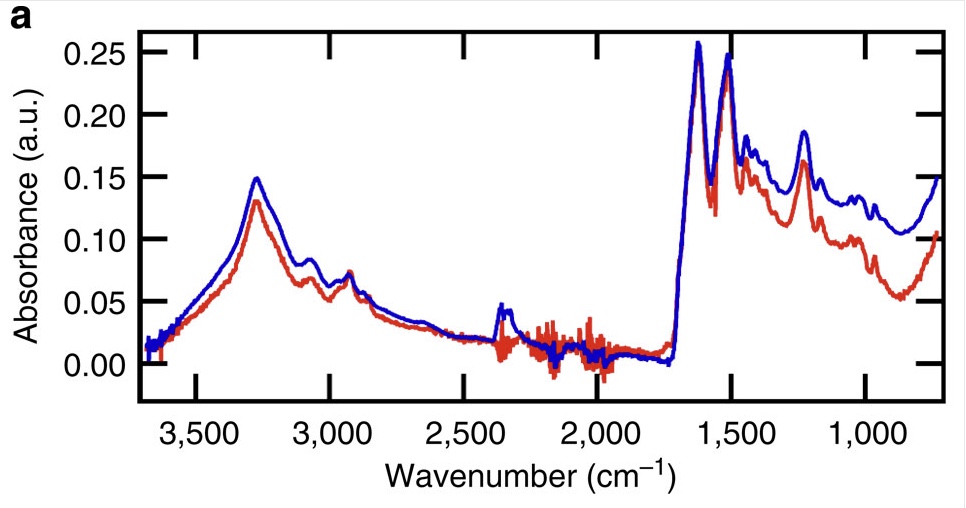 Source:
http://www.nature.com/ncomms/2013/130910/ncomms3435/fig_tab/ncomms3435_F3.html
And here's what the lab found: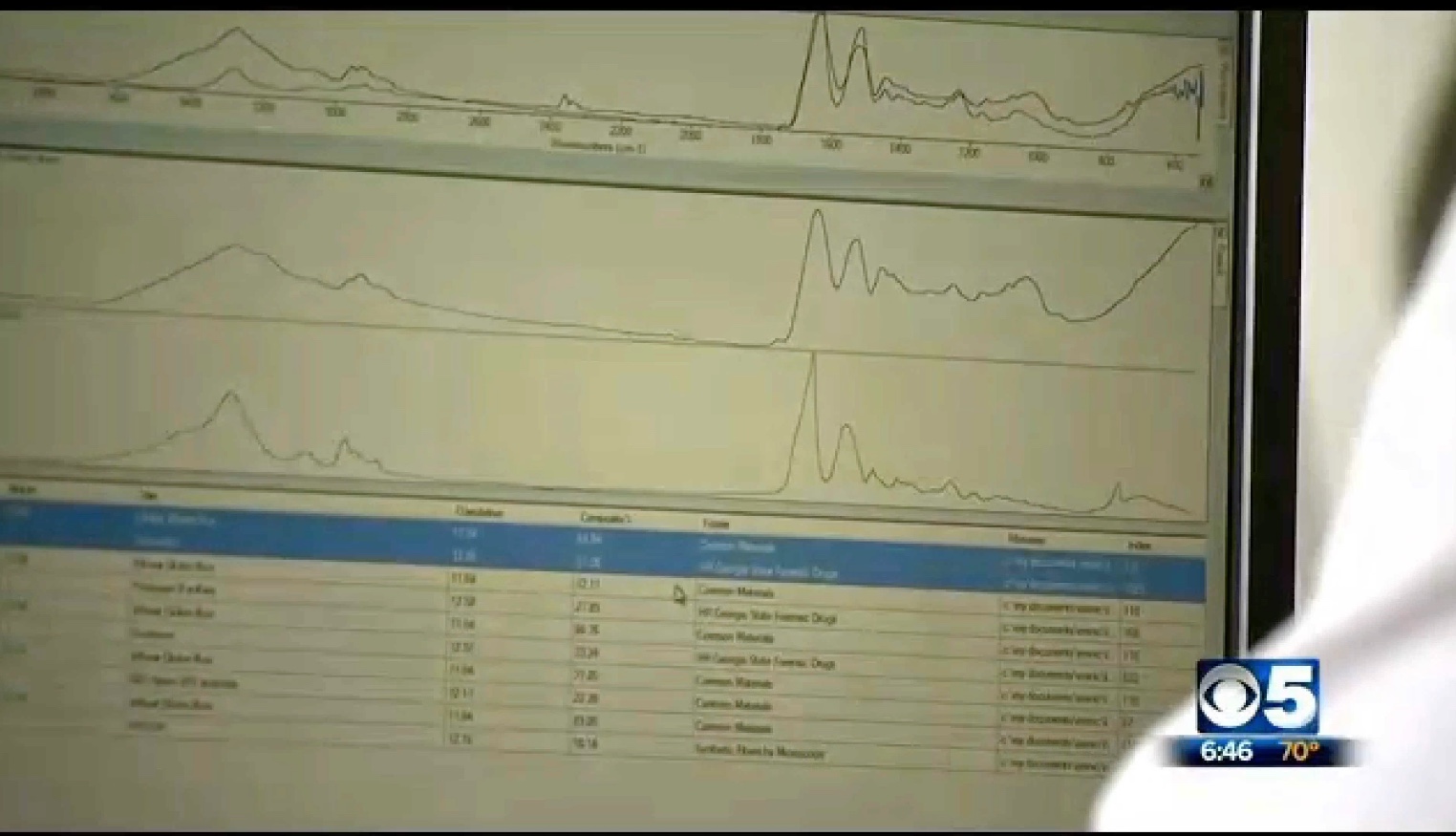 When you overlay them for scale, you get a very close match

The reason for the confusions here is simply that the mixture of these substances is very similar to spider silk in its chemical composition, basically being a blend of
peptides
and proteins. Spider silk is a complex and variable mix of these, and could very easily be misidentified as mixture of other similar things - especially if you don't have it in your database.
http://www.chm.bris.ac.uk/motm/spider/page3.htm
Spider silk is a natural polypeptide, polymeric protein and is in the scleroprotein group which also encompasses collagen (in ligaments) and keratin (nails and hair). These are all proteins which provide structure. The protein in dragline silk is fibroin (Mr 200,000-300,000) which is a combination of the proteins spidroin 1 and spidroin 2. The exact composition of these proteins depends on factors including species and diet. Fibroin consists of approximately 42% glycine and 25% alanine as the major amino acids. The remaining components are mostly glutamine, serine, leucine, valine, proline, tyrosine and arginine. Spidroin 1 and spidroin 2 differ mainly in their content of proline and tyrosine.
http://en.wikipedia.org/wiki/Bacitracin
http://chemistry.about.com/od/foodcookingchemistry/a/What-Is-Gluten.htm
Gluten is a

protein

found exclusively in certain grasses (genus

Triticum

). It is a composite of two proteins, gliadin and a glutenin, bound to starch in the seeds of wheat and related grains.
Remember the tests being done here are not deterministic, all it does is provide a rough signature, and then the computer compares it to things in the database and tries to figure out what it could combine together to make a match. It's basically guessing. See the various guesses in the above screen capture. In #1 it guesses Bacitracin, in #2 gramicidin. In #1 we have "80% Nylon 20% Spandex", in #2 Naphazoline, in #3 it's 2-Phenethlybenzyl alchohol.
Beddow was then taking these computer guesses, and trying to come up with something that matched, so she theorized biodegradable antiseptic cattle bandages made of gluten. A good try, but of course would not explain the long fibers glistening in the air, or the fibers exactly resembling clumped spider silk. It also appears to be something of an imaginary product.
So it seems almost certain that this is spider silk. However
some additional tests performed by Shepard Ambellas
suggest there are "metals" in the fibers.

1020 mg/kg of aluminum is 0.1% aluminum. This does seem rather high at first glance. However you have to remember that dirt is around 8% aluminum (10% in western states). So all this means is that
the sample is 1% dirt by weight
. This is hardly unexpected from a sample of old spider web stuck to a fence. The other metals were found in much lower quantities, consistent with background levels found in dirt.
Marie Snow suggests that the test are high because they are higher than the MDL
We have sent two samples of the substance to different labs and as of 12-4-14, my results show highly positive for aluminum = 421mg (MDL = 156), Strontium = 70.8mg (MDL = 3.1), Cori's results Aluminum 1020mg
(MDL = 164) Barium = 34.1 (MDL = 11.9).
However this is a misunderstanding of what the MDL is. It's the Method Detection Limit, the value below which the substance cannot be reliably detected. So rather than being high, the values here are
barely detectable
. The second number RL, the Reporting Limit, is sometimes misunderstood as a value above which "report" it to some authority. But it's actually the value below which the substance can be detected, but not accurately measured.
http://www.alphalab.com/support-services/faq-frequently-asked-questions#A8

Q: What is the difference between a Reporting Limit (RL) or Reported Detection Limit (RDL) and the Method Detection Limit (MDL)?

A: A Reporting Limit (RL or RDL) is the limit of detection for a specific target analyte for a specific sample after any adjustments have been made for dilutions or percent moisture. Some state regulatory programs require a laboratory to prove it can reliably "see" down to its RL by setting the RL at the lowest point on the calibration curve. In contrast, the Method Detection Limit or MDL is lower than the RL (often much lower) and is a statistical calculation. Since the MDL is below the point of calibration, results reported down to the MDL are not reliable and must be qualified as estimated values and, as such, carry a "J" qualifier designation.

And notice the test method used was
EPA 6010B
, a very common method for detecting metals. However it detects aluminum the metal, and aluminum oxide (the mineral) exactly the same. So really it's not finding metals, just oxides of metals. Regular old dirt.
So this mysterious fiber is just some dusty spider silk.
Last edited: