Administrator
Staff member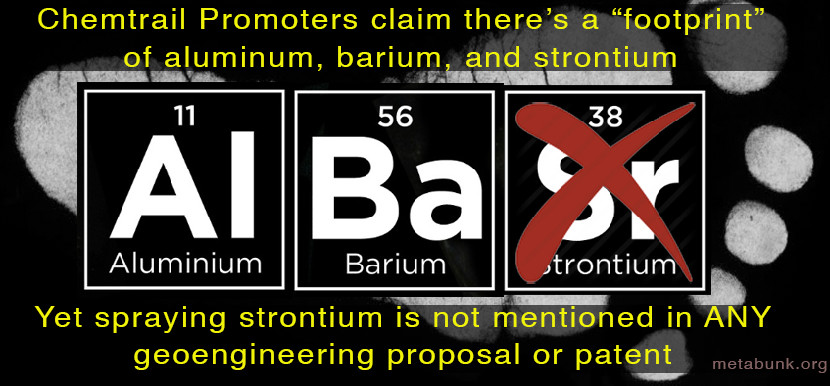 Promoters of the "chemtrails" theory often rattle off a list of three elements, Aluminum, Barium, and Strontium. They claim that these are a "footprint" of geoengineering, supposedly being the exact three elements that geoengineering researchers have suggested using to block the sun, and also being the elements found in geoengineering patents. They test the soil, the water, the air, the rain, and they find varying amounts of these chemicals, and claim that this is evidence of a covert geoengineering scheme carried out with "chemtrails".
There are a number of problems with this theory. The biggest being that the amounts found are pretty much within the normal range of variation you'd find everywhere. Aluminum in particular makes up about 8% of the dirt and dust everywhere, and the other elements are also commonly found in the ground, and hence in the air, rain, and water in the form of mineral dust.
Secondly, even if the levels were elevated, how is this connected with what's going on 35,000 feet? The source of the pollution (which has never actually been demonstrated to be elevated anyway) could be local sources, or even something blowing in on the wind from thousands of miles away. California gets dust and pollution from China, the East Coast gets it from Europe and Africa.
The promoters then bring out what they think of as a trump card - the "footprint" of Aluminum, Barium, and Strontium. Why, they ask, are they finding the exact same three elements that are in all these geoengineering proposals and patents? For example:
http://www.geoengineeringwatch.org/...limate-chaos-and-environmental-catastrophe-2/
[bunk]Countless lab tests of precipitation from around the globe (cited above) have been done by concerned individuals and groups in recent years, and the results are shocking to say the least.
Our rain and snow is quite literally packed with the very same highly toxic heavy metals named in numerous geoengineering patents as primary elements.
The air we breath is also laden with the same toxins
aluminum/alumina, barium, strontium
, manganese, thorium, and now even fluoride[/bunk]
Well, for a start it's because they only test for those three elements. If they tested for other elements commonly found in the ground, like silicon, iron, calcium, sodium, potassium, etc, they wold find them all too. And they would find them in
much higher concentrations
(on average) than they would find either barium or strontium. The footprint they are finding is that of dirt, but they only test a bit of that footprint, so they think it's their geoengineering footprint. It's like finding someone with blue eyes and white teeth and saying he's Justin Beiber.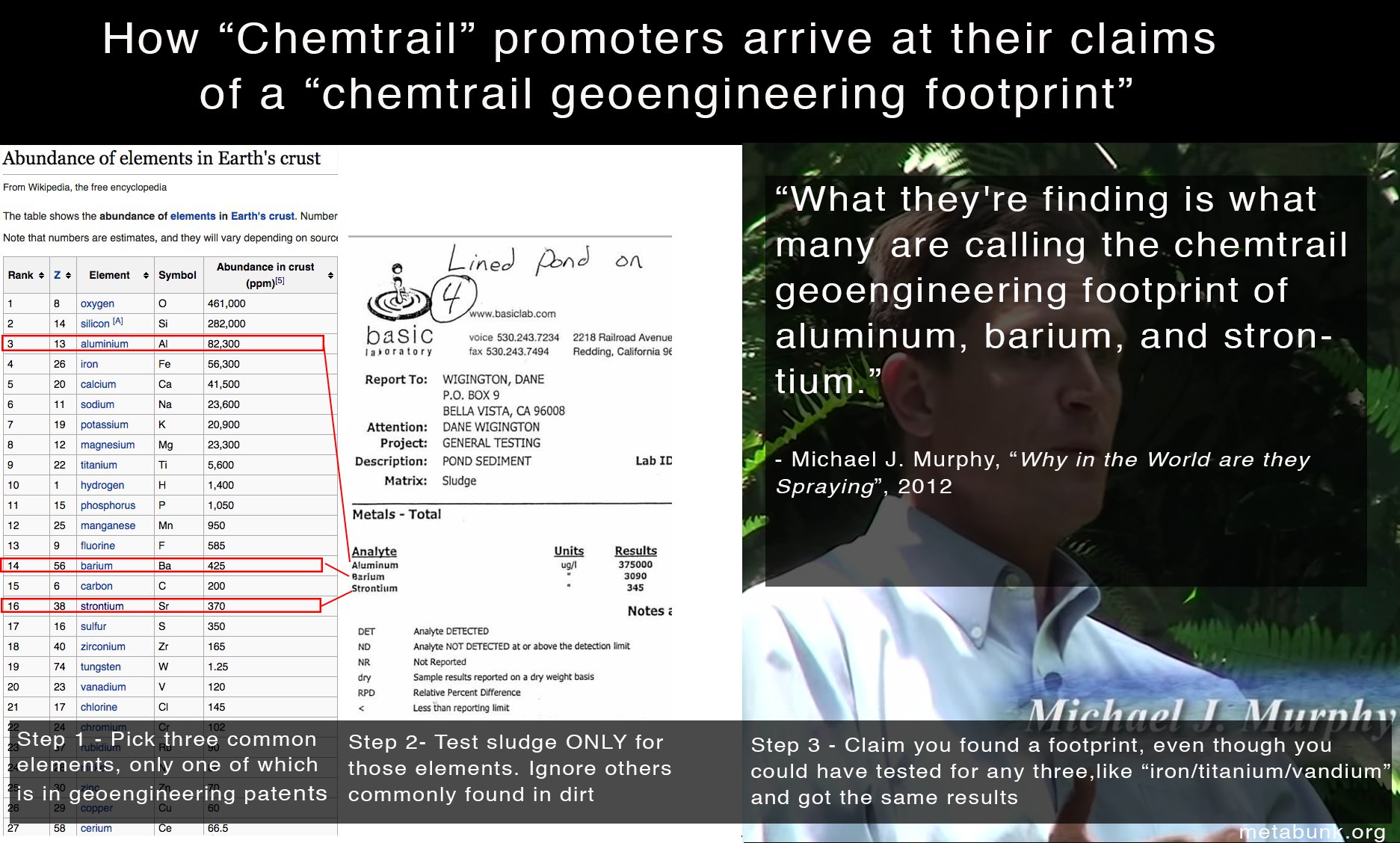 These problems alone are enough to dismiss the theory of the Aluminum/Barium/Strontium signature, but there's one more problem with it that basically makes it entirely worthless, even if we overlook all the other problems. The problem is
there is no footprint.

There's no footprint because
there are no geoengineering proposals or patents that suggest spraying strontium.
There's very few that suggest spraying barium either. There are a few that suggest using aluminum, there's even one by David Keith that suggest using aluminum and barium together - but that uses rather impractical microscopic levitating disks that would be easily detectable with a microscope. Most geoengineering proposals that call for spraying something call for spraying sulphates. None of them call for strontium. So the claim on geoengineeringwatch that barium and strontium are "named in numerous geoengineering patents as primary elements" is just flat wrong.
Don't believe me? Check for yourself. Search the literature for "geoengineering" and "strontium". The
only
things that come up are conspiracy theory web sites. And check the patents they reference, the most common being what they call the "Welsbach" patent:
http://www.google.com/patents/US5003186
The method includes the step of seeding the layer of heat-trapping gases in the atmosphere with particles of materials characterized by wavelength-dependent emissivity. Such materials include Welsbach materials and the oxides of metals which have high emissivity (and thus low reflectivities) in the visible and 8-12 micron infrared wavelength regions.
...
A desired material for the stratospheric seeding has a reflection coefficient close to unity for near IR radiation, and a reflection coefficient close to zero (or emissity close to unity) for far IR radiation. FIG. 3 is a graph illustrating an ideal emissivity versus wavelength function for the desired material. Another class of materials having the desired property includes the oxides of metals. For example, aluminum oxide (Al2 O3) is one metal oxide suitable for the purpose and which is relatively inexpensive.
This patent
does not mention either barium or strontium.
Try
a search of Google Scholar for "geoengineering+strontium"
, there are many results, including some for conspiracy sites, or forums like this one, but
none
of the results are a serious discussion of spraying anything that contains strontium. Search instead for
"geoengineering+sulfates",
and you will find hundreds of scientific papers about spraying sulfates.
You can repeat these searches in
Citeseer
, or
Google Books
, or any other search engine or reference database. The only places that talks about spraying strontium are the conspiracy sites (and books). There are no scientific papers about spraying strontium, there are no patents about spraying strontium, and there has never been any proposal or discussion from scientists that included spraying strontium in any form.
So why do the "chemtrail" promoters think there's this "footprint", well, it turns out it was a bit of an accident that dates back to a post 15 years ago when someone found a patent for coating things with barium strontium titanate, which is a substance used in electronics.
http://chemtrails.yuku.com/reply/9548/ENEMY-RADAR-VIEW#reply-9548
US-5919522: Growth of BaSrTiO3 using polyamine-based precursors:
A method of forming a barium- and/or strontium-containing film on a substrate from corresponding precursor(s), comprising liquid delivery and flash
vaporization thereof to yield a precursor vapor at a temperature below about 210 C., and transporting the precursor vapor to a chemical vapor deposition reactor for
formation of a corresponding barium- and/or strontium-containing film on the substrate.
...
Many of the potential applications of these materials require their use in thin film, coating, or layer form. The films or layers may also be advantageously epitaxially related to the substrate upon which they are formed. Applications in which materials may need to be deposited in film or layer form include integrated circuits, switches, radiation detectors, thin film capacitors, holographic storage media, and various other microelectronic optical and communication devices.
The process is called "chemical vapor deposition", and it's possible they got confused and thought this mean spraying chemicals in the air. But regardless, the misconception seems to have stuck, and now 15 years later the chemtrail promoters are basing their entire theory on finding this "footprint" of geoengineering, a footprint that, it turns out,
never existed in the first place.
Last edited: