[Bunk]
ANOTHER French false flag in Nice – is Greece next?
*That a bizarre photo supposedly taken after the truck attack, but prominently and inexplicably featuring a mis-dated sign (see above) seems designed to link the event to the Brexit vote.
http://www.veteranstoday.com/2016/07/20/ole-nice/[/BUNK]
In
this video,
the young lady spends alot of time trying to track down the photographer and photo metadata because she too thinks the sign is another "anomalie" indicating a false flag.
Now while i cant prove definitively
why
the sign says June 23, 2016, and it
is
technically the Promenade des Anglais (Walk of the English) so perhaps the French
are
supporting Brexit, who knows, i
can
show that
the sign has never been used to show the day's date or time
which is what the video above seems to be claiming (timestamp 1 minute). It is a traffic alert sign that according to Google Streetview has been there since at least 2008.
In 2016 they did remodel the area a bit and moved the sign back maybe 6 feet or so to accomadate a sidewalk, you can see the construction taking place in the April 2016 street view.
A possibility of that particular traffic alert (and subsequent date) was a soccer match thing happening in Nice.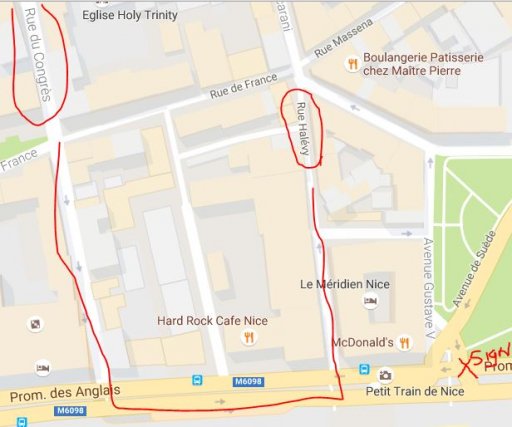 I imagine they wouldnt have needed a new alert for Bastille day celebrations because this area of the Promenade was already closed to vehicle traffic. The sign for that obviously would have been further back up the road.
Where 'blanketman' is walking is a few blocks down from where the murder vehicle was finally stopped. you can match the blue and white road signs and smokestack type thing in the background to confirm the location. I cant show the whole shot with google street view as i dont have the zoom lens the cameraman was obviously using.
here is a more clear photo of blanket and a google shot zoomed up to the sign and smokestack thing.
if i pull back a bit the traffic alert sign can be seen. here is the google street link people can play around with and check all the streetviewdates (ill add a few here) to see that the sign is not used to display the day's date.
Click here for Google street view
access, then you can click the little timer icon in the upper left corner to check past dates.
one example is April 2008 displaying info about a marathon which obviously isnt happening at the time of the camera since cars are driving there. (Dimanche, if i remember correctly, means Sunday. and fermee means "closed")
Other back dates dont show a specific event just tunnel closures etc.
This sign 2010 probably means closed from 10pm to 6am (most likely construction activities)
Last edited: