This video came across my facebook feed, it seems to show someone planting a car bomb, then driving off. The car explodes, seconds later people run into the view of the camera, some fall to the ground and are then helped by the others.
[Mod: First video https://www.youtube.com/watch?v=AdcJSisznJg removed, replaced with mirror]
Source: https://www.youtube.com/watch?v=XY-bHqznIa0
The story also linked to an Associated Press credited story with a photo.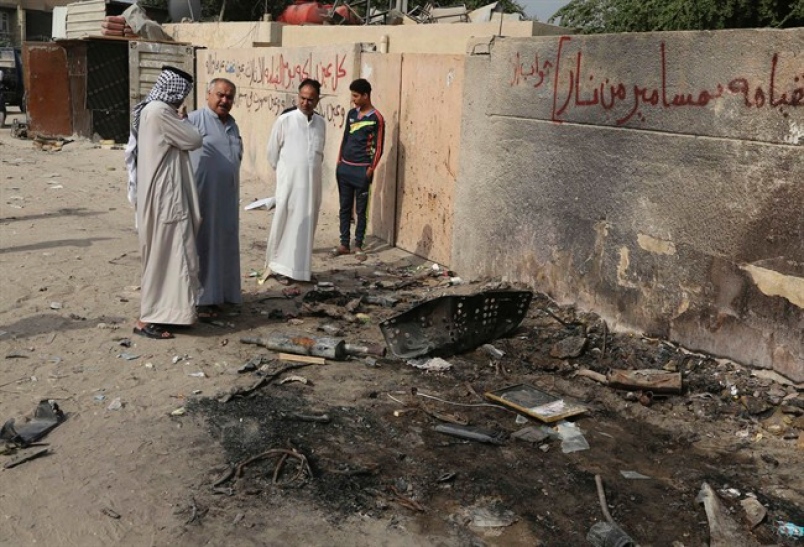 People inspect the aftermath of a deadly car bomb explosion that hit a popular fruit and vegetable market in a commercial street in Baghdad's northwestern neighborhood of Hurriyah, Iraq, Monday, Oct. 31, 2016. Iraqi police say a parked car bomb exploded in Baghdad's northwestern neighborhood of Hurriyah on Sunday, killed at least 10 and wounding many. (AP Photo/ Karim Kadim)
http://www.coastreporter.net/iraqi-special-forces-poised-on-eastern-edge-of-mosul-1.2394107
The claim is that the live leak video obviously proves this is a False Flag. What the False Flag would be used for is not explained. I don't know, maybe Obama will come for their guns?
Anyway, when I first looked at the AP photo and the video, the graffiti and the color of the trees didn't look right. I thought maybe it was a different location. Then I came across this video. (Sorry, I can't get the video to embed)
Source: http://globalnews.ca/video/3035393/raw-video-aftermath-of-deadly-car-bombing-in-baghdad-that-left-at-least-10-dead
The boy in the AP photo appears at 12 seconds. I also took a screen shot from both videos that show a similar angle and with the 3 points the trees over hang the wall, the power pole at the end of the wall and the rectangular debris at the base of the wall seem to line up between the 2 videos. It does seem to be the same location.
Before the explosion in the live leak video, could there have been another explosion not caught on the camera that the crowd was running away from? I wanted to get other opinions in case this story does gain more traction.
Last edited by a moderator: