Administrator
Staff member
This image popped up on social media this week: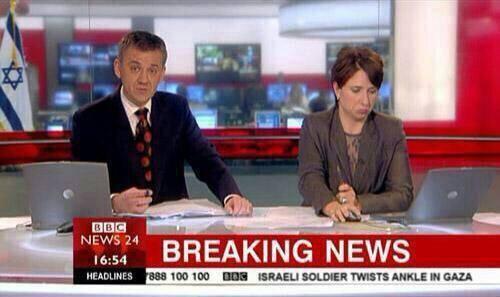 With the Israeli flag in the background, and the facetious crawl text "Israeli soldier twists ankle in Gaza" it should be fairly obvious that it's just satire aimed at characterizing the BBC coverage of Gaza as being very one sided.
Some people, unfortunately, will take such an image at face value. So it's still worth pointing out how fake it is. And with all fake images the best way of demonstrating it's a fake is to find the original image. It appears to be from a real BBC broadcast, with
Chris Eakin
, but from when?
The first step here is Google Image Search. You can just go to
http://google.images.com
, and drag the image in, or just right click in Chrome, and click on "Search Google For this Image":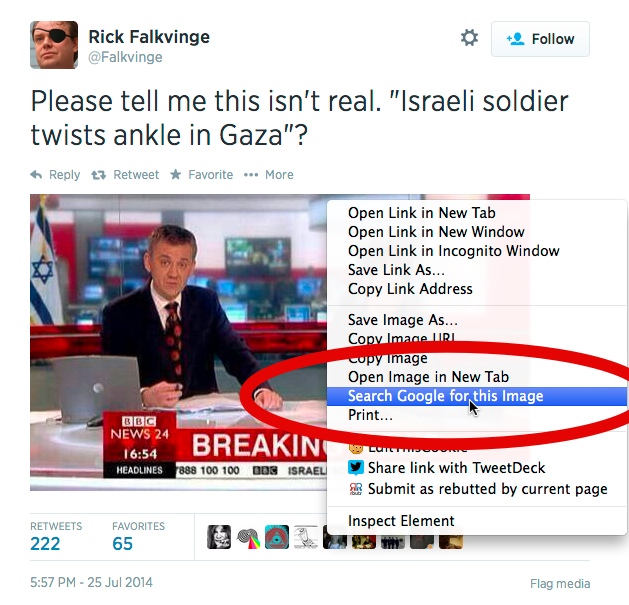 The first thing this shows up is a fictitious news story from 2011-08-07:
http://www.thepoke.co.uk/2011/08/17/bbc-sign-language-interpreter-sacked-for-changing-the-news/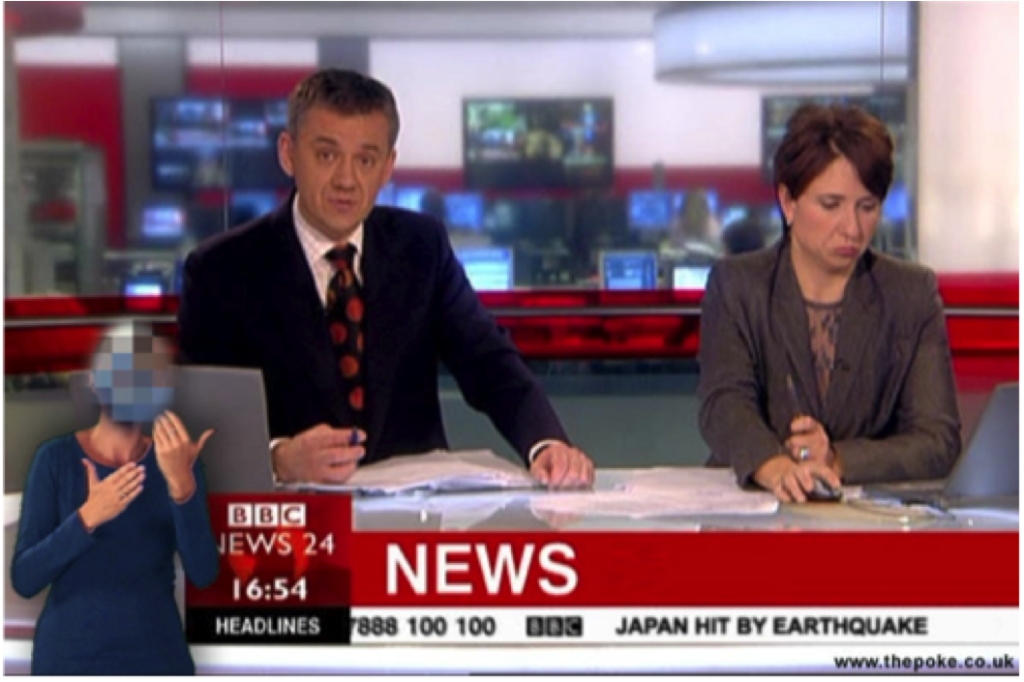 Note this time the text of the crawl is about the 2011 Japan Earthquake.
While this is more than sufficient to prove that the Gaza image is fake, it still does not show us the source of the original image. Google is not much more help, so the next step is to drag the image into
http://tineye.com
This gives us 38 results which can be sorted in a variety of ways:
Sorting by "Oldest", we get another, more obvious, fake, dating back to 2008.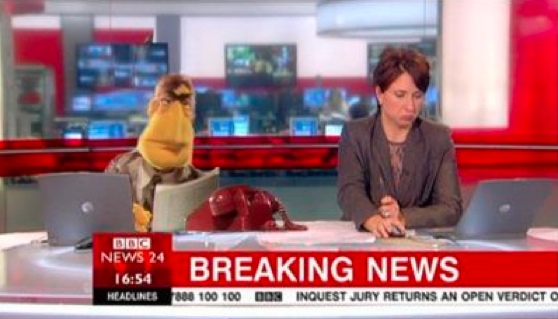 Changing the sorting to "Biggest image" we first get the images from the satirical news story, but then we get what looks most like an original image:
http://www.trendingcentral.com/new-report-statistically-proves-bbc-bias/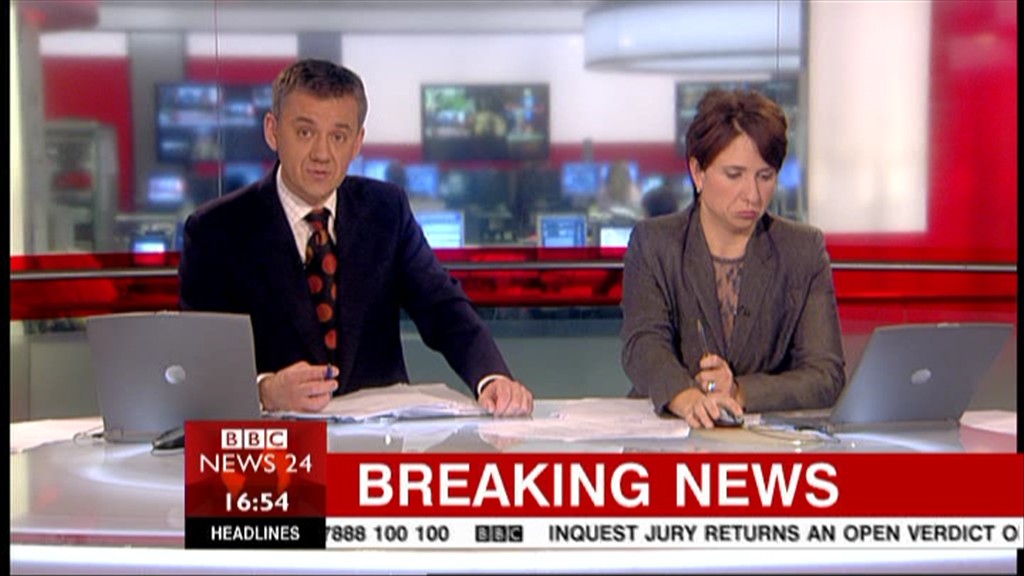 But then right after that, there's another obvious fake from Dec 2012
http://www.awamipolitics.com/mqm-london-secretariat-raided-by-scotland-yard-10715.html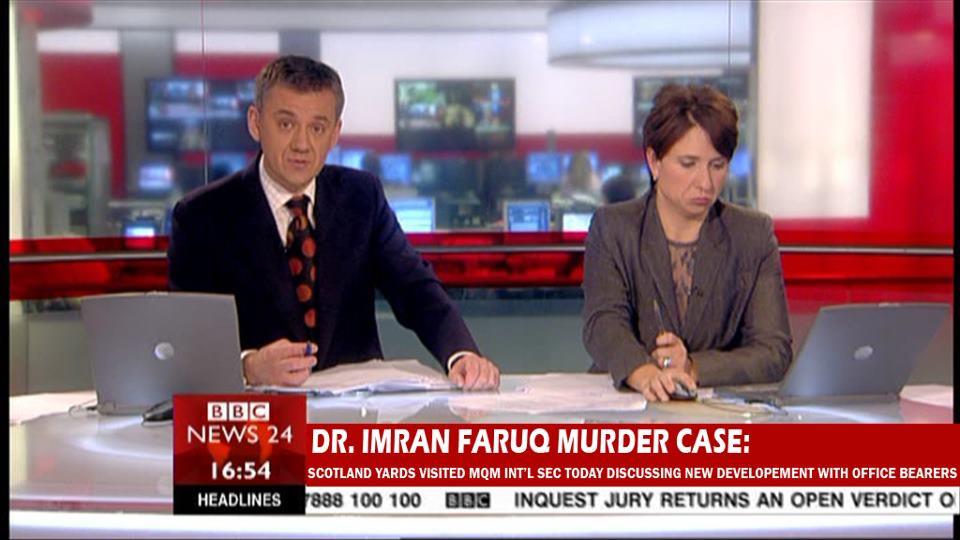 So it looks like it was pre 2008, based on the oldest Tineye result. Another clue is the phone number at the bottom: 7888 100 100. A quick google shows that this was a number the BBC used in 2006 for 3G specific texting of photos (MMS). The number was not used after 2006 as by 2007 there was no need for as separate number for 3G texts. And the usage of the number seems limited to
only 2006.

Then there's the text "inquest jury returns an open verdict" - which crops up in news stories a lot, but in 2006 only referred to the inquest into the death of
soldiers at Deepcut
. That would put the image as being from March 9 2006, when the verdict came out.