Administrator
Staff member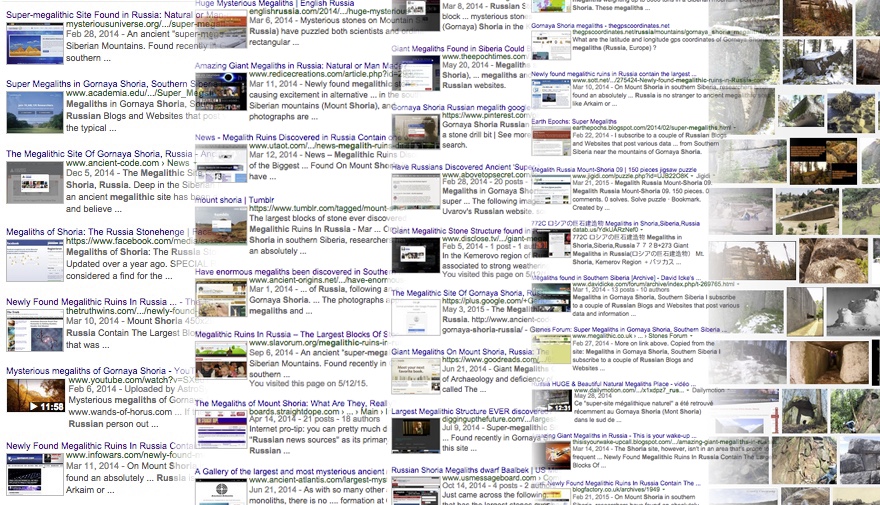 When investigating dubious looking claims on the internet one of the most common challenges is in finding out where the claim actually came from. There are a very large number of sites that simply repeat the content that is on other sites. Sometimes they repeat it verbatim, but usually they will post excerpts, and add some commentary, and often link to their source of the story. Sometimes though they simply re-word the story, with a few quotes, so it's not really clear where it came from.
The key part of finding the original source of a claim is simply being familiar with the way stories spread. The evolution of stories can be though of as being something like a family tree - except for any given individual story, there is usually one parent story (although there can be two or more), and each individual can anywhere from one to hundreds of child stories.
But there are a few key things to try:
Look for links to the parent story. In aggregator sites these will usually be at the start or at the end of the story, but in the case of a story with multiple parents, then of then the links are inline, and sometimes just a link from a piece of text in the story.
If there are quotes, then Google the text of the quote.
If there are images, then use Google Image search, or TinEye, to find other versions of the story.
Check the subject of the story in Wikipedia - sometimes it's just a new story about an old topic
Do a Google search for key phrases in the story. The top stories listed will be closer to the original than random shared stories on Facebook.
Limit your searches to a specific date range, then sort the results by date
Keep digging as far back as you can, and as you do this make note of the way the story evolved over time. What have new version added? What do they omit? How does the headline change? What images are used? Are new images added? Are the images captioned correctly?
Consider this story about large blocks of stone in Russia
http://www.slavorum.org/megalithic-ruins-in-russia-the-largest-blocks-of-stone-ever/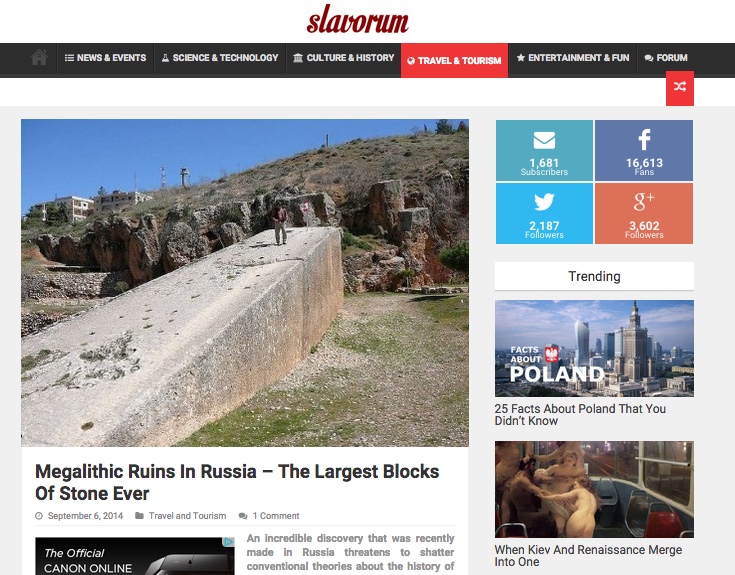 ​
The first version of the story we see is from a straightforward aggregator site. A site that largely repeats stories to try to get more traffic. In this case we can scroll to the bottom and see: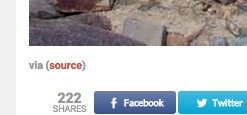 ​
Which links us to:
http://www.infowars.com/newly-found-megalithic-ruins-in-russia-contain-the-largest-blocks-of-stone-ever-discovered/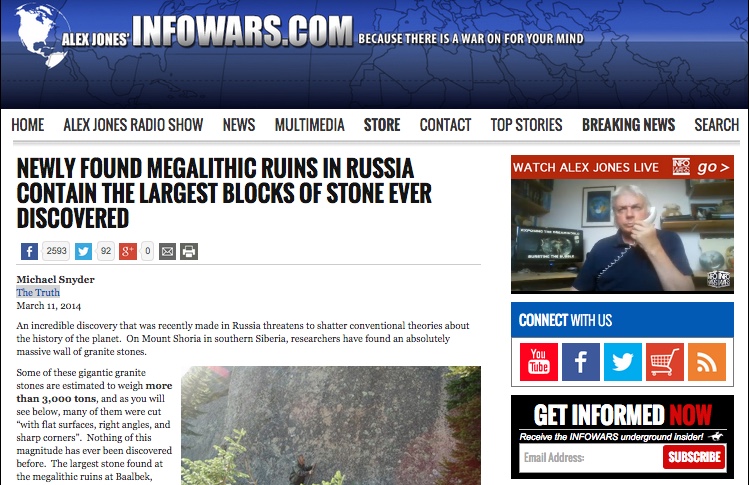 ​
Here the link (to "The Truth") is at the top of the story, and links to:
http://thetruthwins.com/archives/newly-found-megalithic-ruins-in-russia-contain-the-largest-blocks-of-stone-ever-discovered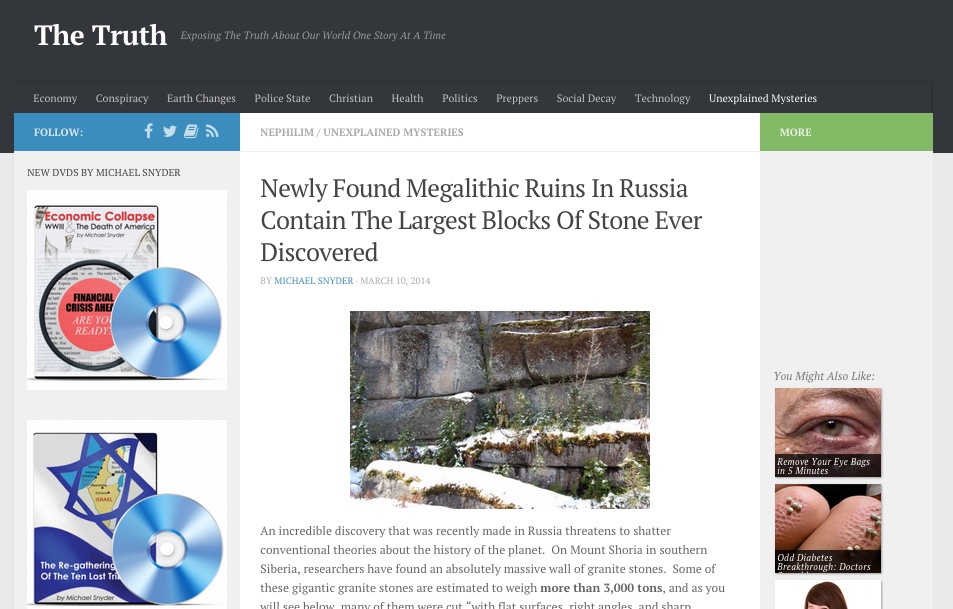 ​
"The Truth" seems more like an original story, with multiple sources. But upon examination it's really blend of a
Mysterious Universe
article, and the parent of that article, a post by John Jensen, and then some of the parent articles that Jensen uses. Here's the most direct parent, the Mysterious Universe:
http://mysteriousuniverse.org/2014/02/super-megalithic-site-found-in-russia-natural-or-man-made/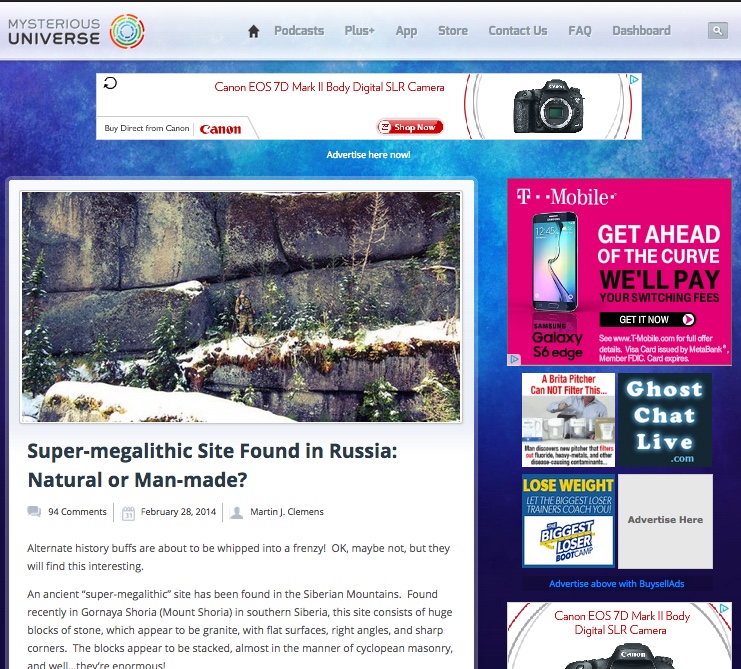 ​
Which links to John Jensen's site:
http://earthepochs.blogspot.com/2014/02/super-megaliths.html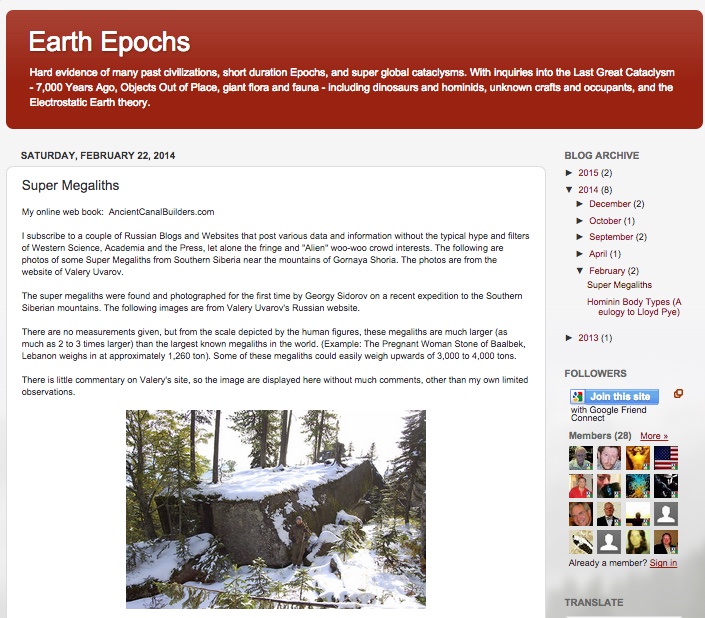 ​
Which gives as a reference "Valery Uvarov's Russian website", but no link. But a little googling leads us to the actual original source:
http://www.wands.ru/iicufi/pyramids-blog/246-gornaya-shoria-expedition-ru.html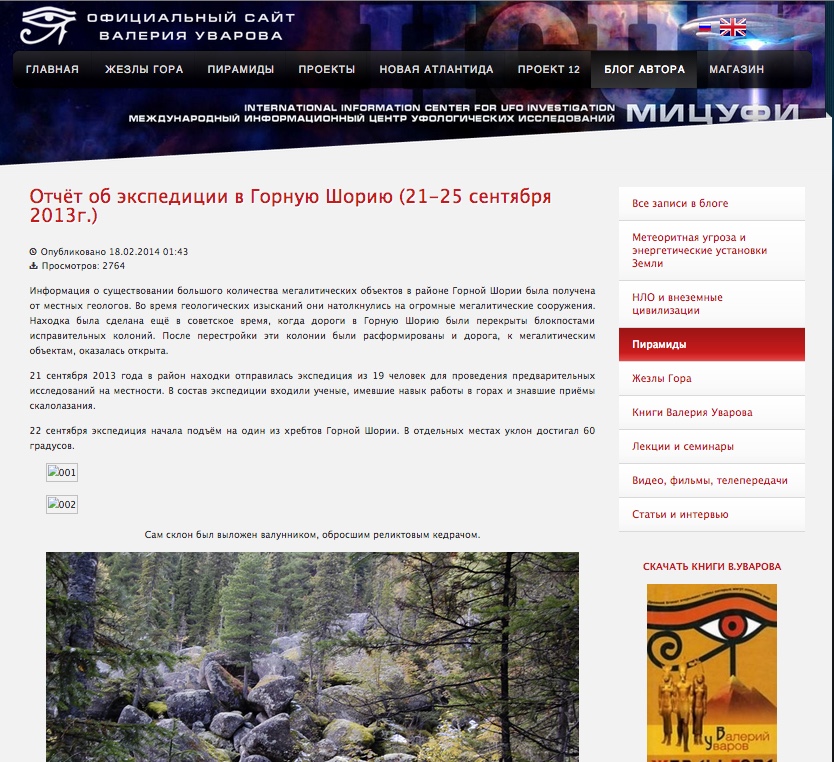 ​
Here at last we seem to have an original story - a first hand account of a trip to view some rock formations that the group though were not natural. This is also the source of many of the photos used in later versions.
What do do if the story you start at does not have a link to the parent? A quick jump up the family tree can be had by searching for a few key words in the story - location, peoples names, and topics are a good combination. Then the first few results from Google, if not the obscure original, will at least be aggregator and re-writing/hyping sites that commonly include links to sources. For example, here I search for "Shoria Megaliths", and (besides the Wikipedai entry, which was not that useful) the first results were very near the top of the family tree: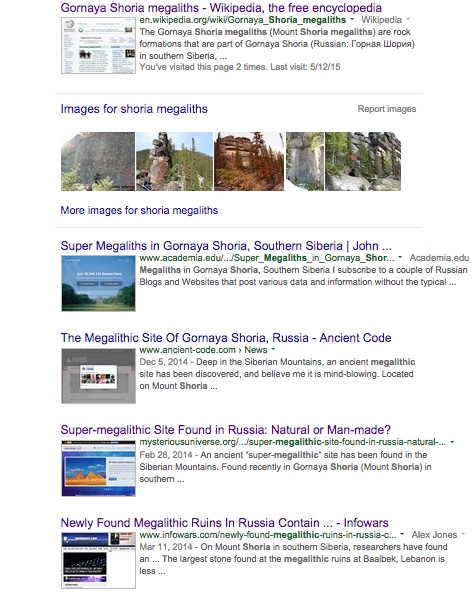 One thing you might notice when we look at the original story is that the photo used in the very first story is not present here. This photo of a man-made monolith in Baalbek, Lebanon: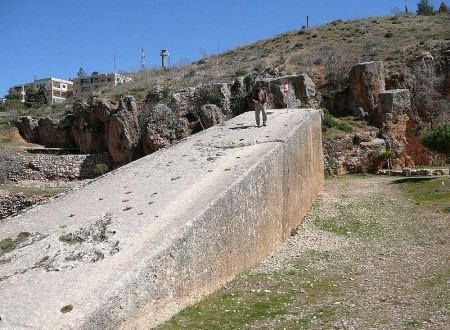 ​
[Which is actually a Wikipedia image:
http://commons.wikimedia.org/wiki/File:Baalbek-stoneofpregnantwoman.jpg
]
That image was inserted into the family tree of the story by Michael Snyder in his composite story in "The Truth":
http://thetruthwins.com/archives/newly-found-megalithic-ruins-in-russia-contain-the-largest-blocks-of-stone-ever-discovered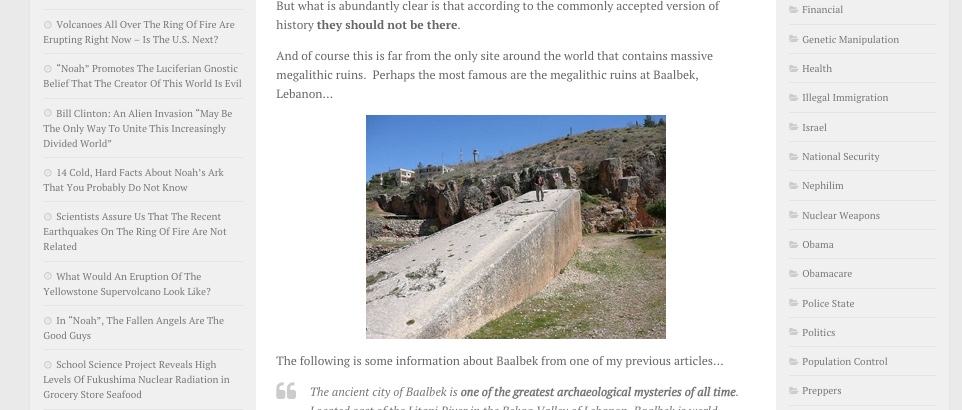 ​
Now in context this is not too bad, he's just saying "here's another big block of stone, this one we know was man-made (unless it was aliens), but it's smaller than these Russian stones". But then later child version of this use the Baalbek photo without a label, and of course it gets assumed that it's part of the Russian site, and since it's very artificial looking, it lends weight to the idea that the other stones are artificial.
Search Based on Date Ranges
Sometime the "source link" tale goes cold, and you've got to rely on Google results. If it's a popular enough story there can be rather a lot of copies. An easy way to filter them into something more manageable is to set a date range in your search, and then sort the results by date. A quick place to start is one year ago, which will cut out any recent flurry of repeats of a newly-viral story. Ideal though you'd use the date of the oldest story you can fine (or if there are hundred from that date, then the day before that).
For example, if you search for "Super Megaliths Shoria", you get over 6,000 results. Click on "Search Tools", then "Any Time" (or whatever the current range is set to if you did this step already), then then "Custom range"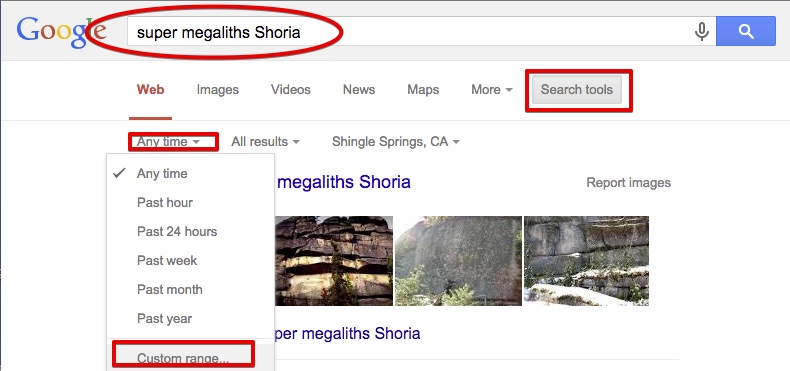 Then set a date in the past, you can just enter the year before you've see the story for a start,
This narrows it down quite a bit. But also reveals a problem with Google dates. They are often wrong.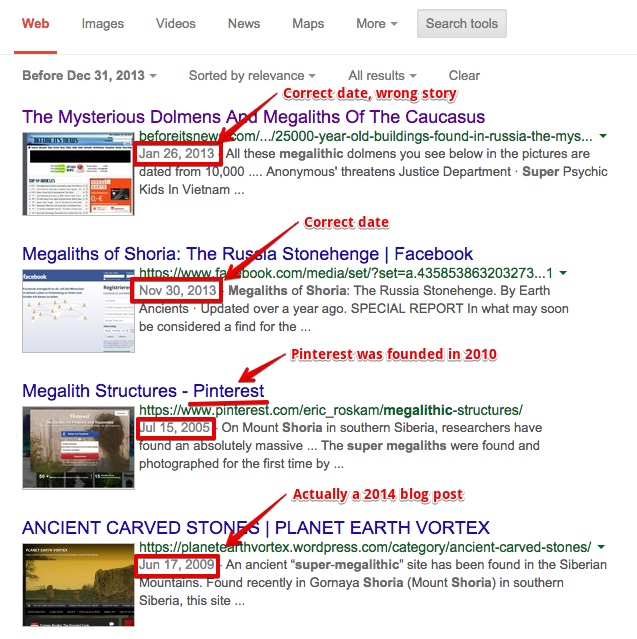 Pinterest was founded in 2010, so clearly that 2005 date is wrong. It's not always that clear cut though, so it's important to verify any date on Google by visiting the page. The 2009 date is also wrong, so 2013 seems to the year to focus on. And indeed the actual Russian expedition that the photos come from was in 2013.
------------------------------------------------------------------------------------------------
What to do when you've found the original
So what can we tell when we arrive at the root story here? Well, besides the added Baalbek photo, the key thing I see is that the vast majority of the photos are very innocuous, just looking like perfectly normal rock formations that we see world-wide. The later stories cherry-pick these photos, showing only those that are the most unusual for certain angles. But the broader context shows it to be quite natural.
https://www.metabunk.org/data/MetaMirrorCache/20ee88430bbd3fdbbe67da2fb7a09b5c._.png
The above photo only shows up in the Russian parent story. Subsequent stories focus more and more on the occasional artificial looking rock, amplifying this interpretation until we get to the slavorum.org post, which posts a picture of an artificially carved rock, and passes it off as being part of this Russian crag, which is simply a nice example of the well known process of
bedding
(the horizontal divisions) and
joints
(the vertical).
And once you've got this broader perspective, it's easy to find some similar examples, like Almscliffe Crag in Yorkshire, England: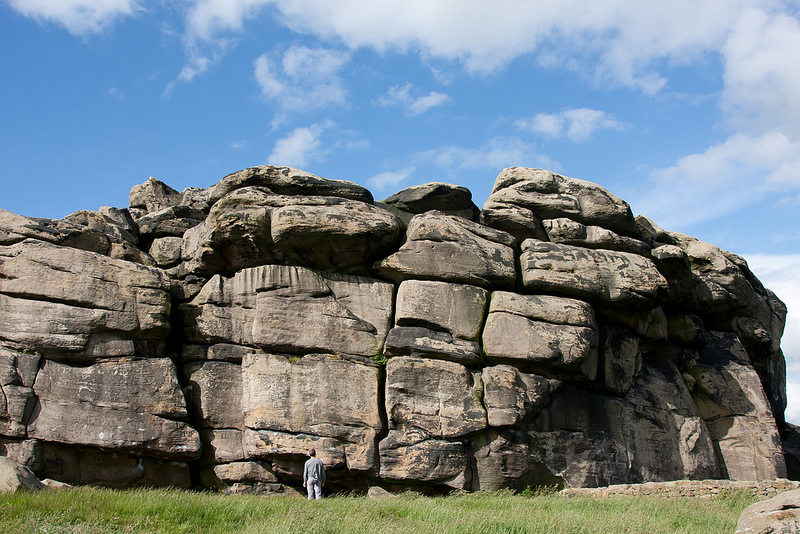 Great Almscliffe Crag
by
Mezzapod
, on Flickr
Or Cracked Buttress, Brimham Rocks, UK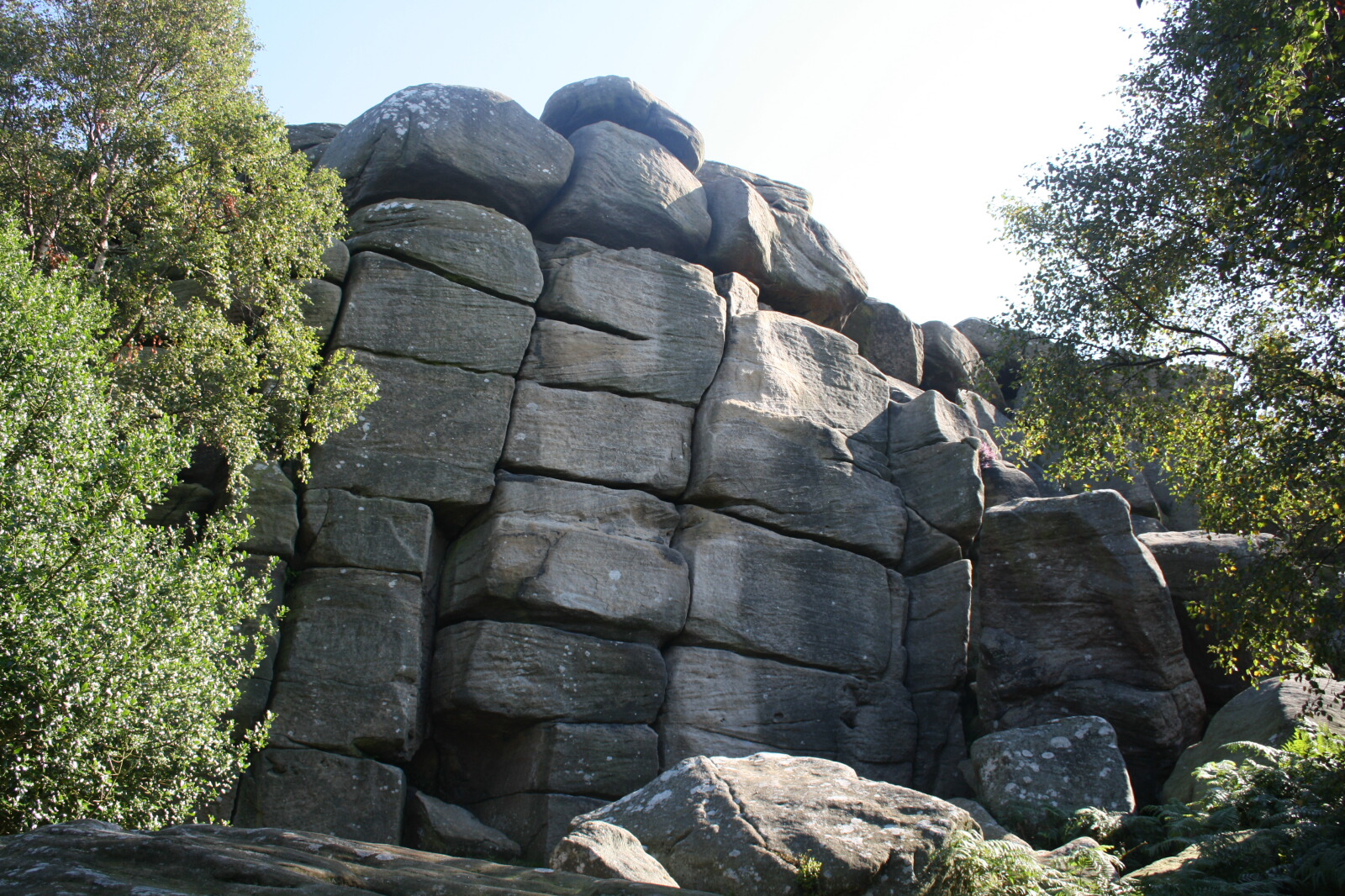 Source:
http://www.summitpost.org/cracked-buttress/740246
Or the North buttress, Guisecliff, UK: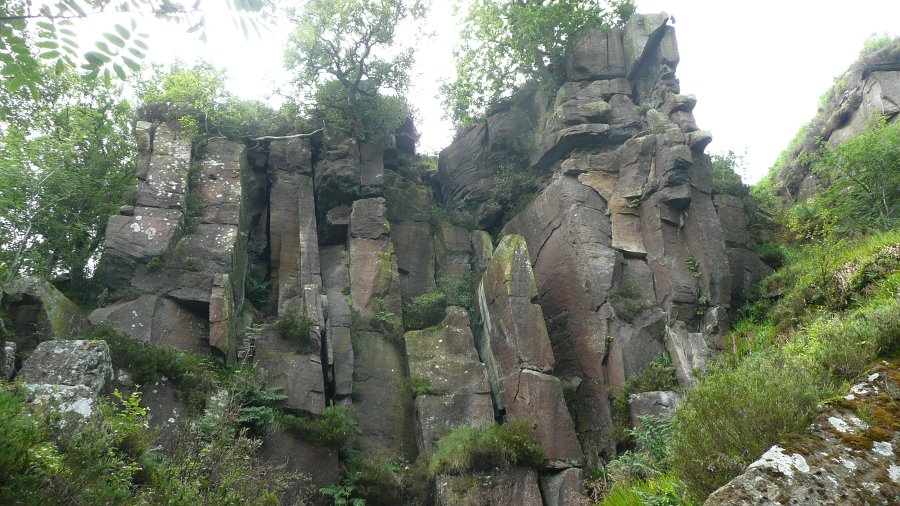 source:
http://yorkalpineclub.org.uk/blogs/?p=2079
Or Pitchoff Chimney Cliff, in New York,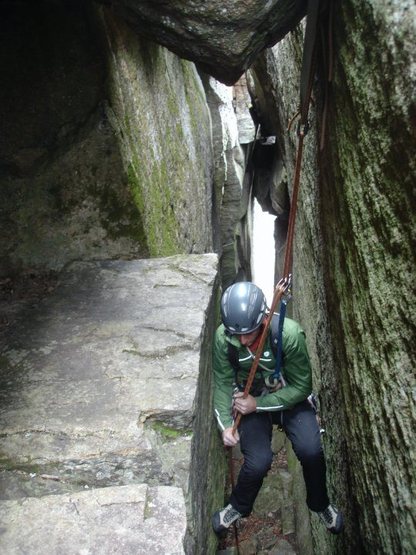 source:
http://www.mountainproject.com/v/pitchoff-chimney-cliff/105984807
Last edited: