Administrator
Staff member
Claim: Rainwater should always have zero aluminum
Source: 05:20 Francis Mangels: "Should [aluminum] be in the rain? Absolutely not!"
Status: False. Since the Earth's crust is 8% aluminum, and soil varies between 2 and 30% aluminum, then windblown dust from soil and the weathering of rocks (often hundreds of miles away) will naturally contain aluminum. When it rains, the rain clears the skies of dust. Hence aluminum is expected in rainwater in varying, almost random amounts:
Source:
A PRELIMINARY STUDY OF THE COMPOSITION OF PRECIPITATION IN S.E. ONTARIO,
Canadian Journal of Earth Sciences, Vol 4, 1967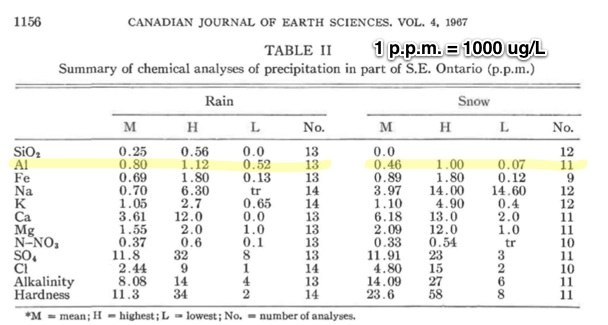 The figures for aluminum in rain above are 0.52 to 1.12 ppm, which is 520 to 1120 ppb, mcg/L or ug/L
Claim: "Respiratory Mortality in the continental US has gone from 8th on the list to 3rd in just six years"
Source: 00:09:26 Dane Wiginton:
Status: False. Respiratory Mortality did move from 4th to 3rd, however the rate did not change, this was due to a decrease in the mortality from strokes.
Reference:
http://www.cdc.gov/nchs/data/databriefs/db64.pdf
Last edited: