Update Oct 13 2015 by @Mick West

The Dutch Safety Board final report contains the results of three simulations of the missile launch location. These simulations all show an area to the south of Snizhne, and excludes the area of Zaroshens'kye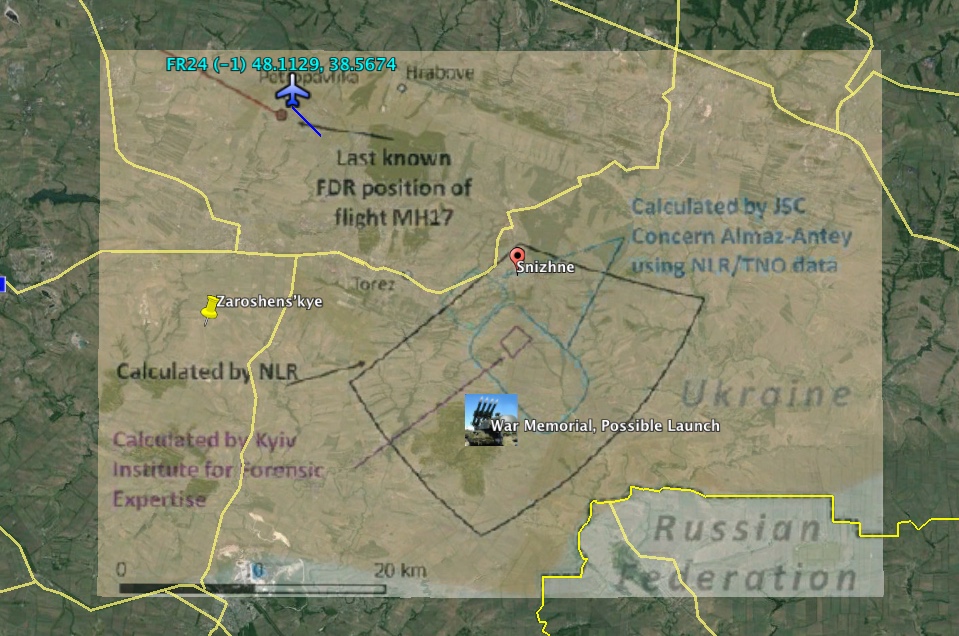 Over the course of this thread several version of a simulation tool were used, with progressively improved accuracy. Older versions were removed (although screenshots from them remain). The latest version can be found here:
http://tube.geogebra.org/material/simple/id/FP58nKZJ
Original Post Follows
Russian company Almaz-Antey presented recently arguing that the buk missile that brought down mh17 must have been fired from Zaroshens'kye. They look at the distribution of damage on the plane and the way a buk explodes and argue that the missile must have come across the planes nose rather than head on.
The presentation can be found here.
The presentation seems to make sense from what I have seen about the damage to the plane but I'm interested if there are reasons or evidence this might not be the case
[Mod Edit]
Slides here:
http://tass.ru/boeing-presentation/vvedenie/2023629
(
http://archive.is/JXS0B
) (Introduction)
http://tass.ru/boeing-presentation/tip-rakety/2023205
(
https://archive.is/iucdb
) (Type of Missile)
http://tass.ru/boeing-presentation/povrezhdeniya-samoleta/2023403
(
https://archive.is/NclSn
) (Damage to Aircraft)
http://tass.ru/boeing-presentation/kurs-rakety/2023470
(
http://archive.is/cq1b1
) (Course of Missile)
http://tass.ru/boeing-presentation/rayon-zapuska/2023531
(
http://archive.is/rk0p5
) (Launch Area)
Last edited by a moderator: