What did Journal of Engineering mechanics or ASCE say about the debris hitting wtc 7?
I have no idea :-|
here's another video in slowmotion i found. i think it's the most clear one we can get, you can actually identify the types of debris
Well, let´s use your clip for the moment. I zoomed in and split the screen into 3 areas: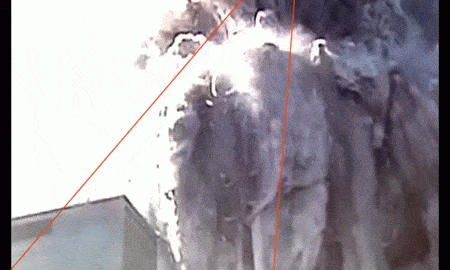 I think what we see is like a dozen (but at least 5) core columns in three different bundles.
Maybe the most obvious is the bundle on the right hand side. At least two columns can be seen here, to me it looks more like 5 or more in various lenghts. I´m quite sure that this is what I called the "obvious" core column that I highlighted orange before.
In the center area we have another bundle of at least two columns (think I see three). I would call this bundle the corner breaker, since it is going straight for the sw edge of WTC7 and is most definitaly the one responsible for the sw corner damage.
To the left we see the gash maker and the smaller object diverging from it as we already noticed before.
A better shot of the gash maker coming up soon
Last edited: