Administrator
Staff member
"Natural News" claims that there were suspicious exercises on the same day as the Boston Marathon bombings
http://www.naturalnews.com/039926_Boston_marathon_bombing_terrorism.html
(NaturalNews) Two bombs have rocked the streets of Boston and reportedly injured 22 marathon runners (two have reportedly died). It's too early to know the cause of these explosions, but you can rest assured both the state and federal government will try to use this tragic event to blame whatever convenient enemies are most advantageous for the government.

No one has yet stepped forward to claim responsibility for the bombs, and the fact that no firearms were used in the attack may indicate this was NOT part of a false flag effort by the government to try to blame gun owners. (But it's still way too early to tell...)

Here at Natural News, we are horrified at this loss of innocent life, and we are praying for the victims of this bombing as well as their families.

Bomb squad was running "controlled explosion" on the same day

What's not yet being reported by the mainstream media is that a "controlled explosion" was under way on the same day as the marathon explosion.

As the

Boston Globe tweeted today

, "Officials: There will be a controlled explosion opposite the library within one minute as part of bomb squad activities."

Some people believe this explosion might have been part of the demolition of another bomb. It seems unlikely, however, that a bomb at the library, one mile away, could be so quickly located and rigged to be exploded by the bomb squad

in less than one hour following the initial explosions at the marathon.
No, really, it's not. The Library is
directly
opposite where the first bomb went off, hence "opposite the library", is the sidewalk, where the bomb exploded. Lots of people dropped their bags as they ran.
"Natural News" seems to be
deliberately conflating the fire at the JFK Library with the controlled explosion opposite the public library
. The tweets regarding the controlled explosion were:
(Times are Pacific, so 12:53 pacific is 3:53 Eastern, the bombing was at 2:50 Eastern, so these are about an hour after the bombing)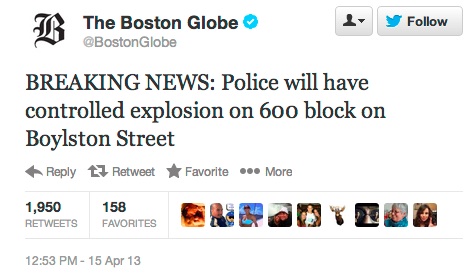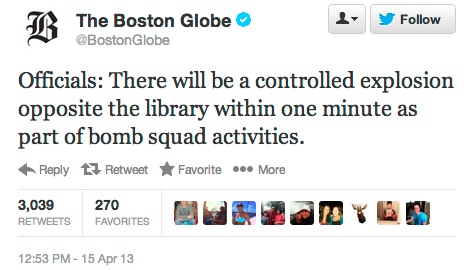 Obviously referring to the same thing, and simply clarifying the location.
Then AN HOUR LATER, they hear of the "explosion" at the JFK library: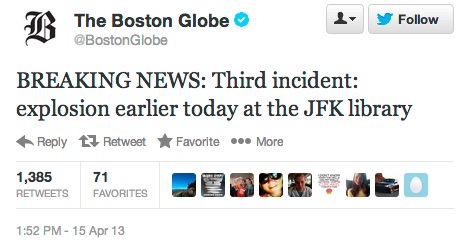 (Notice it's not "The Library", which is what they call the main Boston Public Library, as you would expect).
And much later they note it seems to be just a fire: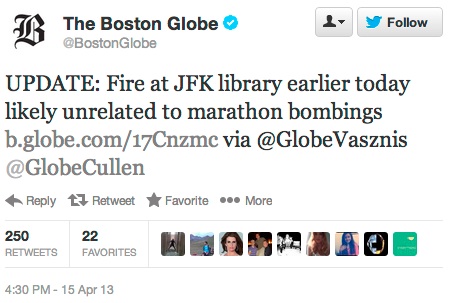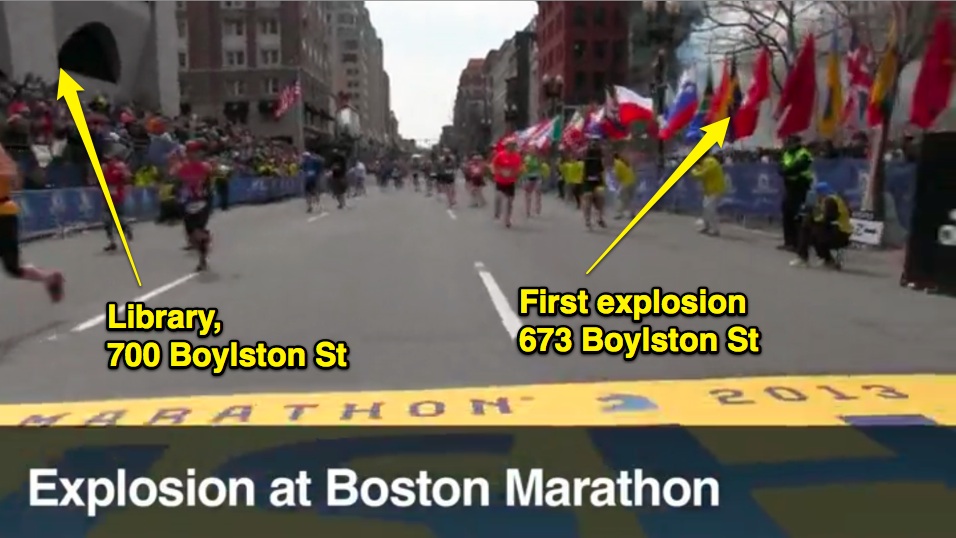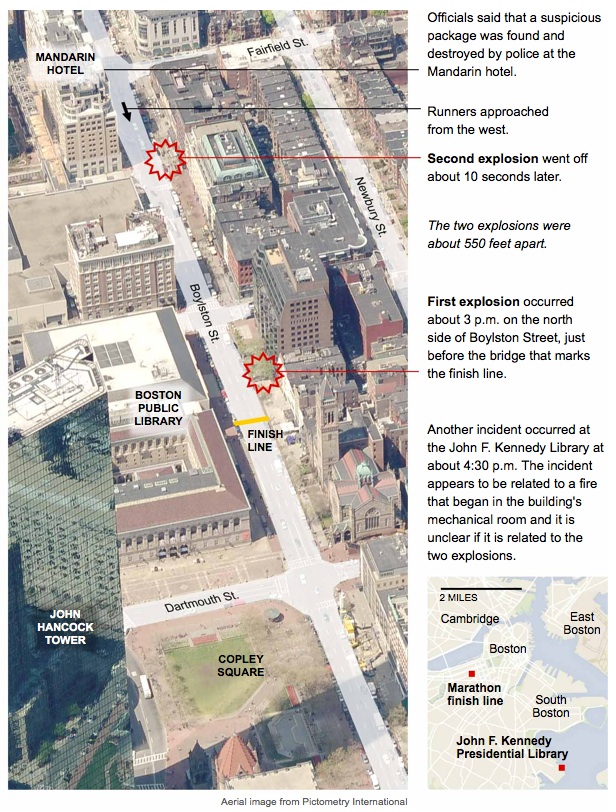 (Above image via Reddit, not sure of the source, but the positions are accurate)
Natural News seems to basically just making things up to fulfill their preconceived idea of what happened.
Last edited: