Admin Edit by @Mick West: Since the entired theory rests on the claim is that the Exif data proves the location, this claim has been debunked by post #9, which demonstrates that Exif data can be easily changed.
https://www.metabunk.org/threads/de...photo-text-from-diego-garcia.3397/#post-98709
Material from the thread reproduced here for reference, main debunking by
@Mick West
Summary:
The photo was originally posted on 4Chan, a notorious source of internet hoaxs
The GPS EXIF data in a photo is trivial to modify, there are many free apps that do it
The GPS EXIF data in the fake photo is in a different format than a standard iPhone 5 photo's data.
The fake photo's GPS is consistent with the format used by Picasa when editing EXIF.
The fake photo lacks altitude data, which is consistent with being edited, as most editors let you select position, but not altitude.
Photos taken in other iPhone apps still include altitude data
There is no evidence it is genuine, and a vast amount of evidence that it is fake.
It's easy to fake GPS EXIF data. Here's the same "photo" with the EXIF moved to the Flamingo hotel in Las Vegas: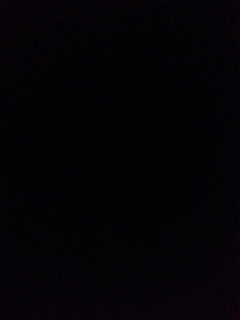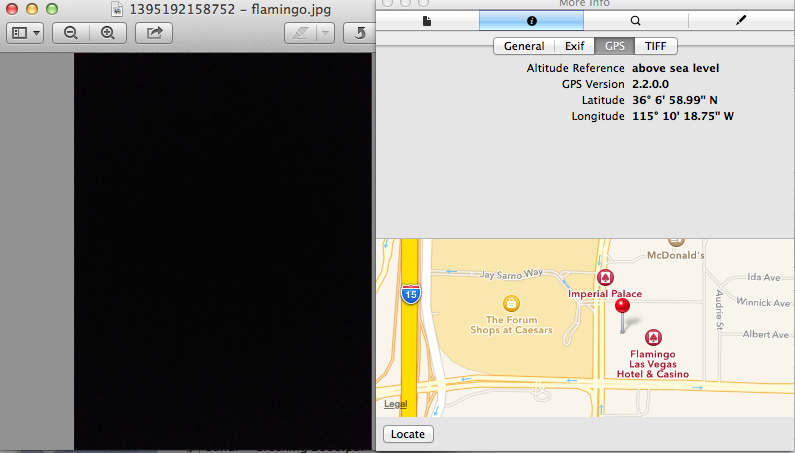 Since it's such a trivial thing to fake, and combined with the ridiculous narrative of smugging an iPhone 5 up his rectum, and the image being black (iPhone 5 has a flash) the only sensible conclusion is that this is a hoax.
The
originally posted photo
seems to have been clumsily faked using the free software "Picasa", which left an indication in the EXIF data, adds extra "Photoshop" metadata, and stores the GPS data in a different format.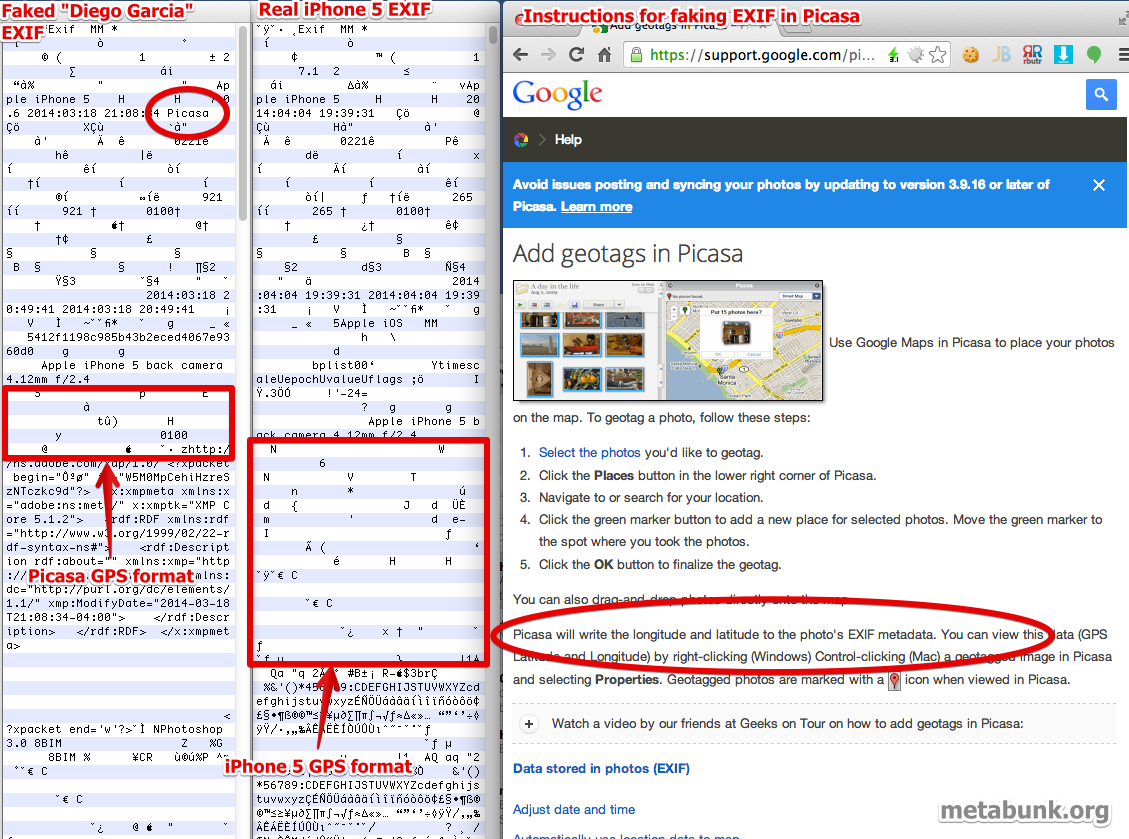 There's even several EXIF editor apps on the iPhone. Changing the GPS data is trivial.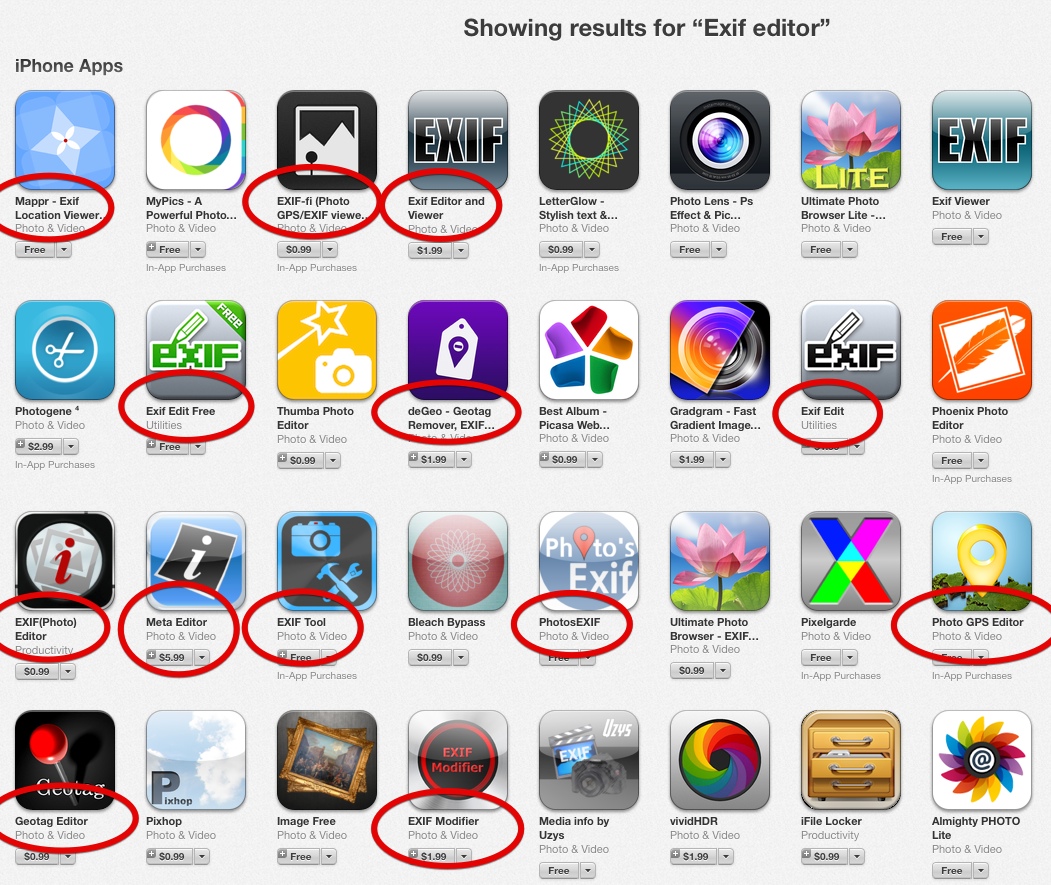 And suggesting that you'd need to be some kind of super hacker to edit it at a low level are pretty silly, for several reasons:
It was not edited at a low level, it looks like it was edited by at least one program like Picasa.
"Super hackers" actually exist
It's really not that hard to fake in a much more convincing manner, you just have to find the GPS data, edit it in another program, then copy over the byes that change into the original.
I'm a reasonable coder, but there are millions of people who could do this. Here's the original, which I renamed 4ChangFake.jpg, and a version I modified to be binary identical except for the GPS (4ChanFake-UK-GPS.jpg).
https://www.metabunk.org/sk/4ChanFake.jpg
https://www.metabunk.org/sk/4ChanFakeUKGPS.jpg
You can load them into a hex editor, and see all that has changed is the GPS data. An undetectable forgery, far better than the messy job posted on 4Chan.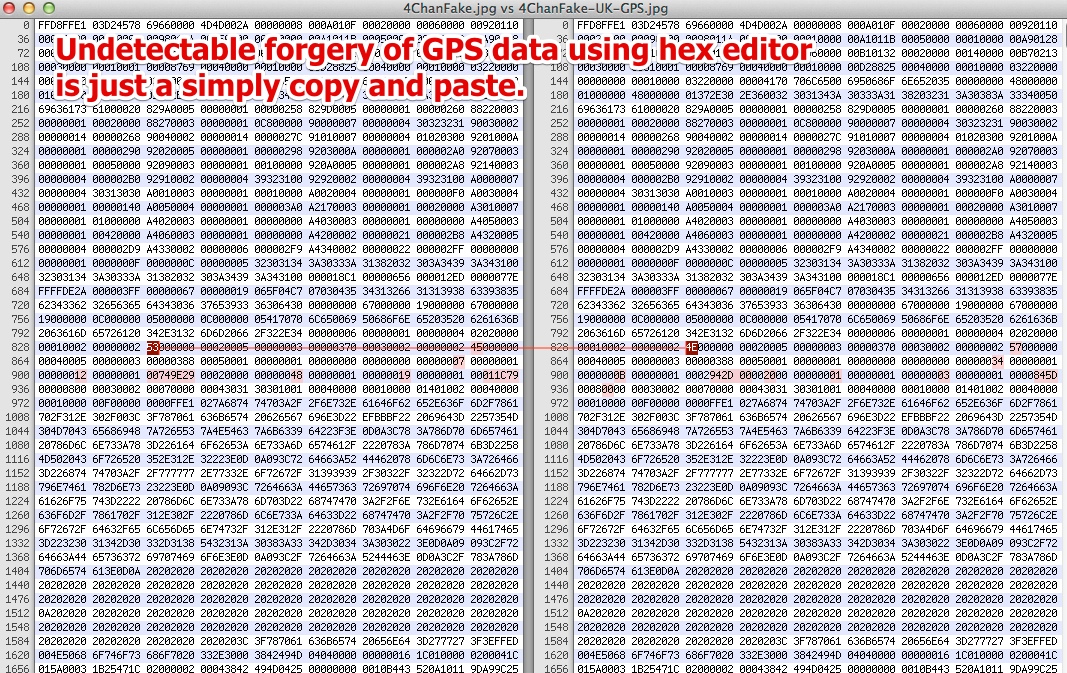 Programmer Ben Stragnell has written a quick tool "The Diegoizer" that takes any photo and
undetectably
modifies the GPS data to relocate the photo in Diego Garcia.
http://benstragnell.com/diego
For example, this photo of a mountain in California now has GPS coordinate of Diego Garcia:
https://www.metabunk.org/sk/mammothmountaindiego.jpg
OP Follows:
------------------------------------------------------------------------------------------------
http://jhaines6.wordpress.com/2014/...neer-successfully-dialed-out-of-diego-garcia/
MUST GO VIRAL. READ ALL OF THE FACTS BELOW LINK: Flight MH370 Co-ordinates to a remote island taken by a confirmed passenger of Malaysian Flight 370 named Philip Wood reveal what is known as a small island called

Diego Garcia

. The co-ordinates came from Philip's cellphone when he uploaded a black photo with a message claiming he himself is being held prisoner by unknown military.

UNREPORTED FACTS REGARDING Flight MH370 and the United States Military Base Diego Garcia:
...

This is so preposterous yet it's gone viral as so many are willing to believe it. I'm particularly sad about such conspiracy theories because of the effects it has on the relatives - such as told by Philip Woods partner Sarah Bajc here
I feel this CT merits a full debunk if possible. Unfortunately, I'm not experienced enough to do it alone so please, make it so?
Last edited by a moderator: