Administrator
Staff member

The
Daily Mail web site yesterday gave false hope
regarding the search for MH370, suggesting new sonar images showed possible aircraft debris:
However, the image shows sonar image that were published in March earlier this year:
http://www.abc.net.au/news/2015-03-05/jacc-image-1jpg/6283130
MH370 search: Sonar sweep reveals ocean floor

Posted 4 Mar 2015, 6:39pm

Sonar sweep reveals items which could be shipping containers on the ocean floor of the MH370 search area.
And the objects are far to big to be part of the plane, and are more likely shipping containers.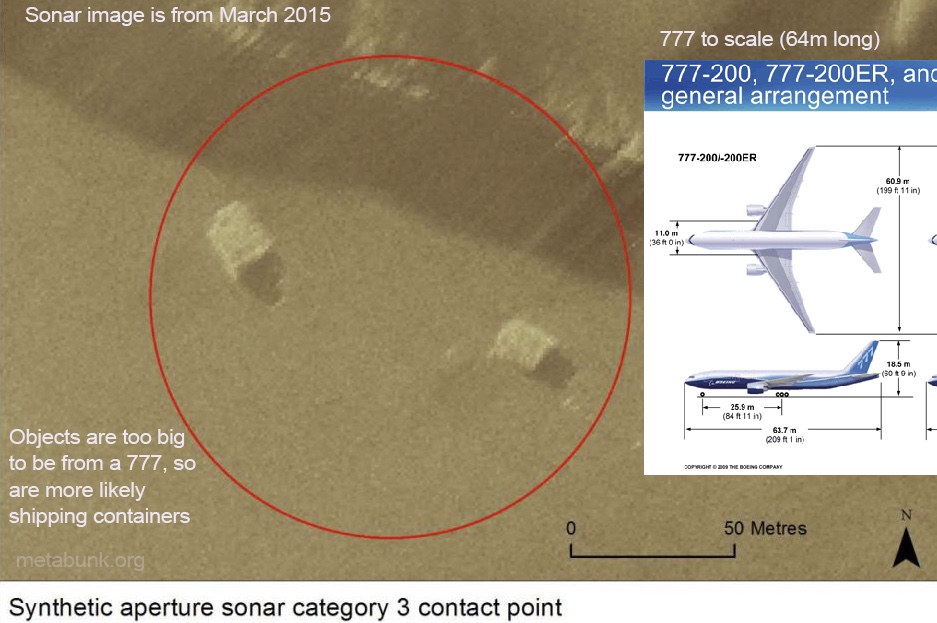 The Daily Mail has actually published a small wire story debunking their own story, just a few hours after it was published
Sonar contacts not related to MH370

By

AUSTRALIAN ASSOCIATED PRESS

PUBLISHED: 20:17 EST, 12 August 2015 | UPDATED: 20:17 EST, 12 August 2015

Australian authorities have dismissed reports that sonar images of two box-like shapes on the floor of the Indian Ocean could be from the missing MH370 airliner.

A spokesman for Transport Minister Warren Truss has confirmed the objects are not from the Boeing 777, which vanished last year on route from Kuala Lumpur to Beijing and is believed to have crashed in the Indian Ocean.

"These are old images, discounted months ago," the spokesman said.

The reports published by some media outlets on Thursday had described "category 3" sonar finds as being the most likely to be aircraft debris.

"In fact, they are the least likely to be aircraft debris," the spokesman said.
And yet the original story is still there, and as of 11:30PST on Aug 13, it's still linked from their front page:

Last edited: