Geoengineeringwatch.org reposted a story involving Fukushima radiation, bloody tumors found on fish, and the impending danger to the food chain.
Americans and Canadians have been eating radioactive fish filled with bloody, cancerous tumors, as a result of contamination with radiation in the Pacific ocean from the Fukushima nuclear disaster in Japan.
http://www.geoengineeringwatch.org/...tion-bloody-cancerous-tumors-in-fish-seafood/
The article knits together a series of correlations in an attempt to make its point.
The flow of radioactive water into the Pacific is contaminating and killing sea life. Fish caught locally near the power plant and out in the deep sea, have all tested positive for radiation contamination. Other fish, Shrimp, clams and such, caught hundreds of miles offshore, have also tested 100% positive for radiation contamination. In fact, of 15 Blue-Fin Tuna caught off the coast of California, 100% tested positive for radioactive substances!

Hundreds-of-thousands of these sea creatures have already died from the radiation and millions more are sick and dying to this day. People who consume this seafood are ALSO getting contaminated by radiation.
Ironically, the one and only link between fish and Fukushima radiation comes from a mainstream media source.
The Blue Fin tuna story goes back to 2012 and does seem to establish a link between Fukushima and radiation in fish. However, the story also notes:
The levels of radioactive cesium were 10 times higher than the amount measured in tuna off the California coast in previous years. But even so, that's still far below safe-to-eat limits set by the U.S. and Japanese governments.
http://www.cbsnews.com/news/radioactive-bluefin-tuna-crossed-pacific-to-us/
But the Geoengineeringwatch.org article then goes on to say:
Alaska salmon as well as all types of Pacific seafood (Shrimp, clams, scallops, squid, etc.) are being tainted with radioactive contamination. So are the people who consume them. What do you think happens to people who eat radiation-contaminated food? Worse, what happens to people who eat cancerous tumors without knowing what they are?
Evidence of this comes from the Local Environmental Observers Network in Alaska
According to the Local Environmental Observers (LEO) Network in Hydaburg, Alaska, they have found strange growths in the flesh or meat of salmon. "We were fishing for Cohos (silver salmon) at the mouth of the Hydaburg River with line and reel." said Brian Holter, Jr. who said that eight fish were filled up inside with strange growths that were either white or pink in color. "On the outside the fish looked fine. The growths looked kind of like individual little salmon eggs, and about the same size. their people were seeing the same kind of growths in their fish as well." he continued.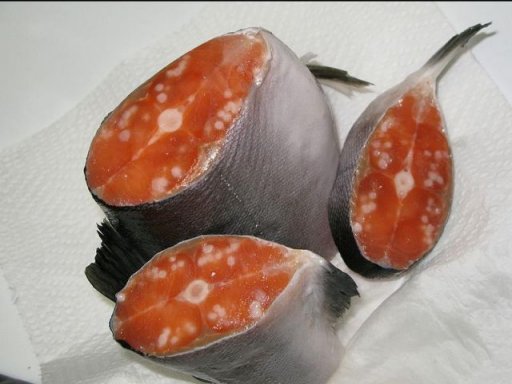 I checked their website and found the attached 2013 report
http://www.anthc.org/chs/ces/climate/leo/
Unusual growth observed in salmon tissue

Hydaburg, Alaska, August 12, 2013 (fish) Strange growths in the flesh or meat of the salmon. This is not the only salmon found with these growths, there are many. Brian Holter Jr, LEO
The Local Environmental Observers gave no indication that these growths were caused by radiation.
The rest of the Geoengineeeringwatch.org article goes on to illustrate a serious of mysterious growths and tumors occurring on different types of sea life. I won't go into each one here.
There is a large body of science dedicated to fish pathology. This was certainly true with respect to the Alaska Department of Fish and Game.
http://www.adfg.alaska.gov/index.cfm?adfg=fishingpathologylab.pathology_publications
It seems very clear that growths, tumors, or other diseases have multiple causes aside from radiation poisoning. In other words, these are fairly routine in nature.
But here is where I admit my limitations and pass along the conversation to people who hopefully know more.