This W-shaped contrail was seen on 23rd June 2014 in San Luis Obispo county and beyond. There are many pictures from different locations in the comments to the KSBY FB photo:
https://www.facebook.com/ksbynews/p...1405317781./10152959624733709/?type=3&theater
and a few more found in blogs, newsletters and flickr: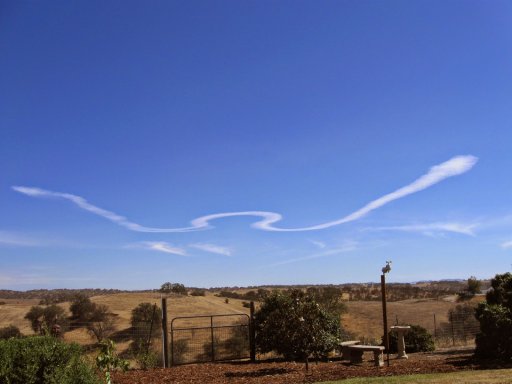 http://hotflashhomestead.blogspot.co.uk/2014/06/spirit-in-sky.html#comment-form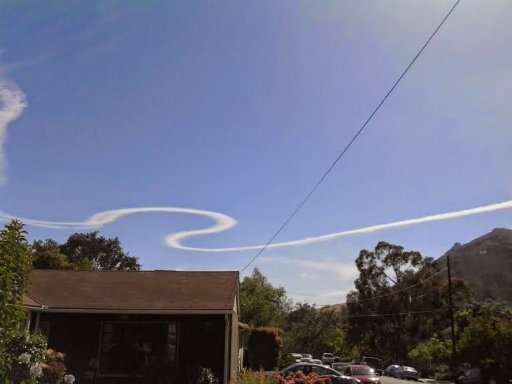 http://mathisencorollary.blogspot.co.uk/2014/06/a-new-theory-on-chemtrails-proposed-by.html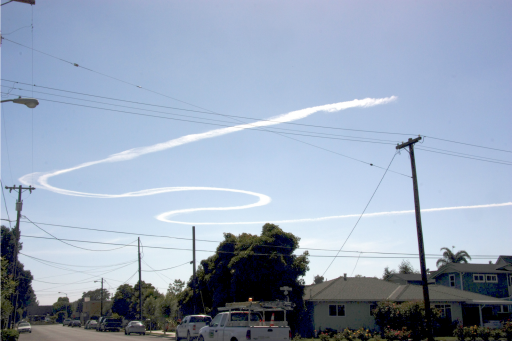 https://www.flickr.com/photos/fletchergravy/14493454605/
The time stamps, where available, suggest that contrail was formed a short time before 16:00 PDT (23:00 UTC) and persisted for at least 40 minutes after that time.
For a while I have been trespassing in the Mick's back yard, trying to identify a likely culprit.
I have started with searching for the camera locations and pinpointed some of them to a few metres on the ground. I added these images to Google Earth and modelled the contrail positions by trial and error.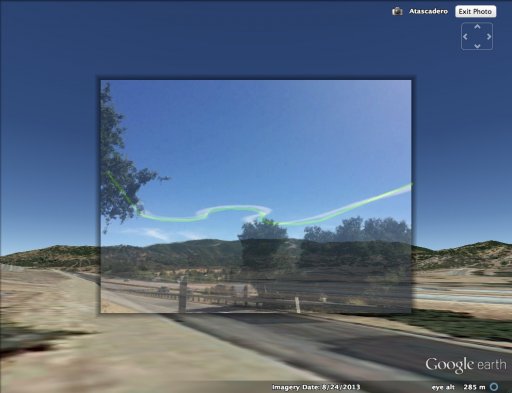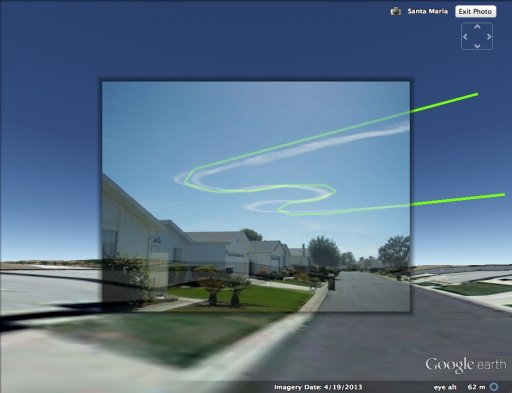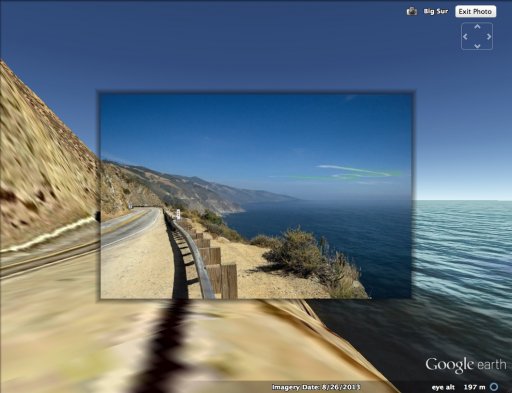 Although I have not succeeded in my ultimate goal, I have ruled out all planes that have been flying at the time in this general area and appeared on the FR24 playback, including NASA502 and NASA817. I have determined probable altitude and initial location of the trail as well as its orientation and movement across the sky with the wind.
The contrail was formed at a high altitude of about 39,000 ft over the ocean west of Diablo Canyon Power Plant and carried by a WSW wind toward Vandenberg Air Force Base.
The satellite photographs of the day show a layer of marine clouds along the California Coast, but no clouds or persistent contrails over the land. In the Terra image taken at 18:55 UTC, there is a long young contrail casting shadow on the cloud layer in the Monterey Bay area. FR24 playback has identified this contrail being from SIA12 flight NRT -> LAX, the altitude of which was 39,000 ft.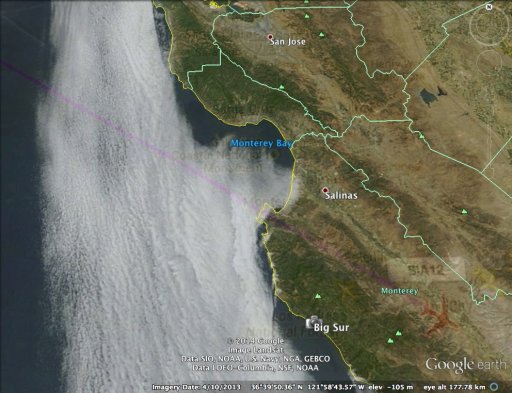 It is very likely that favourable atmospheric conditions for persistent contrails at this altitude extended farther south along the coast but not to the land. There are some older contrails southwest of Santa Barbara Channel blending in with the cloud layer.
Due to a high altitude of the contrail it was photographed from as far north as Big Sur in Monterey county and as far south as Summerland near Santa Barbara, the two locations being 170 miles apart. The Big Sur photo shows clearly the contrail location being above the ocean and a cloud bank.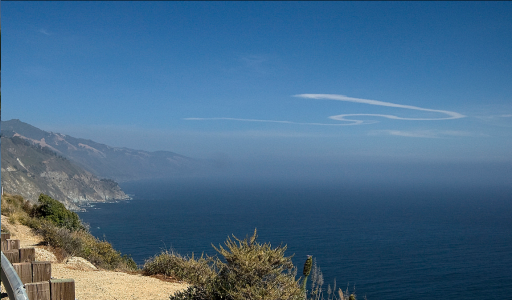 https://www.flickr.com/photos/wchristine/14430751547/
The title photo from the KSBY FB page is probably the earliest available image of this contrail showing it having two strands in several regions. In most other images these strands have merged together apart of one turn where their separation appeared to have increased. The KSBY photo probably has been taken from the air; its camera location has been identified with less precision to a place north of Shell Beach facing west toward Diablo Canyon. This is in an agreement with the location that has been derived from a ground photo with a smaller contrail image of about the same age. Its location has been modelled with red line (see above the GE image with a map of this area).
The latest time stamp (16:38) belongs to the image taken at Summerland:
http://slo.edhat.com/site/tidbit.cfm?nid=136285
By that time the contrail was quite aged and 'landed' above Vandenberg. This location has been modelled in magenta. Other contrail images were mapped to intermediate locations between the red and magenta model contrails. These locations have been modelled in intermediate rainbow colours. The average location (in green) has been modelled in more details with the younger looking contrails being to the west of it and older looking ones to the east of it, respectively. All assigned photos and fitted contrails are in the attached kmz file
FR24 playback showed no recorded flights in the area where this contrail was formed. The closest flight was NASA502 that made a few turns near Vandenberg at a later time. The area itself lays aside of the commercial air traffic routes going along the West Coast and across Pacific. I have found no information regarding whether this area is a restricted airspace / designated military training area or not, yet it seems likely that the contrail was left by military aircraft. The long arms of W-shaped trail point in NE direction, suggesting that the aircraft may well have come from NAS Lemoore or Travis AFB. Unfortunately, I am not in position to explore this possibility further. Perhaps, some of the locals could help me here.
EDIT: It was pointed by Trigger Hippie below (#19):
There is one more unanswered question: how many planes have made this contrail?
The original post on the KSBY FB page suggests it was made by two jets:
Dave Hovde: Nice pic of the contrails from a pair of jets flying over the Central Coast. Post yours as well.
If this is correct, the two jets must have flown in a tight formation for more that 80 miles (the contrail estimated length). However, it seems equally possible to me that the contrail was made by a single large plane with two or four engines attached to the wing. Is there a way to distinguish between the two possibilities?
Last edited: