The Other Side – Bashar al-Assad Interview with Izvestia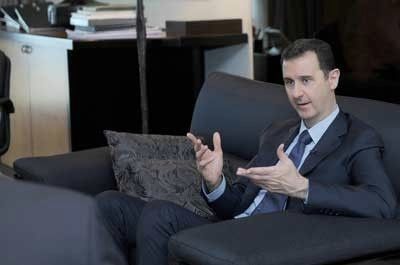 (
Beforeitsnews
:
I was so impressed with this interview I just had to post it. It is well worth the full read. Izvestia is a high-circulation daily newspaper in Russia. Assad is quite an impressive man who faces the biggest challenge of his nation's history, clearly showing himself much more the true statesman as opposed to the warlord vultures attempting to overthrow him. While everyone has their own propaganda machine and this is clearly carefully scripted as is most media today, nonetheless the points made and how they're framed is an eye-opener. It's no wonder the western press won't publish this interview. - Zen]
(P.S. I'm republishing the entire piece in case it gets "disappeared" off of the net.)
Izvestia
:
Mr President, the most pressing question today is the current situation in Syria. What parts of the country remain under the rebels' control?
Bashar al-Assad
: From our perspective, it's not a matter of labelling areas as controlled by terrorists or by the government; we are not dealing with a conventional occupation to allow us to contextualise it in this manner. We are fighting terrorists infiltrating particular regions, towns or peripheral city areas. They wreak havoc, vandalise, destroy infrastructure and kill innocent civilians simply because they denounce them. The army mobilises into these areas with the security forces and law enforcement agencies to eradicate the terrorists, those who survive relocate to other areas. Therefore, the essence of our action is striking terrorism.
Our challenge, which has protracted the situation, is the influx of large amounts of terrorists from other countries – estimated in the tens of thousands at the very least. As long as they continue to receive financial and military aid, we will continue to strike them. I can confirm that there has not been any instance where the Syrian Army has planned to enter a particular location and has not succeeded in eliminating the terrorists within it.
The majority of those we are fighting are Takfiris, who adopt the al-Qaeda doctrine, in addition to a small number of outlaws, so as I said this not about who controls more areas of land. Wherever terrorism strikes, we shall strike back.
Izvestia
:
Yet, Western mainstream media claim that the terrorists control 40% to 70% of Syrian territory; what is the reality?
Bashar al-Assad
: There isn't an army in the world that can be present with its armament in every corner of any given country. The terrorists exploit this, and violate areas where the army is not present. They escape from one area to another, and we continue to eradicate them from these areas with great success. Therefore, I reiterate, the issue is not the size of the territories they infiltrate but the large influx of terrorists coming from abroad.
The more significant criterion to evaluate success is – has the Syrian Army been able to enter any area infiltrated by terrorists and defeat them? Most certainly the answer is yes; the army has always succeeded in this and continues to do so. However, this takes time because these types of wars do not end suddenly, they protract for prolonged periods and as such carry a heavy price. Even when we have eradicated all the terrorists, we will have paid a hefty price.
Izvestia
:
Mr President, you have spoken of Islamist Takfiri extremists' fighters who have entered Syria. Are they fragmented groups who fight sporadically? Or do they belong to a coherent major force that seeks to destroy the security and stability in Syria and the whole Middle East?
Bashar al-Assad
: They have both traits. They are similar in that they all share the same extremist Takfiri doctrine of certain individuals such as Zawahiri; they also have similar or identical financial backing and military support. They differ on the ground in that they are incoherent and scattered with each group adhering to a separate leader and pursuing different agendas. Of course it is well known that countries, such as Saudi Arabia, who hold the purse strings can shape and manipulate them to suit their own interests.
Ideologically, these countries mobilise them through direct or indirect means as extremist tools. If they declare that Muslims must pursue Jihad in Syria, thousands of fighters will respond. Financially, those who finance and arm such groups can instruct them to carry out acts of terrorism and spread anarchy. The influence over them is synergised when a country such as Saudi Arabia directs them through both the Wahhabi ideology and their financial means.
Izvestia
:
The Syrian government claims a strong link between Israel and the terrorists. How can you explain this? It is commonly perceived that the extremist Islamists loathe Israel and become hysterical upon hearing its name.
Bashar al-Assad
: If this was the case, why is it then that when we strike the terrorists at the frontier, Israel strikes at our forces to alleviate the pressure off of them? Why, when we blockade them into an area does Israel let them through their barricades so they can come round and re-attack from another direction? Why has Israel carried out direct strikes against the Syrian Army on more than one occasion in recent months? So clearly this perception is inaccurate. It is Israel who has publically declared its cooperation with these terrorists and treated them in Israeli hospitals.
If these terrorist groups were indeed hostile to Israel and hysterical even on the mention of the word as you mention, why have they fought the Soviet Union, Syria and Egypt, whilst never carrying out a single strike against Israel? Who originally created these terrorist groups? These groups were initially created in the early 80's by the United States and the West, with Saudi funding, to fight the Soviet Union in Afghanistan. So logically speaking, how could such groups manufactured by the US and the West ever strike Israel!...more---
Complete 4 page interview here:
http://beforeitsnews.com/alternativ..._content=beforeit39snews-verticalresponse&utm
As we have seen in photos, John Kerry had no trouble sitting down to dinner with this man whom he now labels another Hitler. Why is the only place to read Assad's side of the story published in a Russian newspaper? And why is he being demonized the way he is now, while just recently treated with all manner of diplomacy? Both sides of any story are required before big decisions like going to war, aren't they?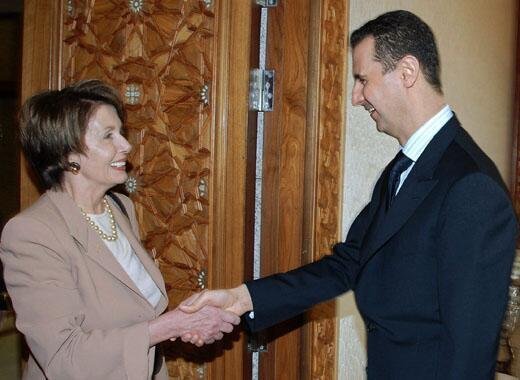 Last edited by a moderator: