I came across this MUFON report one day and these pictures had me scratching my head.
Camera artifact, Photoshop, bug zipping by?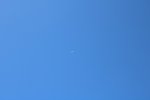 MUFON case 119936 / Dec 22, 2021, 1:00 PM / Adelaide South Australia
Witness report:
"While photographing an aircraft passing over my house, I noticed a dark cigar shaped object fly pass the aircraft at speed, I was lucky enough to get a photo. The object was travelling from the east and heading west as it passed the aircraft. The duration of the sighting would have been no longer then 5 to 6 seconds."
Thank you in advance for the inputs.
Quick edit: it seem like when I uploaded the first picture to the forum it decreased in size. Let me know if this direct link works:
https://www.mufoncms.com/files_jeud8334j/119936_submitter_file3__IMG30843.JPG