Lots of concerned citizens are worried about a new (USDA approved) GM potato, the so-called "Innate Potato".....which has been approved for production, sale, and use.....in the USA.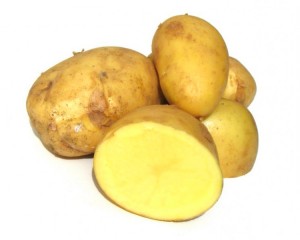 This GM variety of potato, has been developed to include:
Reduced sugars – under certain conditions – provide consistent golden color, providing ideal taste and texture qualities. Reduced levels of asparagine decrease the potential formation of acrylamide, a chemical compound that occurs when potatoes, wheat, coffee, and other foods are cooked at high temperatures.

http://www.biofortified.org/2013/05/qa-with-haven-baker-innate-potatoes/
What is different about this GM variety, is that it is modified using only genes of other potato varieties....and no "outside organisms". Nor does it include or permit or require special qualities that enable it to be sprayed/treated with agricultural chemicals. It is grown as any other potato.....by any potato grower.
http://www.aphis.usda.gov/brs/fedregister/BRS_20141110b.pdf
The marketing of this new potato has been, that is actually a "safer" potato, in that it is claimed to reduce a cancer-causing by-product of high-heat potato (fry) cooking (acrylamide), and that it is also more resistant to "bruising".....thereby eliminating waste (throw-away) of the typical potatoes now in use.
What's also of interest, is that it has no relation to Monsanto, or any of the other companies typically associated with GM food development.......though in the comments of social media posts....."Monsanto" is often mentioned, and the new potato is demonized because it is genetically modified.
Here is a good article on the new potato:
http://www.nytimes.com/2014/11/08/b...ied-potato-from-simplot-approved-by-usda.html
Last edited: