Administrator
Staff member
The
Gateway Pundit notes that
in this image from CNN some of the writing is in a different color.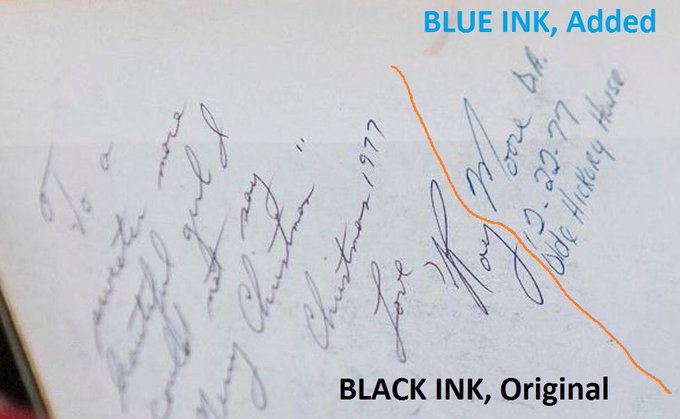 However in
this image from the Telegraph
the ink is all the same color, even when you zoom in and increase the saturation.
The two color image comes from an official CNN tweet:
Source: https://twitter.com/CNN/status/930205088299257859
Here's the raw image from that Tweet
Notice the text on either side is blurred, indicating a shallow depth of field (i.e. only the middle is in focus). The color change is also not as abrupt as suggested, bleeding into the R of "Roy", the first 1977 and o of "olde".
In fact such color changes are an artifact of depth of field.
I've duplicated the CNN color change effect with a photo of black ink on white paper, shot with 50mm f/1.4 to get a similar depth of field as in the CNN. I've attached the RAW image for this photo, so you can check it for yourself.
Zooming in, there's a very distinct blue/black change in color across the image as the ink lines are in or out of focus.
Scanned to demonstrate the actual ink color (black) and consistence, with a video game cover stuck in there for color calibration (it's part of the same scan)
Head on, with the exact same lighting and exposure settings, the ink is all black (as it is in straight-on photos of the yearbook):
For more discussion on the signature, including handwriting analysis, see:
https://www.metabunk.org/roy-moore-yearbook-signature-faked.t9252/
Last edited: