I shall focus on one claim of evidence, with three subclaims.
Another woman has come forward to accuse Alabama Senate nominee Roy Moore of sexual misconduct when she was a teenager, as national Republicans continued to flee from the controversial candidate. Beverly Young Nelson, speaking on Monday at a news conference in New York with attorney Gloria Allred, alleged Moore sexually assaulted her when she was 16. Nelson said that Moore physically attacked her in a car, grabbing her breasts and trying to force her head down on to his crotch. "I thought he was going to rape me," said Nelson, who at one point broke down in tears.

In a statement released shortly before the press conference, Moore called the allegations a "witch hunt". Later, Moore gave a statement to local news: "This is absolutely false. I never did what she said I did. I don't even know the woman. I don't know anything about her. I don't even know where the restaurant is or was."

Nelson had produced her high school yearbook, which Moore signed, and said Moore had been a regular at the restaurant where she worked.

theguardian
The following analysis, undertaken by
thegatewaypundit
together with journalist and author Thomas Wictor claims to show that the yearbook entry is a fake.
[
ADMIN NOTE
- The blue black color difference appears to be an artifact of the depth of field, see:
https://www.metabunk.org/explained-...re-depth-of-field-chromatic-aberration.t9253/
]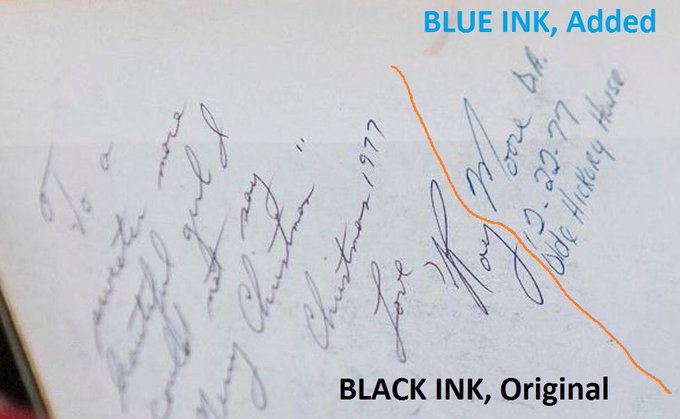 On Monday, CNN published photos of the signature showing two different inks. The signature says "To a sweeter more beautiful girl I could not say, 'Merry Christmas.' Love, Roy Moore DA, 12-22-77, Olde Hickory House." Strangely, "To a sweeter more beautiful girl I could not say, 'Merry Christmas.' Love, Roy," is written in black ink, while "Moore DA, 12-22-77, Olde Hickory House," is in blue ink.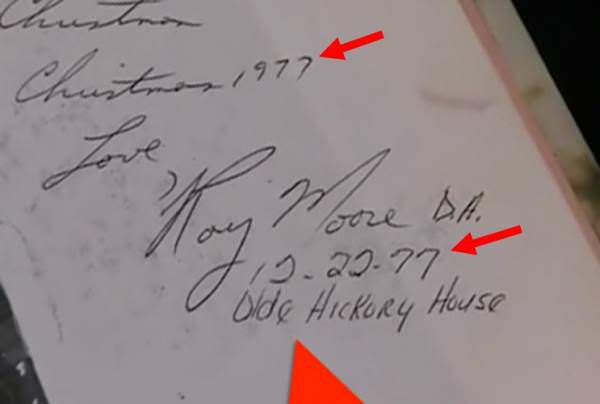 The sevens in 1977 to the right of "Christmas," are very different from the sevens in the date (12-22-77) above "Old Hickory House." "Look at the two versions of the number "7," tweeted Wictor. ""12-22-77" and "Olde Hickory House" were written by a different person," he added.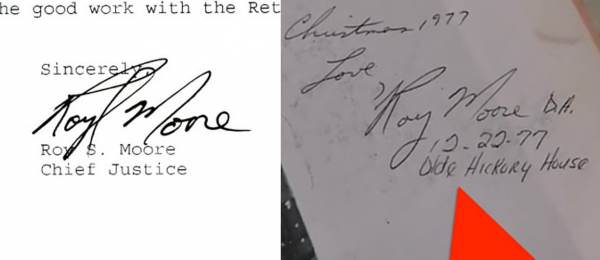 Next, Wictor points out "the "R" and "y" in "Roy,"" are not written the same way. The inflection of the "Y" is more pronounced in Moore' signature as Chief Justice. The "R" is noticeably longer in the signature of Chief Justice, as well.
Roy Moore's lawyers are calling this a fake too.
Last edited by a moderator: