Administrator
Staff member
Conspiracy theorists point to the lack of utilization of Life Star helicopters at the Sandy Hook school shooting as evidence that something was wrong - either that people were negligent, or in the extreme versions of the theory that the entire thing was faked, and the fakers forgot to include the helicopters.
http://www.harthosp.org/LifeStar/default.aspx
A "Life Star" helicopter is a critical care helicopter service that responds to and provides air transport for a variety of patients who require care at a tertiary care facility.
Why was it not used at Sandy Hook? Basically because it was much more sensible to transport people in an ambulance. There were actually not very many injured. The injured people were transported by ambulance to Danbury Hospital. Just 11.4 miles away by road, straight down a freeway, accessible in less than 14 minutes.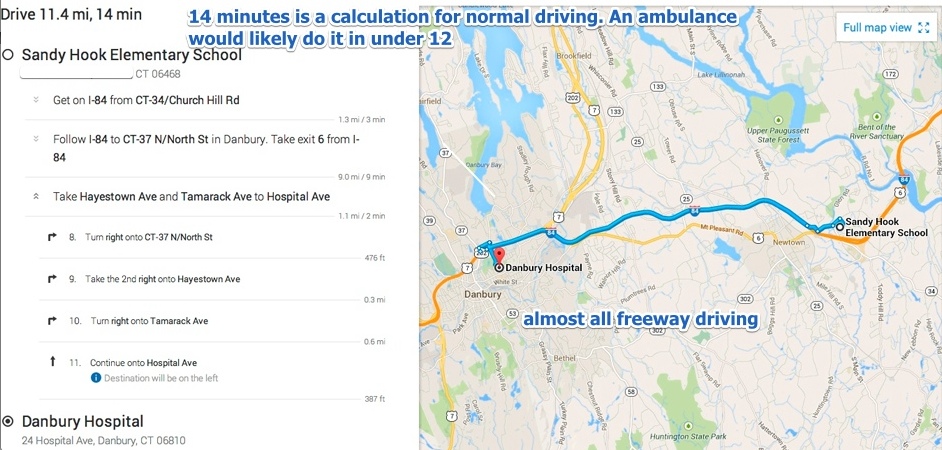 Ambulances were already there. Using an ambulance minimizes the movement of the patient. Calling for a helicopter would take more time. The ambulance was quicker and safer
But what's the fastest a helicopter could have got there? In an ideal situation a Life Star helicopter can take off within a minute of the call, and travels at 155mph. The straight line distance from the Danbury helicopter pad to the Sandy Hook playing field is 8.7 miles. Helicopters do not magically get to top speed. It takes about a minute each end for takeoff and acceleration (and the reverse landing). So that's
1 Minute until takeoff
1 min takeoff and acceleration
3 min 22 sec travel
1 min landing (optimistically)
2 minutes Loading (takes more time as patient needs moving across the field, and loading is harder than into an ambulance).
1 min take off and acc
3 min 22 seconds travel
1 min landing
1 minute unloading to the door (landing pad is some distance from the hospital.
Total = 14 minute 22 seconds. In an
absolutely ideal case
. Far better to just use an ambulance and get there in the same time or less. An ambulance has the added benefit of a much wider range of medical equipment being available.
Here's a video of a Life Star helicopter landing in an actual emergency at a school. It takes over a minute from arriving to actually settling on the ground.
When would you use a helicopter? When the distance is far enough that the speed of the helicopter would make a significant difference. This is not the case here.
And this assumes a best case scenario, where a helicopter was already in Danbury, and ready to go.
The Life Star helicopters are actually based in Hartford, 38 miles away.
Meaning they would take a minimum of 15 minutes to arrive, and probably more like 20.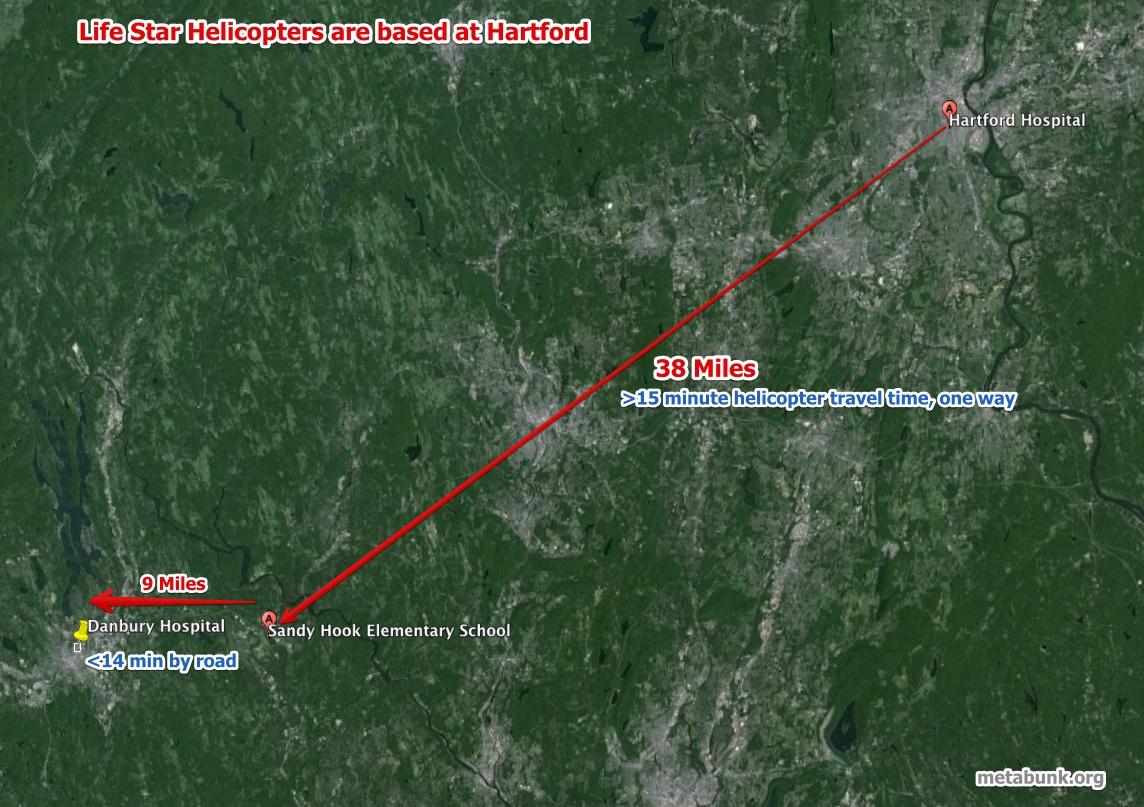 And in a similar previous shooting, the helicopters were not used, even though they were closer and standing by, and even though there were people who were critically injured, and even though there was a clear landing site right outside the doors of the Hartford Distributors, it was simply quicker to use the ambulance. Just like at Sandy Hook.
http://www.journalinquirer.com/page...cle_8b69d3e2-ddbd-54b8-a8fc-629330dfbe87.html

MANCHESTER — An employee who had been asked to resign opened fire early today at Hartford Distributors Inc., killing nine people including himself, according to Manchester police.

Two others were shot but are expected to survive, Lt. Christopher A. Davis said.
...
Victims were taken to Hartford Hospital by ambulance. Life Star helicopter was standing by, but officials decided ambulances would be faster.

One person died at Hartford Hospital, according to Dr. Lenworth Jacobs. He said the person had been resuscitated but later died.

Another person, listed in critical condition, was being operated on this morning. A third person, who was in fair condition, "will do well," Jacobs said. The unidentified victim was conscious and talking.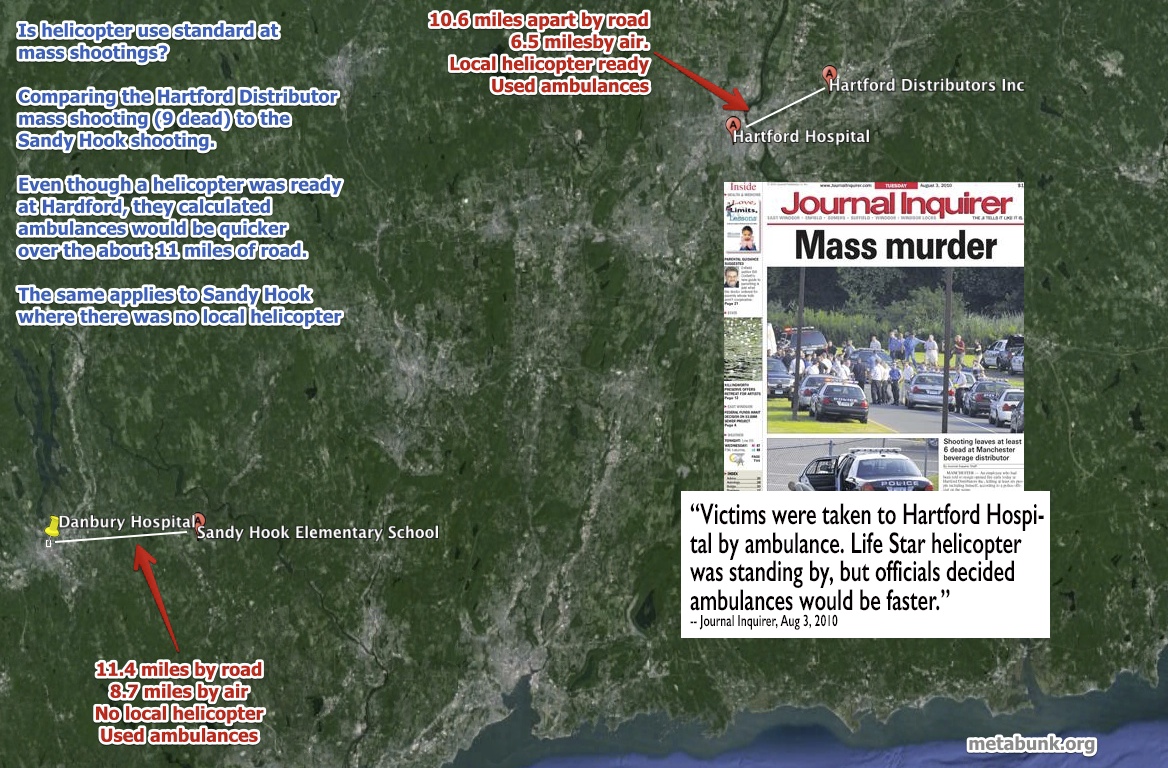 Last edited: