Update by @Mick West: The video shows the moon rising over the horizon.
It initially looks a bit of an odd shape due to atmospheric distortion. But there are many similar videos showing the same thing, like
this one
. The following comparison simply crops the region of the frame where the moon is rising for both the known moonrise video, and the "grey object" video. Nothing else was altered. The grey object is the same size, same speed, same color as the moon, and it comes from behind the Earth. The only thing that differs is the lightning, with the brighter Earth making the moon look darker, and the phase of the moon altering the shape.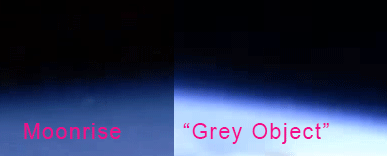 So it's just the moon.

Original post follows:
At least a couple of sites (
huffington post
and
inquisitr
if you're interested, both have links to the video) have recently made mention of an incident on January 15th involving NaSA's live feed from the international space station.
During live feed, a grey object comes into view, and suddenly they cut feed, and then come back into feed with a different camera. I did not see this live, I can't verify if that happened or not but I'm sure someone here can.
Here is a shot of the object:
This raises a couple question:
1) was the camera cut away because that object came into view? (Or just coincidental timing?)
2) what is the object? (space debris, aircraft, or classified object like satellite? Something else?)
Perhaps some of you folks can shed some more light on this subject. I have limited internet access at the moment (just a phone, and the screen is cracked.)
Last edited by a moderator: