see page and comments, here...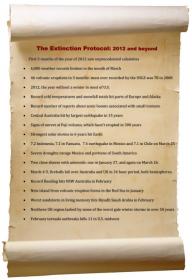 http://theextinctionprotocol.wordpr...earth-in-first-three-months-of-2012/#comments
Given a lack of general familiarity on what would be 'precedented' events, is this an accurate representation and interpretation?
Is the earth building towards something?
Would it be prudent or paranoid to assume so?
It seems compelling. They could be signs of recurring activity in the earth's geologic cycles, or new ones brought about by as-yet unknown influences, man-made or off-earth (unknown solar or stellar influences). No particular supernatural theories are being put forward as the cause here, other than the general 'apocalyptic/imminent rapture' christian beliefs seemingly behind the site and apparent in the comments; mostly it sticks to the facts.
But
, it is a highly selective group of facts, that fit a particular picture (the destruction of civilisation) that fits a particular belief (christian eschatology.) Is the collection and subsequent presentation of these facts warranted?
It's hard to judge fairly because there may well be things we are yet to experience as far as the earth's condition is concerned, and just because a particular death cult has beliefs about the end of the world, does not mean reality could not happen to line up with those beliefs. And if something
is
going on, I want to know about it.
As humans, we are prone to the urge to collect clues in order to know 'what is going on'. The question is, is the conclusion that we come up with just our brain filling in the gaps, using our cultural stories to make some narrative sense out of bits of recognisable data in the midst of the overwhelming chaos?
But back to the point, if you had some familiarity with these things, is it fair to say these
are
unprecedented occurrences?