Administrator
Staff member
This is a fake story. It's from the satirical (joke) site Internet Chronicle, which posts "almost believable" stories in the same vein as The Onion, but with a focus on conspiracy theories.
Here's the original joke story:
http://www.chronicle.su/news/snowden-uncovers-shocking-truth-behind-chemtrails/
(
http://archive.is/tR8QD
)
And their about page:
http://www.chronicle.su/about/
(
http://archive.is/3b9qA
)
Internet Chronicle was formally known as Elf Wax Times
http://web.archive.org/web/20101224...009/05/12/behind-the-scenes-at-elf-wax-times/
This story has been knocking around for a while, but I did not bother to write a debunk because I thought I was obvious to most people that it was a joke story. Unfortunately it seems that many people have trouble distinguishing satire from fact, and other people have no problem exploiting this by re-publishing the joke story as if it were real.
The twitter account of a writer a chronical.su (Alien Nation, "Kilgoar Trout"))
tweeted this: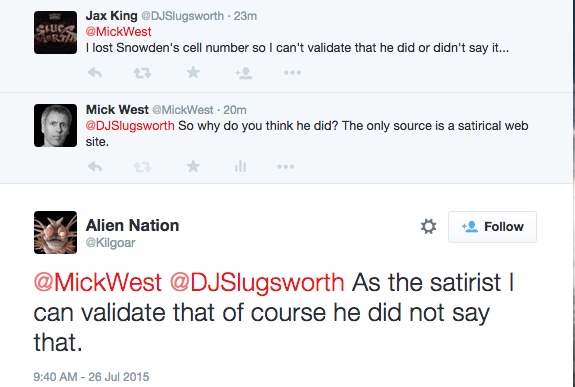 Last edited: