Hey Metabunk, this is a fresh new end of the world conspiracy that has cropped up on facebook but also on Youtube thanks to InfoWars.
[Broken Video]
The video is just a guy on infowars testing it. Basically when you ask what July 27th 2014 is on SIRI it responds with, "Opening Gates Of Hades" now many have already jumped on this claim and already it seems pretty well debunked.
[ADMIN: 100% Debunked now, it's the Chinese Ghost Month, which varies by the lunar calendar, similar to Easter. All the "opening" dates below match]
http://en.wikipedia.org/wiki/Ghost_Festival
In

Chinese tradition

, the fifteenth day of the seventh month in the lunar calendar is called Ghost Day and the seventh month in general is regarded as theGhost Month (鬼月), in which ghosts and

spirits

, including those of the deceased ancestors, come out from the

lower realm

. Distinct from both the

Qingming Festival

(in spring) and

Chung Yeung Festival

(in autumn) in which living descendants pay homage to their deceased ancestors, on Ghost Day, the deceased are believed to visit the living.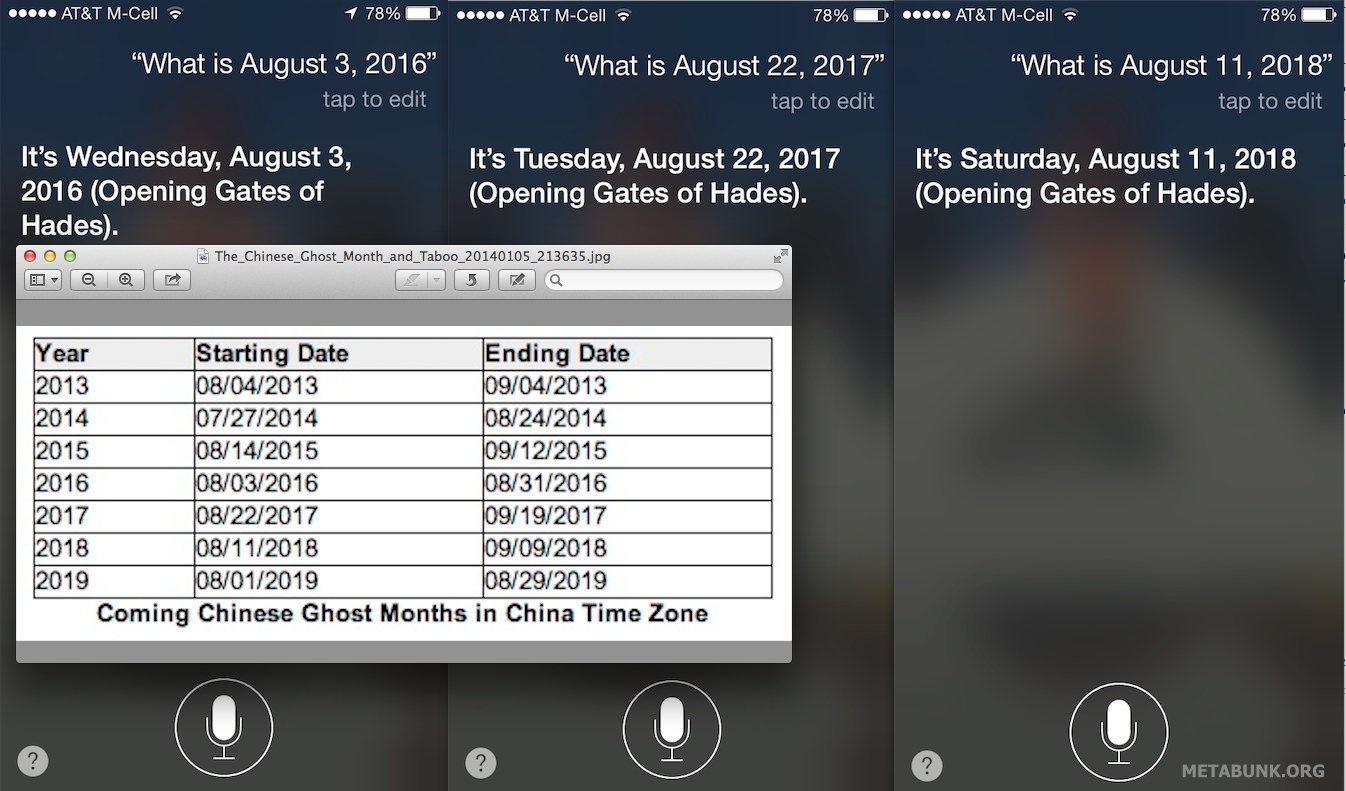 [OP follows]
Firstly people have stated that July is the Ghost Month of the Chinese calendar which is believed to be when both the gates of heaven and hell are opened. Secondly this could also be a reference to Ramadan. During Ramadan it is believed that the gates of hell are closed until the end of Ramadan when they are opened again. It just so happens that Ramadan 2014 ends on July 27th.
This is not the first time SIRI has displayed this message, as she also did sometime in 2005 coinciding with the opening of a bar called The Gates Of Hades in New York which is now closed. But unfortunately the damage is done and we can probably expect this to grow into another internet hysteria in the coming months. Infowars has already tried to link it to their ongoing NWO Illuminati world take over predictions. Also the religious right of the internet is already jumping on this for their end of the world predictions even though Hades doesn't translate into the modern notion of hell at all.
Links to my findings are posted below:
http://www.theepochtimes.com/n3/412...-of-hades-is-july-27-2014-users-question-why/
http://www.dailydot.com/lol/siri-world-end-glitch/
http://skeptophilia.blogspot.ca/2013/12/siri-conspiracy-theories-and-gates-of.html
Last edited by a moderator: