A number of sources on the web have, since the advent and increased usage of Google Earth and other services providing satellite images, reported that a "strange" pyramid of supposedly alien origin can be see deep within the boundaries of (and each of these descriptions have been used in reference to the location) Area 51/NTS/NNSS.
To begin, let's do a little bit of disambiguation. As some of you may be aware, the term "Area 51" is often used indiscriminately and carelessly when referring to the Nevada Test Site (which is now known as the Nevada National Security Site). Area 51, whether or not the Government officially go on record to acknowledge the existence of a location with that name, does not encompass the entire NNSS, only a small part of it -- an airport and associated operations located near Groom Lake.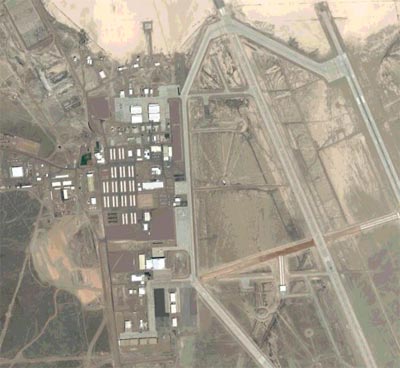 With respect to claims made about a mysterious/alien pyramid, the object in question is not located in or near "Area 51"/Groom Lake. It resides with Area 4 of the NNSS, approximately 30Km south-west of Groom Lake.
Here is an image of this so-called mysterious pyramid: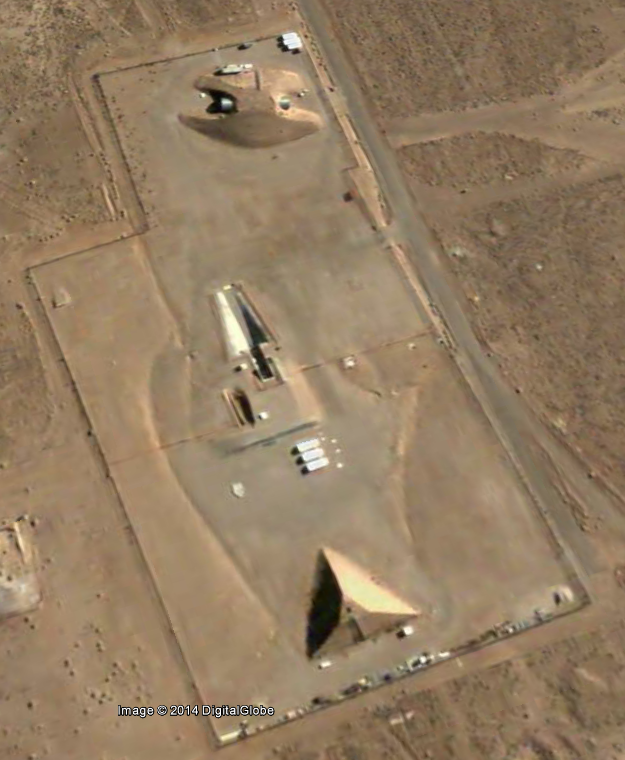 Here's another, just so that you can get an idea of how it's appearance changes based on what time of the day / which point during the year the satellite photos are taken:
Note that this second image is taken from the most recent satellite images available of this area and as such, additional facilities have been added to the site since the photo above was taken.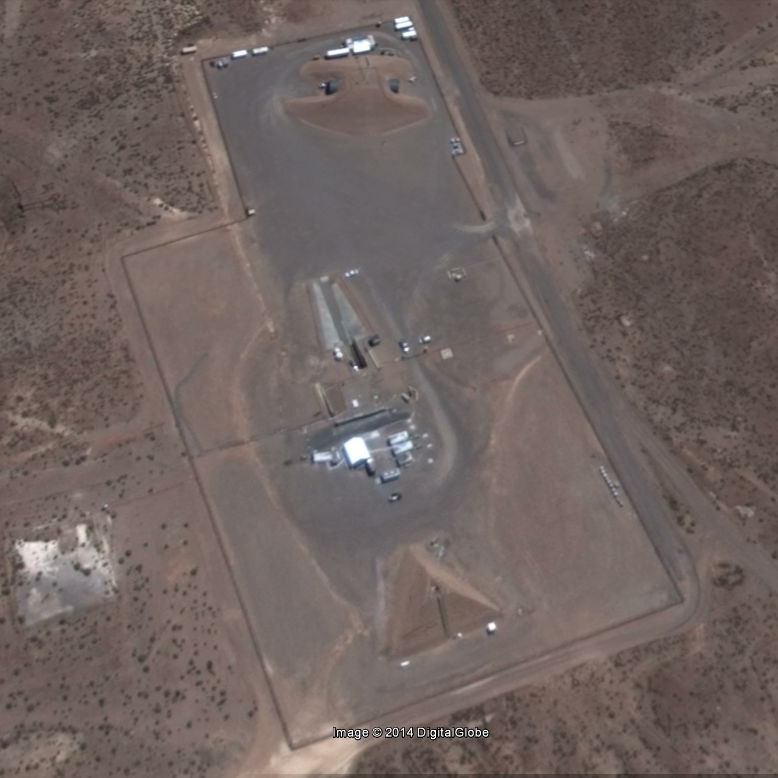 To help us find out the true nature of the facility pictured, we start by determining exactly where within the NNSS it is located. The geographical co-ordinates of the facility, according to Google Earth, are 37.05'45.73" N, 116.05'34.98" ( 37.096027, -116.093043)
By pinpointing our approximate position using this map: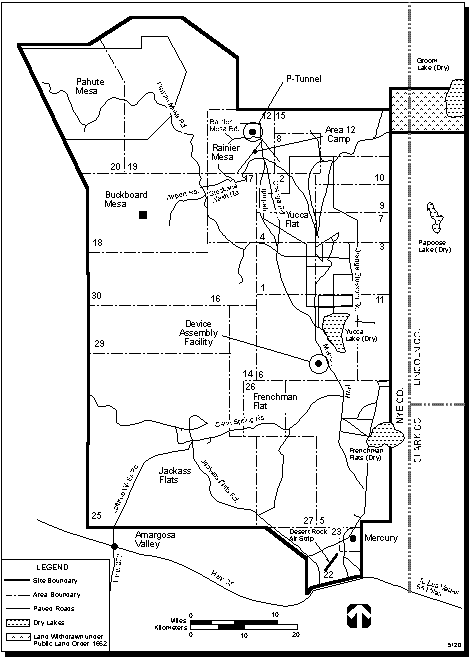 We find ourselves within Area 4 of the NNSS, a small region located north-west of the Yucca dry lake and west of Yucca Flat.
A quick look at Area 4 on Wikipedia
http://en.wikipedia.org/wiki/Area_4_(NTS)#Area_4
reveals the presence of a single facility known as BEEF (Big Explosives Experiment Facility), along with this photo,
taken at ground level: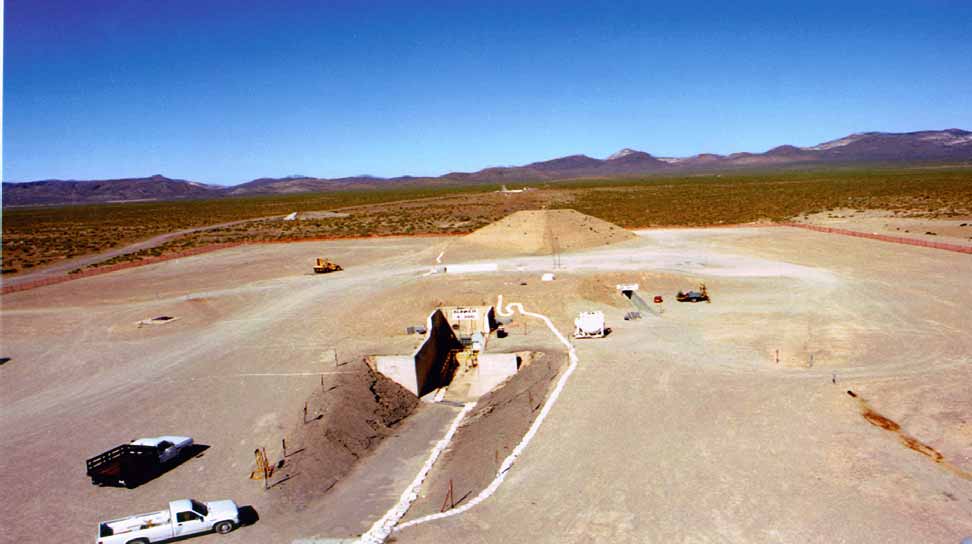 It is in this photo that the true nature of the "pyamid" and "secret tunnel" becomes clear. The "pyramid" (although in geometric terms it does meet the criteria of being one) is actually a berm:
In modern military engineering, berm has come to mean the earthen or

sodwall

or parapet itself. The term especially refers to a low earthen wall adjacent to a ditch. The digging of the ditch (often by a

bulldozer

or

military engineering vehicle

) can provide the soil from which the berm is constructed. Walls constructed in this manner are an effective obstacle to

vehicles

, including most

armoured fighting vehicles

, but are easily crossed by

infantry

. Because of the ease of

construction

, such walls can be made hundreds or thousands of kilometres long.
The tunnel itself ends at a wall and is not an entrance to the pyramid as many conspiracy theorists have claimed. The site -- as explained in DoE documentation -- features an underground concrete bunker from the earlier days of testing at NNSS and it is precisely for this reason that this site was chosen to host the BEEF project. You can see the access tunnel to this bunker in the top/right of the image above.
A detailed description of the BEEF facility can be found in this DoE document:
http://www2.nstec.com/Documents/Fact Sheets/BEEF.pdf
Edit: Removed duplicate text and images caused by a copy/paste after receiving a security warning when attempting to submit the original post.
Edit 2: here are some links to what other people have to say about the pyramid in NNSS:
http://whofortedblog.com/2013/07/25...did-area-51-build-a-gigantic-pyramid-on-base/
http://www.ufo-blogger.com/2013/07/google-earth-reveal-giant-pyramid-in.html
"Pyramids Globally Beaming Energy To Mysterious Space Cloud"
http://topinfopost.com/2013/07/29/google-earth-reveal-giant-pyramid-near-area-51-base
The Scott Waring "Perspective"
http://www.ufosightingsdaily.com/2013/07/two-ufos-near-pyramid-in-area-51-found.html
This gentleman suggested Electromagnetic Interferometry as an explanation for the pyramid:
http://gizadeathstar.com/2012/07/pyramid-at-area-51/
And finally a YouTube video by someone claims to be an Alien Contactee:
There are many more -- I don't recall seeing any mention of BEEF in the articles I've looked at, please let us know if you happen to see one.
Last edited by a moderator: