Various bastions of great reporting are saying that pictures show a person repairing the Curiosity rover.
http://metro.co.uk/2015/01/23/life-on-mars-spaceman-spotted-repairing-mars-curiosity-rover-5033759/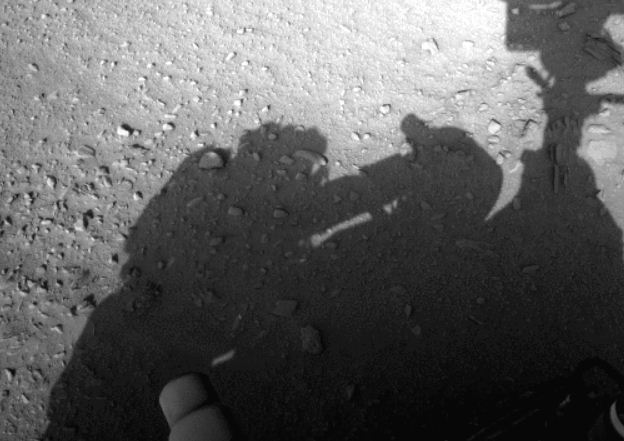 Metro doesn't give a source, but some searching traces it back this page:
http://www.ufo-blogger.com/2012/09/who-is-cleaning-nasa-mars-rover.html
[
Admin
: Links on that page attempt to install Malware, here's the actual NASA pics:]
http://mars.jpl.nasa.gov/msl/multimedia/raw/?s=#/?slide=50
No evidence except a series of shadow pictures like the one above, leading to this conclusion:

1. NASA had sent secret maned mission to mars along with curiosity. And while one of the astronaut cleaning the rover his/ her shadow caught on camera.
or
2. NASA Mars rover Curiosity never went to mars but operating from some where in Atacama desert in chile.
And then buried waaaaay down the page
3. Its just a shadow illusion.
This one's actually pretty easy: The shadow is (mostly) that of the rover's arm in its retracted position, illustrated here in a picture of the arm before installation: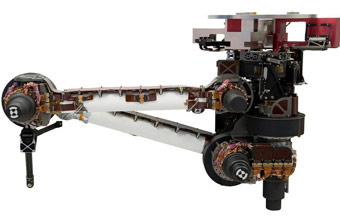 The hand, or tool, is the elbow joint of the rover, with the arm being the top length. You can also see the lower section outlined by the gap letting sunlight through between them - the gap appears more straight than triangular because the arms are spaced horizontally, designed to swing past each other, so the side profile minimizes the gap while sunlight shining mostly down would emphasize it. The "astronaut"'s head is the rover's tool platform, you can see the openings in the shadow, forming the "visor."
If it was a person, there's nothing there for them to work on - you can see the "tool" is working on something near the camera mast, but if you look at pictures or renderings of the rover itself, there's nothing there to be fixed: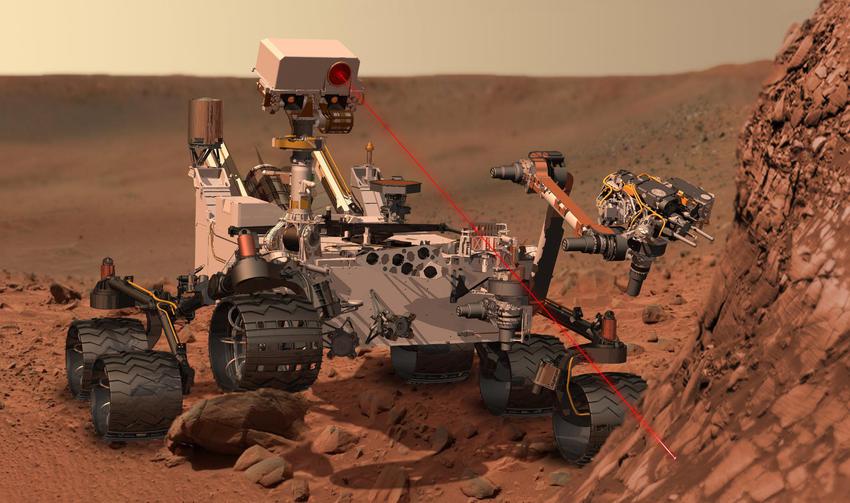 A related claim on the ufo-blogger page is this:
Back in 2009 MSNBC had reported,

"Somebody has been regularly cleaning the Mars rover Opportunity" Read More
Actually clicking Read More brings an explanation that, in 2009, Opportunity was much cleaner than its twin Spirit, despite having spent the same amount of time on the planet. However, it explains it as
probably nothing much more mysterious than a few well-timed gusts of wind,"
Mars, being entirely dry (water can exist as ice in some conditions but most liquids want very much to be in any state except liquid) doesn't have "sticky" dust, it is quite easy to clear off of flat surfaces like solar panels, except that we have nobody there to do it and past rovers had no tools to do it themselves. It has been proposed that something as simple as a small electric fan could solve problems that Spirit and Sojurner experienced with dust covering solar panels, but has not been done.
Curiosity does not have this problem at all, since it's powered by radioisotope thermoelectric generators and has no solar panels.
Last edited by a moderator: