Administrator
Staff member

The above two images have been
shared on Facebook
as evidence that the torching of a police car at the "Million Mask March" demonstration in London was staged by the authorities. But while the car itself
was
actually set on fire, the image on the left is an entirely unrelated image taken on April 21, 2011 by Josh Reynolds, and
posted on his Flickr account: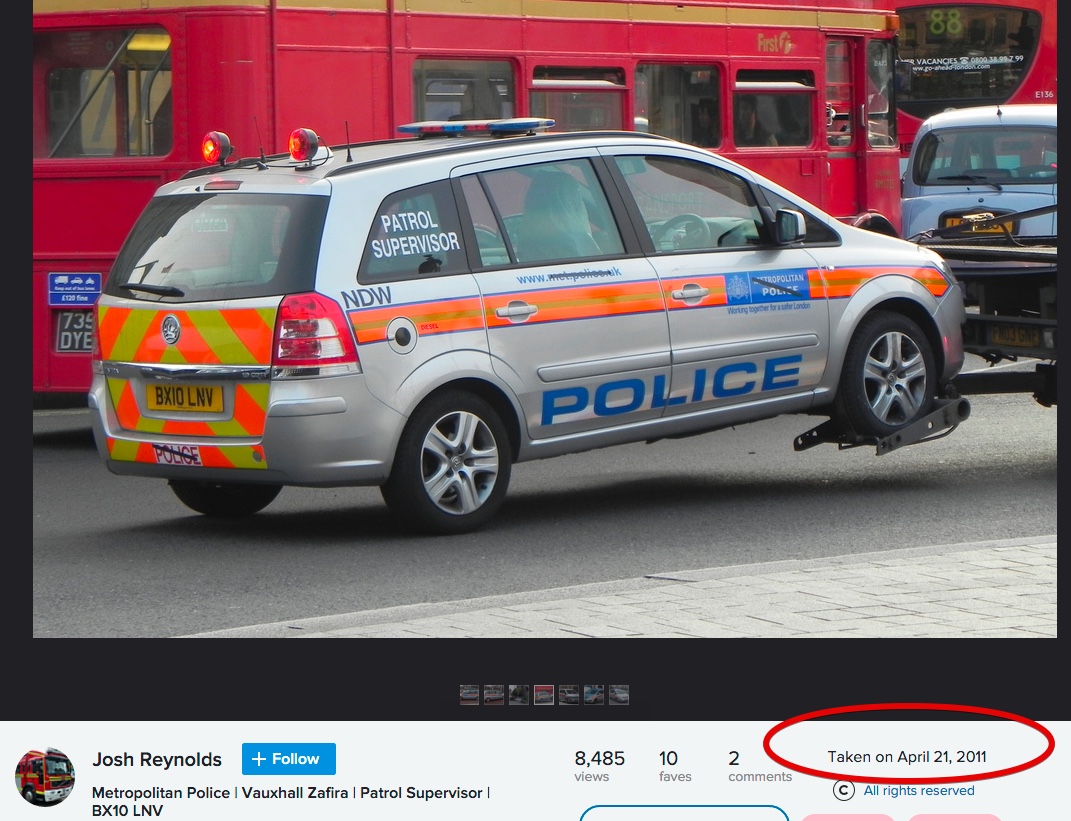 The meme is shared as a single image (originally one photo above the other, I moved it side by side for this post). This presents some brief obstacles for finding the original. The usual trick of dragging the image into Google Image Search does not work. So there's two other ways of finding the original image.
Search with Part of a Composite Image
We are really only interested in the photos of the police car being towed. So we want to just crop that half of the image. We could save the image then crop it in an image editing program like Photoshop, but by far the easiest way of doing it is to use a screen grab program that lets you select a region of the image.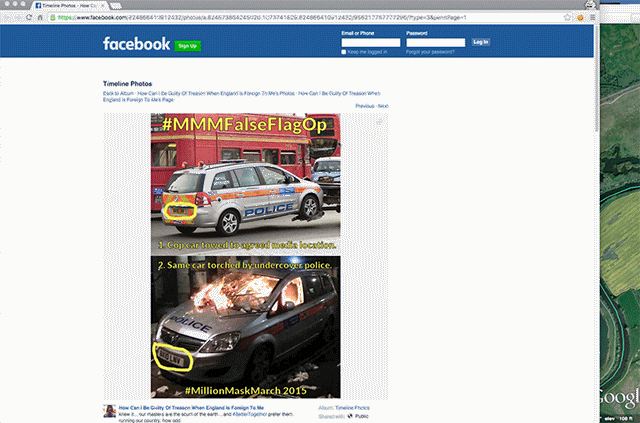 Now this search (as happens quite often) takes you to a copy of the image on FlickRiver.com. This is quite an annoying site that automatically creates infinitely tall pages of large numbers of Flickr photos, and intersperses them with ads. So you often have to scroll down quite a ways before it shows up, waiting for the next images to chunkily appear.
So rather than going to the FlickRiver page, a better approach is to use the Google Cached version of that page, which you can scroll through much quicker.

You can then click on the image and it will take you to the Flickr page, where you can check the date.
Search with Clues in the Image
Something that's always worth a try is searching for any unique text in an image. Quite often you can find lots of photos of a plane by searching for the tail number. But, rather surprisingly, you can also find quite a lot of photos of London police cars by searching for the license plate number. "BX10 LNV" (make sure you include the quotes) in Google Image Search gives us: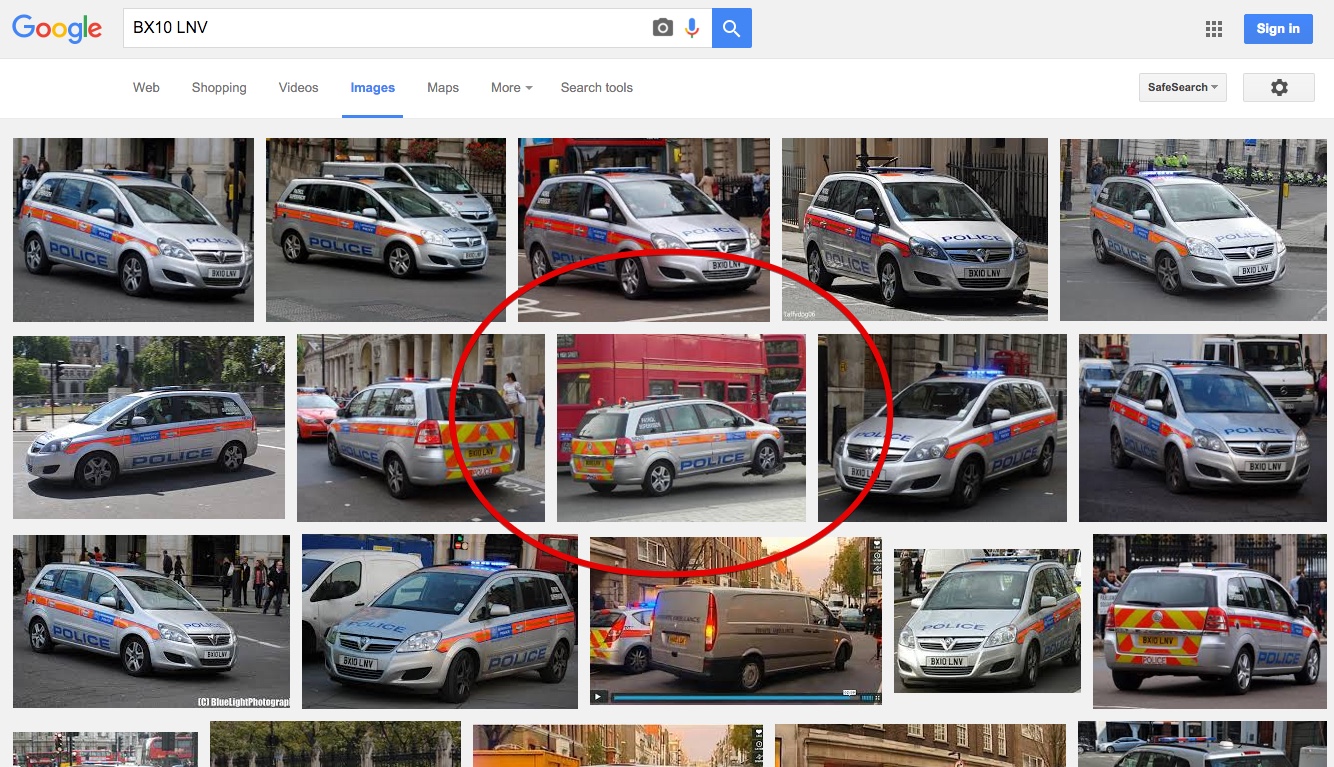 This does not appear to be any kind of police watchdog group, but rather more like train spotters, or aircraft spotters - just people who have a hobby of photographing police vehicles or emergency vehicles. People like
Chris999
or
BlueLightPics
.
This also explains why the early photo of the burned car exists, At first this seems like a bit of a coincidence - what are the odds that there would be a photo of the burned out car being towed years earlier? Well, it turns out that pretty much every police car in London stars in tens of images on the web, and police cars break down just as much as other cars (maybe more). So it's really not that odd at all.
Of course the fact that the image is fake does not prove who set the car on fire. But the setting on fire of cars is a pretty ordinary event in mass protests. Seems like this was just a car left unattended and a few people took the opportunity to pile some paper on the windscreen and set it on fire. The press were more than happy to get a photo opportunity.
Another Facebook image
tries to make what looks like a bottle of water instead be a police truncheon (baton).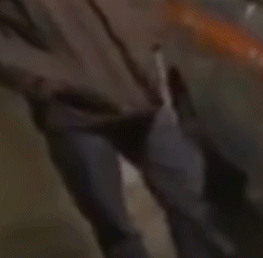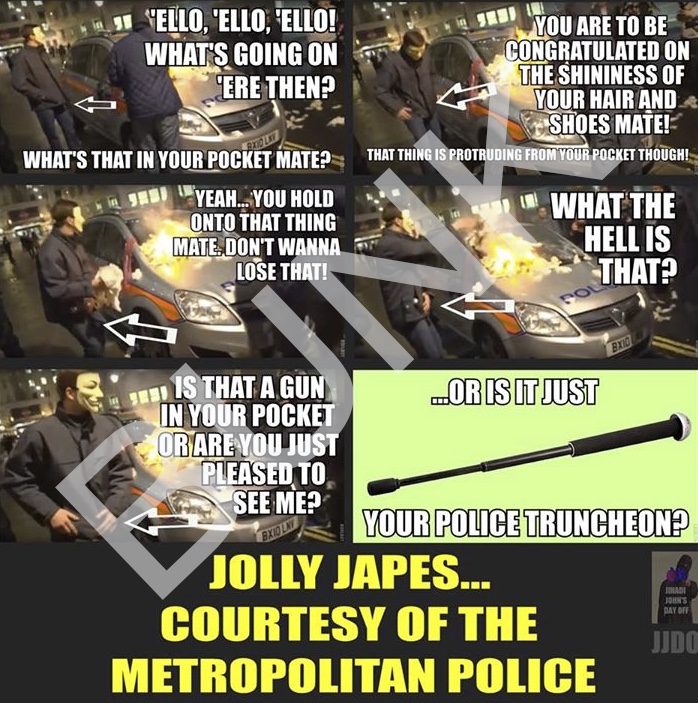 Last edited: