Administrator
Staff member
A 1991 booklet incorrectly states that Obama was born in Kenya. Breitbart.com got hold of it, and published it. Other people on more extreme web sites seized on this as proof that Obama was born in Kenya.
http://www.breitbart.com/Big-Govern...nt-1991-Born-in-Kenya-Raised-Indonesia-Hawaii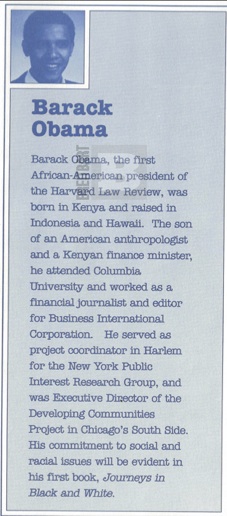 The problem here is that the people who published the story, Breitbart.com, and the late Breitbate himself don't think Obama was born in Kenya. They think he was born in Hawaii. They are not putting this on the web to prove he was born in Kenya. They are putting it up (they say) to show that Barack (or his "handlers") has misrepresented himself in the past, and the media should have found this out by now. So really it's just criticizing the media for being soft on Obama.
[ex=http://www.breitbart.com/Big-Government/2012/05/17/The-Vetting-Barack-Obama-Literary-Agent-1991-Born-in-Kenya-Raised-Indonesia-Hawaii]
Andrew Breitbart was never a "Birther," and Breitbart News is a site that has never advocated the narrative of "Birtherism."
In fact, Andrew believed, as we do, that President Barack Obama was born in Honolulu, Hawaii, on August 4, 1961.
Yet Andrew also believed that the complicit mainstream media had refused to examine President Obama's ideological past, or the carefully crafted persona he and his advisers had constructed for him.[/ex]
[ex=http://www.breitbart.com/Big-Journalism/2012/05/17/Obama-Lit-Booklet-About-MSM-Failure]The
exclusive story published by Breitbart News today
about a 1991 booklet released by Obama's literary agent that falsely claims the President was born in Kenya, is about many things NOT having to do with where our President was born. And one of those things is the abject failure of the mainstream media to vet properly the man they so desperately wanted to be president.[/ex]
And the writer of the booklet at the time now says:
But that not all that's going on here. Breitbart.com are playing this from two angles at once. They know it's a minor editorial error that simply nobody has noticed or thought important until now. They know also that there are millions of de facto "birthers" out there, who will just eat up the story as "proof" at Obama is a Kenya, and probably a muslim too.
Luckily for Obama, those birthers were not going to vote for him anyway. But this does create noise that will distract from the real issues. The argument that this is somehow evidence that press went easy on Obama (which some of them quite arguably did) is pretty specious (why did Fox News cover this up, for example), but it also creates noise, and it creates a cover story to push the annoying and distracting birther nonsense.
Last edited: