Claim: (my paraphrasing)
Stephen Schneider
, a well known climatologist and IPCC (
Intergovernmental Panel on Climate Change)
author advocates lying about the science of climate change.
Starting as early as a month after the initial publication of an interview in Discover Magazine (October 1989 vol. 10 no.10) and continuing to Yahoo news CC comments today (Sept. 21, 2015), an out of context/misrepresented/often partial quote by Schneider is being used by climate change 'denier' articles, books, blogs, comments etc to imply climate scientists should lie to the public about the science of climate change.
examples:
1989
Detroit News
1996
APS News article
(March 1996, pg. 12)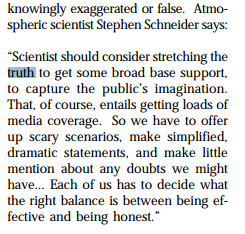 Aug 2015
Rebuttals of this claim by Stephen Schneider:
Before Stephen Schneider passed away in 2010 he wrote several rebuttals to these accusations. In general he explained the topic of the Discovery interview the quote comes from, which was the problem scientists face in media with limited time slots available to discuss complex scientific issues. Most often the
last line
(s) of his quote is omitted.
The last lines being:
"This 'double ethical bind' we frequently find ourselves in cannot be solved by any formula
. Each of us has to decide what the right balance is between being effective and being honest.
I hope that means being both
"
Nov 1989 full rebuttal to Detroit News (above): here's a small piece
http://stephenschneider.stanford.edu/Publications/PDF_Papers/DetroitNews.pdf
1996 full rebuttal to APS (above), where they also added the bogus line "Scientists should consider stretching the truth". Schneider includes the full quote: [bold text mine]
Last edited: