Administrator
Staff member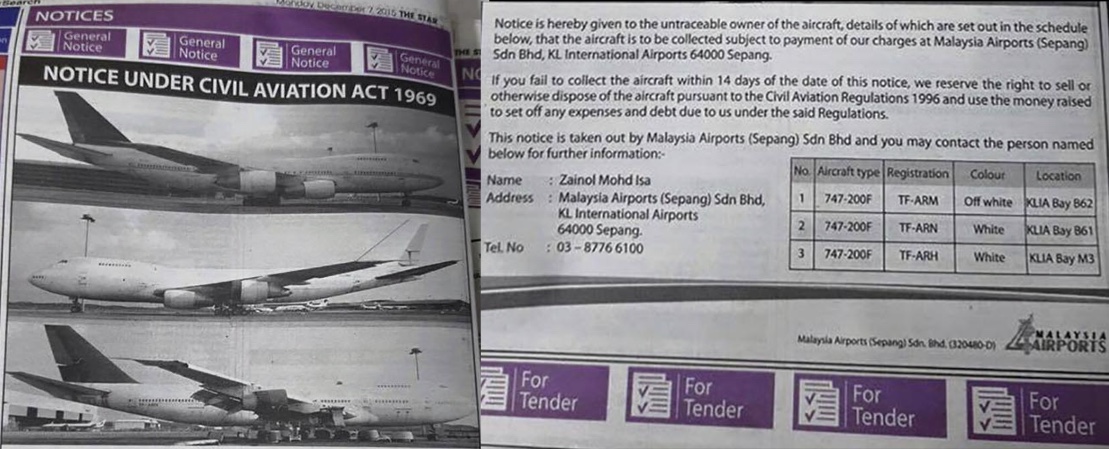 Three Boeing 747's are parked at KLIA Airport in Kuala Lumpur, Malaysia. The airport wants whoever owns them to move them, otherwise it's going to sell them. Media headlines make it seem like these planes just appeared out of nowhere, and will likely fuel speculation about all kinds of conspiracy theories that involved mysterious unmarked airplanes.
http://www.thestar.com.my/news/nation/2015/12/08/wanted-plane-klia/
So what actually are these planes? Recent photos of TF-ARN show it without significant markings. The plane is listed in several places as belonging to Air Atlanta Iceland, however CNN reports they sold the planes in 2008.
A 2008 Photo shows the plane in MASkargo livery. This is TF-ARN in August 2008. Presumably leased from Air Atlanta Iceland.

Source:
https://www.planespotters.net/photo/481031/tf-arn-malaysia-airlines-boeing-747-2f6bsf
So why can't the airport find out who these planes actually belong to?
I'm guessing the lease expired, then the leasing company had financial difficulties, and the planes probably have negative worth due to maintenance requirements, so they just got shuffled around on the books, and belong to some holding company, or are under the control of a bankruptcy executor. Since they are not worth anything where they are, nobody wants to claim them.
Last edited: