Another example of Michael Janitch, aka "Dutchsinse", misidentifying, or perhaps purposefully mislabeling, an obvious release of chaff during a military training excercise.
I'm not sure what he means by this statement: "
Key West Naval Air Station at the very center of this RADAR display (where the RADAR is location) is NOT really covered by these aircraft. Thus eliminating "military chaff" over the air station as the "cause" of these long lasting jet plumes
."
Does he seem to think that military aircraft release chaff to hide their home base from radar?
Anyways, just as it was in
this previous thread
, the radar signatures of chaff are fairly obvious to anyone who actually knows what they are looking at.
One of the most useful dual polarization weather radar products available is called "Correlation Coefficient" or just CC. In a nutshell, the higher the value is to +1.0, the more "correlated" the objects in that area are; in other words the
more they are alike
. Rain and snow bands will appear anywhere from a yellow to an almost pink and have a CC closer to 1. Non-meteorological returns such as birds, bugs....chaff....are not very uniform and so therefore their values as seen on weather radar will typically be less than .7 and appear an almost grey or blue.
Examining the correlation coefficient product from KBYX, the WSR-88D in Key West, again, just like the Las Vegas "spray cloud", we see values of less than .41 and no higher than .73 - indicating a non-uniformity of the objects in that area, something you'd expect to see from irregularly shaped chaff that is flowing and tumbling through the air.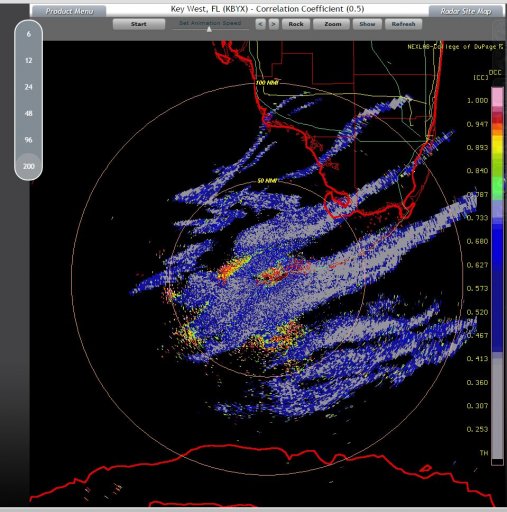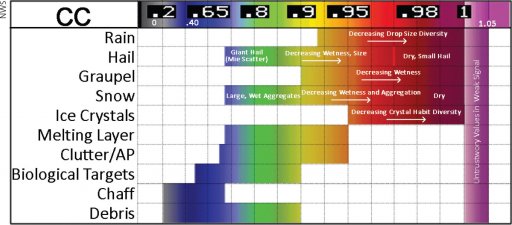 Another useful dual pol product is Differential Reflectivity, or simply abbreviated as
ZDR
. Differential reflectivity is the ratio of the reflected vertical and horizontal power returns as ZV/ZH.
In general, if ZDR is near zero, it means the difference between the vertical and horizontal reflected power is small, so the return is more spherical in shape. As ZDR becomes increasingly
positive
, the return is more dominantly
horizontal
. As ZDR becomes increasingly negative, the return is more dominantly vertical.
Chaff is mostly
horizontally
oriented and slowly falls with respect to air. Turbulence and differential air motion will cause wobbling and the ZDR would be expected to be relatively large.
Examining the ZDR from KBYX, we see indications of scatterers that are largely horizontal in shape - indicated by the dark reds, pinks, whites and purples. Exactly as you would expect to see from chaff that, as stated earlier, is horizontally oriented.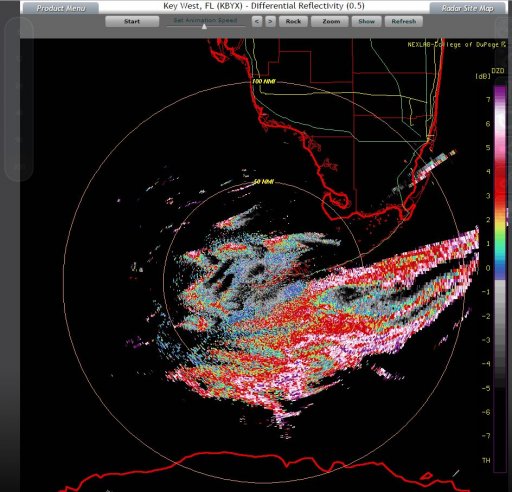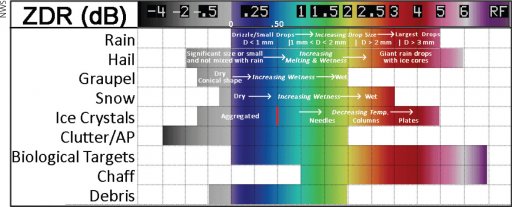 One last product we can look at is the Hydrometeor Classification product. This product from the KBYX weather radar is indicating the returns are non-meteorological returns. The radar is definitely not indicating any type of precipitation, let alone man made "storms"........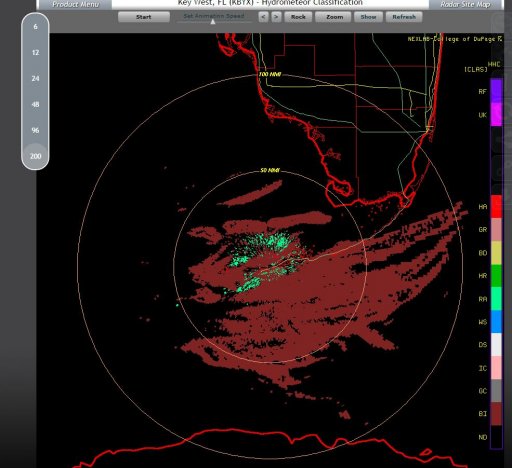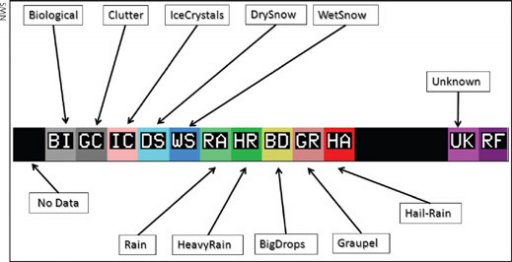 But, as is typical, Dutch heads over to Intellicast or the Weather Channel and uses those sites' faulty weather identification algorithms to "confirm" his findings. Of course those sites are going to label those returns as weather. They don't know any better. And that misidentification of the data was certainly NOT acknowledged as such by the National Weather Service to be an actual storm as he claims. That label that popped up is locally produced by those sites. The NWS does not use terms such as "strong cell"....
Sorry again Dutch.
Some links to other similar events in south Florida:
http://www.lakeeriewx.com/CaseStudies/ChaffOnRadar/ChaffOnRadar.html
http://articles.sun-sentinel.com/2013-01-11/news/fl-fake-rain-20130110_1_chaff-fighter-jet-navy-jets